REVIEW – Rebellion recovers the Zombie Army saga with its most rounded, varied and profiled title to date. Hitler's hosts roam freely throughout the world, and we have plenty of new ways to hunt them down. Following the PS4, Xbox One and PC versions released two years ago, we've now taken a closer look at the Nintendo Switch version and updated our review.
We cannot say that Rebellion has passed through the big door with the Zombie Army games. Of course, we fully understand how complicated it is to hit the key in this genre where the same failures are repeated over and over again. For example, when we analyzed the Zombie Army Trilogy, we made it very clear that we were made repetitive until saying enough. Same zombies and weapons, again and again, in more or less identical scenarios, with nothing that keeps us going. The 'gunplay' can be as good as he wants, but without the emotion of thinking, discovering or putting himself to the limit, where is the grace?
Reinforced army
Zombie Army 4: Dead War seems to have asked itself this same question, and after leaving for the mountain to meditate and eat chestnuts, he returns with a clear mind and the determination to do things well. So, this time the gameplay becomes much more reinforced than in previous instalments. We have more variety of enemies, mods to equip in weapons, and more interaction possibilities with the terrain. The question is whether all this is enough to make us add the game to the shopping cart, and the truth is that there we are not very sure.
We are facing a very arcade title with which you can have fun, of course, but it is also one where we spend a lot of time killing the same types of zombie again and again. The level design complies, more or less, although the main course, which is the enemies, does not really arrive unless we play in horde mode or at high difficulty levels. We think that there are too many conditions to get something drinkable, and even then, it does not stand out above other games of the genre.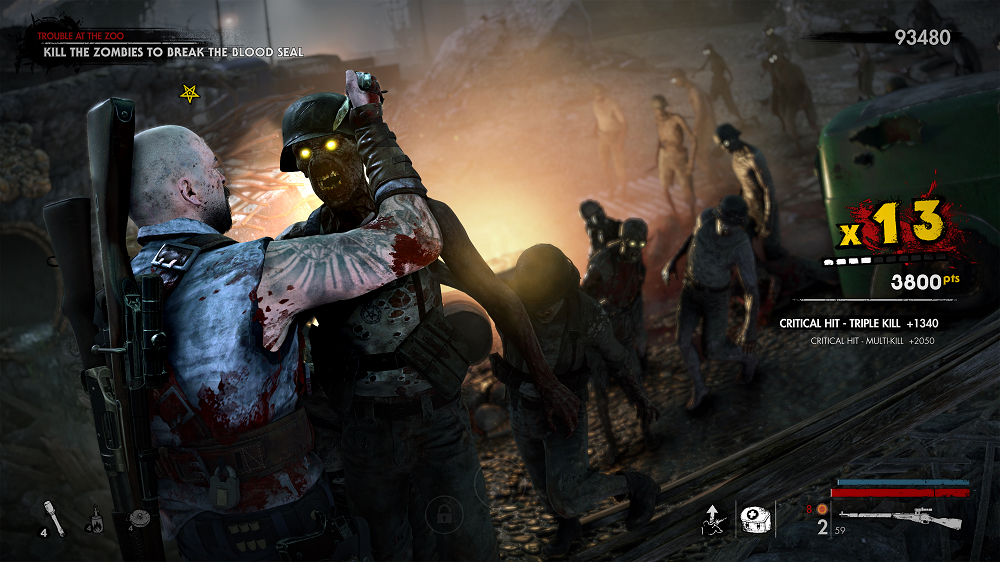 Walk away, dead!
Of course, Zombie Army 4 is accompanied by two main modes: campaign and horde. The first of them returns us just where the previous one left him, in a world where Hitler is dead – really dead of good – and has to purge the world of the hosts of revived soldiers who still sow chaos through the streets. As you can see, the premise is not particularly striking, and we anticipate that the development is also nothing special.
Once again, we have a group of four survivors to choose from, each with a series of unique passive skills, rather unimaginative. They consist mainly of recharging faster this or that melee or weapon elimination ability. This last point may seem like a small thing, but in reality, it is one of the highlights of the program: we have a relative variety of weapons at our disposal, and each of them can be equipped with different modifiers as we play with them. Our characters also have different advantages that can be equipped in a 'loadout' slot, just as you would expect from a Call of Duty.
Nine episodes
We will have to play a lot to unlock all these customization options, and it will definitely not be enough to complete the campaign once, divided into nine episodes of 3-5 chapters each. We can verify that the entire route is designed with variety in mind from the first minute. Each location has a slightly different personality, and its artistic configuration houses zombies of different kinds and presents different mechanical challenges.
For example, in our first hours in Italy, we will have to go through a flooded area, so we do not know very well when a zombie will emerge right in front of our noses. We will also have to look for very heavy fuel that will force us to go slowly and only with a handgun. And shortly after that, we face snipers who jump from roof to roof while we are exposed on a ship.
Even the least imaginative levels have some way of making us think, leaving traps here and there that we can activate to keep the streak of consecutive deaths high if we are attentive to our surroundings. Another of the most important keys to understanding why ZA4 is the best in the series are the enemies. Most zombies are exactly the same, but as we play in higher difficulty modes or multiplayer, we will find variants.
Some zombies wear a helmet that can protect them from a bad shot in the head. Others have very particular elementary weaknesses and can spit acid. We also found new units such as 'creepers' (crawlers), commanders, suicides, giants in armour and even sharks or zombie tanks, other than to ask. The most important thing is that each of these special units feels unique and fun by itself. At the design level, all these opponents represent, by far, the biggest step forward that has taken the game and the franchise in general.
For example, giants can take many shots before they die, so if you see one, you can leave it to the end while dispatching the simplest enemies. But what if you are in a hallway and there are three giants surrounded by normal enemies? And if in that situation you have several enemies running from the front, others walking behind, and in the background, there is a single necromancer invoking more opponents than you can defeat? Well, it's time to think and set priorities, and that's when you have fun playing. We also like it when the game prides itself on being a Sniper Elite spin-off and takes advantage of that to ask us, for example, to take an accurate shot at the explosive torch that engineers have in their hands.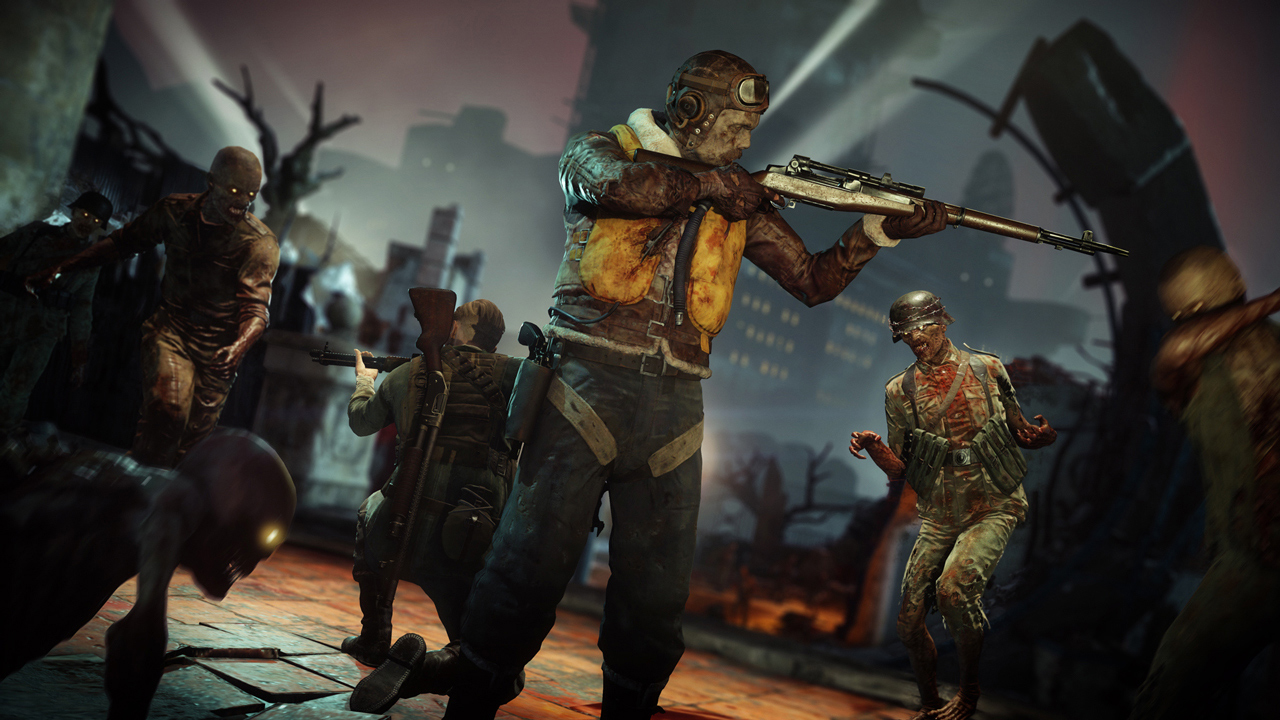 A not so strange brigade
When the game offers you that, the few times you have a good time. But for that to happen, the stars have to line up first. We can see situations like this in the higher difficulty modes or in the harder levels of the horde mode, and I wish it were more common because it is worth participating in such problems.
And since we have mentioned the horde mode, this allows us to play four different maps, each with small variants. It is no news in the saga, of course, but it does a new thing: as we fight, the map opens up a bit and gives us access to areas of tactical interest and new traps and supply shelters. So far, all good. The problem is that it does not offer anything superior in size, complexity or design of scenarios to what we have already seen in Call of Duty or World War Z, and what is even more curious, does not seem superior to the remarkable (and often passed by high) Strange Brigade, of the same Rebellion.
The game has pleasantly surprised us on a technical level by its configuration options. Not only can we adjust numerous parameters of sound, accessibility or controls to pleasure, but even in standard consoles, we can release the image rate per second, which we greatly appreciate. On the other hand, both the campaign and the horde mode manage to maintain stability with fairly correct graphics.
A pleasant experience on the Nintendo Switch
The Nintendo Switch's very large installed base can only be tempting, especially when it comes to zombies, so the guys at Rebellion saw fit to bring the latest chapter in their spin-off shooter series to the Japanese house's hybrid console – with some inevitable technical sacrifices. A definite plus on Switch, though, is support for gyroscopic controls.
Indeed, the Nintendo Switch version adds the option to use gyroscope motion-sensing controls compared to the original system, but not exclusively: the option is only activated when aiming, so you can adjust your shot with great precision compared to aiming with analogue sticks.
As for the game's Switch-adapted graphics, the game doesn't look bad at all on Nintendo's hybrid console. Of course, it's still a step backwards compared to the big consoles compared to the visuals seen in other versions. Apart from the somewhat dated visuals compared to those, the game runs pretty well on Switch. The controls are responsive, the loading times are short and the sound is nice and clear, which is important because a good zombie game relies on good sound design anyway.
Dead walking in the right direction
Zombie Army 4: Dead War is the best title in the saga and a whole step forward in the right direction. Standard and heavy weapons feel more useful and interesting, and new types of zombies are more fun and imaginative. But the design of levels and the little variety of action presented by both the campaign and the horde mode seem to us lazy, particularly if we compare it with other games of the same genre, such as Strange Brigade, of the same study.
-BadSector-
We received the console codes (previously on PlayStation 4 and now on Nintendo Switch) from Magnew Ltd., thank you!
Pro:
+ A respectable variety of weapons, enemies and more interaction with the stage
+ Many configuration options, even in console versions
+ A complete progression for each weapon and character…
Against:
– …for which it is only worth worrying in the most difficult ways
– Simple objectives, few moments of tension or situational variety
– A little inspired campaign and a very discreet horde mode
---
Publisher: Rebellion Developments
Developer: Rebellion Developments
Genre: TPS shoot-em-up
Release date: 4 February 2020 (PlayStation 4, Xbox One, PC) 26 April 2022 (Nintendo Switch)
Zombie Army 4: Dead War
Gameplay - 7.2
Graphics - 6.8
Story/campaign - 6.4
Music/Audio - 7.8
Ambience - 7.4
7.1
FAIR
Zombie Army 4: Dead War is the best title in the saga and a whole step forward in the right direction. Standard and heavy weapons feel more useful and interesting, and new types of zombies are more fun and imaginative. But the design of levels and the little variety of action presented by both the campaign and the horde mode seem to us lazy, particularly if we compare it with other games of the same genre, such as Strange Brigade, of the same study.