REVIEW – Age of Empires 4 is not only a haven for PC RTS veterans, but it also holds its own on the Xbox platform. Now available for free with Xbox Game Pass, this new gem in the gaming industry has been fine-tuned for console controls. The game offers versatile control options, supporting both controllers and the classic keyboard and mouse setup. This port does nothing less than elevate the iconic franchise to new heights, seamlessly navigating console waters. History buffs and strategic masterminds alike can now immerse themselves in this new installment, which is even optimized for eight-player teams.
The game's menus and controls perform exceptionally well on Xbox, ensuring a varied and entertaining strategic experience for up to eight players. From historical single player campaigns to Man vs. Machine battles, the game offers a plethora of modes. While newcomers to the Age series may find the mechanics a little tricky, the quality improvements made on Xbox make for an overall great RTS experience. And if you're a fan of traditional controls, you can still duke it out with opponents using a keyboard and mouse.
Earlier this year, even I was surprised when I tested the Xbox version of the classic Age of Empires 2 and found that the famous PC real-time strategy game ran flawlessly on the console. Given its success, it's no wonder that the latest installment in the franchise, Age of Empires 4, has received a worthy console treatment.
Having spent over 16 hours playing both the campaign and skirmish modes of the preview version of Age of Empires 4 on the Xbox Series X, I have to say that while it's not perfect, it's a fantastic experience that captures the essence of the RTS genre and ensures that fans of the series will not be disappointed.
The latest installment of Age of Empires retains what made the original series so memorable, once again offering excellent strategic battles in a historical setting. The controls have been carefully redesigned to provide a seamless gaming experience on Xbox.
Before we get too far into the details of how well the game translates to Xbox, let's talk about how incredibly addictive the game itself is. My biggest and most important takeaway from Age of Empires 4 is that it stays true to previous entries in the series while introducing enough innovation to make the strategic gameplay feel fresh and exciting.
I am the king!
Whether it's the campaign mode where I go solo, or the skirmish mode where I take on the AI (unfortunately, online multiplayer was not playable in the preview), I can feel the pulse of a strategic genius within me. Those familiar with the Age of Empires series know that the end game is to build an empire from the ground up: mine resources, evolve socially, build up military or naval power, and establish a thriving economy. The stakes are raised when human opponents or AI try to wipe your civilization off the map. You'll need to master the art of defense, navigate quickly through historical eras, and devise tactics to cripple your opponent's economy.
Skirmish mode gives you the freedom to choose the victory conditions you and your friends prefer – whether it be destroying enemy special units, building a wonder, capturing holy sites, etc. Up to eight players can join a match and freely choose their teams.
You can choose from nine playable civilizations: the English, Chinese, Mongols, Delhi Sultanate, French, Abbasid Dynasty, Holy Roman Empire and Russian. Each civilization has unique advantages. For example, the Mongols have quick access to cavalry, the English have religious leaders that strengthen their formations, and the Delhi Sultanate brings scientific innovation and war elephants to the table.
These nuances make each civilization a unique challenge and add a layer of excitement to the game. And if victory alone isn't enough to satisfy your appetite, daily tasks can add some extra flavor to your gaming experience. Overall, the depth of content will keep you coming back for more.
On the visual front, Age of Empires 4 has stepped up its game in every way from its predecessors: the buildings, character models, and textures have all been refined. One of my favorite new features is the ability to rotate, zoom in, and zoom out on the camera, which makes the battlefield even more accessible – whether you need to pick out specific soldiers from a large mass of units or give orders to a unit hidden behind a building.
Tailored for Xbox: How to win in Age of Empires 4
The classic Age of Empires games have traditionally featured a PC-centric interface. Expect an array of menus and command icons best suited for the nuanced control of a mouse. Actions like clicking on a tiny widget or selecting multiple units in an area are easy to perform with a mouse, but less so with a controller.
Age of Empires 4 runs smoothly on the Xbox, however, thanks to some controller-specific features like radial menus that were present in Age of Empires 2 on the Xbox. In addition, the game has a slightly tweaked selection mechanism that makes playing with a controller a pleasure. You can even tweak some of the settings to your liking.
When I first tried Age of Empires 4 on Xbox, I noticed the painfully slow cursor movement and felt that navigating the map would be a lifelong chore. Fortunately, after spending some time in the settings menu, I not only sped up the map scanning, but also adjusted the cursor's inertia. Now I can navigate the game world much more quickly. What I find particularly useful is the ability to instantly jump to my units under attack by pressing the view button on the Xbox, saving me the hassle of searching the map.
If multiple units are being attacked in different locations, a quick series of presses on the View button allows the game to cycle through all of the affected areas. This allows me to react and help them more quickly.
To select units, simply click and drag, or double-tap on a unit with the A Button to select all units of the same type (e.g., double-tap on cavalry to select all cavalry). The D-pad is another important tool; holding it to the left selects all military units, but you can also hold RT for more options. This allows me to quickly select all ranged, melee, religious, or cavalry units and give them orders.
I can even create custom unit groups with different types of warriors. These groups can be quickly commanded using radial menu shortcuts. The radial menu components add to the enjoyment of Age of Empires 4 on the Xbox. These features are not available in the PC version, making the Xbox version truly user-friendly without sacrificing strategic depth.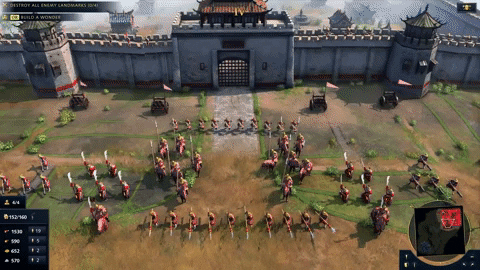 Villager Priority System: What to focus on in Age of Empires 4
In Age of Empires 4, the exclusive Villager Priority System (VPS) offers a remarkably useful tool for console players – an option not available in the PC version. This feature allows you to direct all of your villager units with overarching instructions, telling them which resources to focus on gathering. By default, gathering food and wood are their top priorities, but you can easily tweak these settings to emphasize gold and stone instead. For example, if you've decided to build a powerful navy or secure fortifications, you can easily recalibrate the VPS so that your villagers focus on the resources that are most important to you.
With the VPS, every villager-whether they're just emerging from the town center or finishing a previous task-will automatically head to the resources you've assigned. This eliminates the tedious task of manually issuing new resource-gathering orders to each unit. If no priority is set, the Idle Villager icon will immediately alert you to the presence of an unproductive villager. A quick tap up on the D-pad will instantly identify the idle villager in need of a new task.
But that's not all! The radial menu that appears when you select buildings or individual units gives you quick and easy access to the options available. For example, if you select a town center, you can immediately start producing villagers. In addition, pressing the LB key brings up a quick-select menu of military units, town centers, research facilities, armories, and production buildings, allowing you to find key upgrades or production options without having to click through each building or unit individually. This feature dramatically streamlines ongoing unit production, military expansion, and overall control of your civilization without having to navigate the map separately.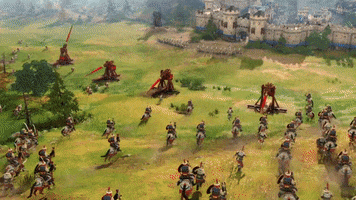 History comes alive in Age of Empires 4
One of the reasons I love the Age of Empires series so much is that the immersive single-player campaigns inspire a love of history. Not only do they test my strategic skills, but they're also educational: I study the far-reaching effects of different eras and wars on different civilizations. In the fourth installment, players will experience four unique campaigns: they can explore the Norman conquest of England, delve into the circumstances of the Hundred Years' War, witness the unbridled expansion of the Mongol Empire, and finally examine the historic rise of Moscow.
However, this installment comes with a twist. While Age of Empires 2 told its stories through beautifully illustrated cinematics, the fourth installment opts for a documentary-style presentation. It's like watching a History Channel special: real footage of famous historical sites, re-enactments of battles by costumed actors, and the compelling voice of a narrator guide you through the campaigns.
The real icing on the cake is when the game shows you the actual locations where historical battles took place, and then transitions to digital warriors and buildings to show you what those sites might have looked like during the conflicts. This level of detail completely captivated me and motivated me to learn more about the stories behind each campaign.
What's more, these campaigns aren't just for entertainment; they also contain real teaching moments. In the early levels, you'll learn the basics, such as how to use your buildings to recruit soldiers, all within a historical context. In advanced levels, you'll discover deeper strategic tactics that were actually used in warfare, such as blocking enemy trade routes or launching ambushes, all ripped straight from the pages of history.
Controller vs. keyboard and mouse: Which one wins?
Xbox Game Studio has already hinted that Age of Empires 4 will not only support keyboard and mouse, but also controllers for the Xbox Series X|S. Naturally, I had to test both input methods. If you're looking for fast and precise commands, you're best off using a top-of-the-line gaming keyboard or mouse. A minor gripe is that the game doesn't automatically switch between the two input options. I had to go into the Options menu, navigate to the Controls tab, and manually switch the active device. Once I did that, everything worked seamlessly whether I was using a controller or a keyboard and mouse.
In Age of Empires 4, the menus and controls subtly adapt to your chosen input method. If you're playing on Xbox with a keyboard-and-mouse combo, the game's cursor morphs into a format you'd see on a PC. You select your troops with the left mouse button and issue commands with the right: where to go, what to do. While the controller relies on the handy radial menu, the keyboard and mouse offer a "command bar" alternative. This transition feels natural and will make even those uncomfortable with a controller feel right at home in this RTS world.
Proceed with caution if you're a newbie: This is no walk in the park.
The game's early campaigns and tutorial stages aren't exactly welcoming to newcomers. I often felt that the game was micromanaging my actions, albeit inconsistently. For example, there were times when the menu options were limited, and I was restricted to a narrow set of commands. It might tell me to gather my troops at a certain point, but it won't allow me to manage my city center or upgrade my units until that specific task is completed.
Paradoxically, these tutorials and "educational" campaigns seem to be aimed not at newcomers but at those who are already familiar with the Age of Empires universe and need a refresher. Even as someone familiar with the franchise, I encountered moments that were difficult to navigate. This was especially true when trying to uncover hidden menus with a controller. Pop-up windows will occasionally appear to explain which button to press in a particular menu or the consequences of a particular choice, but I'm often left to figure it out on my own.
One particularly confusing campaign instructed me to purchase local settlements to increase my power. Either I missed a pop-up window or the game didn't feel the need to explain which buttons would accomplish this. As a result, I spent far more time on this section than I should have, struggling to find the right menu option. It's a solid game, but it would be much better if the instructions were clearer and designed to appeal to newcomers as well as AoE veterans.
Brilliant PC strategy gets a stellar Xbox port
Age of Empires 4 not only adds another chapter to the classic RTS franchise, but it also excels on the Xbox console-whether with a controller or a keyboard-and-mouse combo. The graphical fidelity has come a long way from previous installments, and small but effective quality-of-life tweaks smooth out the overall gameplay experience. All in all, it's a fantastic port that really shines on Xbox, turning one of the best PC treats into one of the Xbox's top titles.
The only downside worth mentioning is that the game doesn't always clearly indicate where and how to access various menu options. So be prepared to experiment with the controls until you get the hang of it. The historical campaigns are enjoyable in single-player, while the skirmish and online multiplayer modes can keep up to eight players entertained as they try to outwit each other strategically. The whole experience will make you feel like a tactical genius as you crush your opponents.
-BadSector-
Pro:
+ Wheel-like menu bar for smooth controller control
+ Exciting strategic gameplay
+ Keyboard and mouse support is also given
Cons:
– Challenge for beginners
– Several civilizations could have fit
– The movement of the default reticle is a bit dragged
---
Publisher: Xbox Game Studios
Developer: Relic Entertainment, World's Edge
Style: Real-time strategy
Release: October 28, 2021 (PC) August 22, 2023 (Xbox)
Age of Empires 4 (Xbox)
Gameplay - 8.6
Graphics - 8.5
Campaigns - 8.2
Music/Audio - 8.8
Ambience - 8.4
8.5
EXCELLENT
The latest installment in the Age of Empires series builds on the foundations that made the original great, delivering deep, sophisticated strategic combat in a historical setting, now with updated controls for Xbox consoles.