TECH – The Huawei Honor 7 is another reliable mobile phone that excels at a lot of things, with its attractive display, a cool fingerprint scanner, remarkable battery life, a nice camera, and useful additions like the swipe gestures and the SmartKey button. Still, the competition at this range is pretty intense, so we took a good look, how this smartphone fares against the other players on the market.
Impressive specifications and features, while still being budget-friendly, are the key aspects of Huawei's relatively new Honor series of smartphones.
The fabricant's Honor 7: the latest supplement to the Honor line keeps everything that was great about its ancestors, but in a more refined package. Does this phone achieve to stand out in this highly-competitive segment? Read on to find out…
A pleasant, but unremarkable design
While the Huawei Honor 7, with its angular look, features a very similar design language to its predecessors, there is a departure as far as build material is concerned, from a typically glass construction to a metallic unibody design. The metal backing comes with a ceramic-coated finish, which not only allows for a great feel in the hand but also slightly helps counter the slipperiness of the metal.
With a thickness of 8.5 mm and weighing just below 160 grams, the device also feels very solid and substantial in the hand, and the use of metal certainly makes it feel more durable than its predecessors. With the 5.2-inch display and some narrow bezels along the sides, the Honor 7 provides an easy one-handed use and makes for a very comfortable handling experience.
All buttons are very responsive, easy to press, and presents a good amount of tactile feedback. The power button is placed within comfortable reach and comes with a slightly textured surface that makes it easy to distinguish between the power button and the volume rocker.
Above the SmartKey, the button is the dual-SIM card tray, with one of the SIM slots also doubling as a microSD card slot.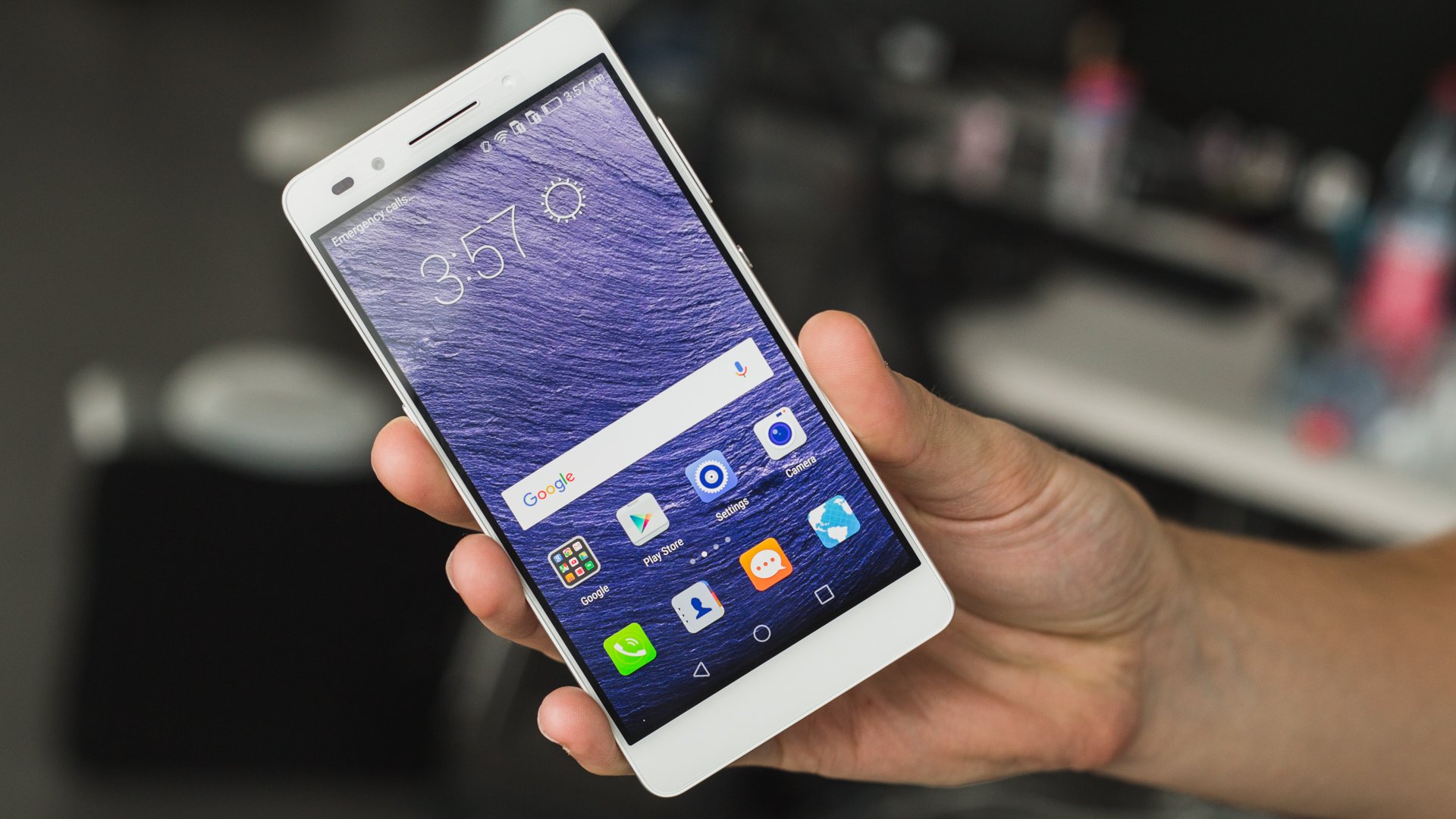 HD screen at 1080p
Mounted in its surprisingly compact frame is a 5.2-inch LCD (IPS-NEO) touchscreen with a 1,920 x 1,080-pixel resolution. It's likely the same panel used on the Huawei P8, and is equal to the screen in the OnePlus 2, with bright colors and excellent contrast.
It's almost ruined by an annoying auto-brightness control, which thankfully can be turned off; it continuously set the level too low for me. This was especially frustrating when looking at photos and watching the video, which dampened the screen's otherwise good looks.
Concerning resolution: No, it's not a 1,440p display like the Galaxy S6 or the LG G4, but that's OK since the Honor 7 is half the price. The software shown on the screen is often where Huawei phones fall, but has that failing been inherited by Honor? It runs Android 5.0 Lollipop with Huawei's EMUI interface, an identical to the system on the P8. The version installed is far better than old Huawei interfaces, and it's smoother, consistently designed, and with enough cool little features to keep it from being an annoyance.
Performance varies
There's a noticeable smoothness to the way Android operates on the Honor 7. Apps, menus, and home screens slide back and forth like they're coated in syrup — thick syrup, actually, and it's almost as if the smoothness is there to cover up sluggishness. Is it?
Again, as a subsidiary of Huawei, the Honor 7 specs center around the Kirin processor. The honor 7 packs a Kirin 935, an octa-core processor with four cores clocked at 2.2 GHz and four at 1.5 GHz. These clock speeds are basically what you find in comparable chips built by Qualcomm, for example, the Snapdragon 810 (when it hasn't been under-clocked to avoid thermal throttling and overheating).
In everyday life, the hardware does a good job. Apps launch quickly, and the general speed of the interface is very responsive. From time to time I witnessed some slight stuttering, but these occurrences were rare and hardly noticeable. On the graphics front, intensive games such as Dead Tigger 2, Real Racing 3 and Asphalt 8 ran smoothly, without any performance problems.
Still, using HD mode on Danmaku Unlimited 2 caused a considerable slowdown when the screen was busy. The phone never got hot, but was certainly warm to the touch. The 3DMark gaming benchmark exposed its shortcomings even more. In the Slingshot ES3.1 test, it scored just 254. The OnePlus 2 managed 928. Ouch.
Quality camera
We return to the more active ground when snapping away with the camera. The Honor 7 has a 20-megapixel rear camera, and an 8-megapixel selfie cam with a LED flash, meaning it's very well equipped for a phone at this price. The rear camera has a f/2.4 aperture, but that didn't stop it blurring the background nicely on a variety of shots, and the focus is suitably fast.
A durable, scratch-resistant sapphire cover protects the lens. There's also a dual-tone LED flash. On the front of the handset, we find an impressively sounding camera setup – an 8MP snapper is paired with a LED flash, the latter being a rare feature.
This is a fair bit more capable than the Motorola Moto G (2015)'s 13MP snapper, while the Meizu M2 Note, another competitor of the Honor 7, also has a 13MP camera.
Of course, more megapixels does not automatically mean better pictures, but if you use your smartphone for regularly taking snaps, then the Honor 7's camera could be a deciding factor if you're thinking of taking the plunge.
An excellent phone for a good price
Overall the Honor 7 is a decent mid-range smartphone with some lofty aims – some of which it nobly fails to achieve. Sadly, a fail is a fail regardless of how noble it may be, so despite its promise, there isn't quite enough to make the Honor 7 stand out from the crowd – something that Huawei needs it to do if it's to make it big in the west.
One aspect of the Honor 7 does stand out, though – both its cameras are excellent. That means that despite it not being the most exciting smartphone in the world if you want a very good smartphone snapper the Honor 7 is well worth considering.
It may also be worth looking at the Honor 8 as an alternative to the Honor 7, but until we've finished our full review, it's difficult to tell.
-PS4Pro Team-
Huawei Honor 7
Design - 8.2
Hardware - 8.8
Screen - 9.1
Audio Qualities - 8.4
Price/quality - 8.8
8.7
EXCELLENT
Honor has once again impressed us with a flagship smartphone at an outrageous price. For under £250 you get a lot of phone for your money. Performance is good with the main camera and fingerprint sensors being the highlights on the hardware side. Emotion UI isn't our favorite Android skin, but it's perfectly usable, and you can always change it if you like.