MOVIE REVIEW – 60 years old Tom Hanks reteams with his 'Da Vinci Code' director Ron Howard for another round of European adventures in this action thriller based on the novel by Dan Brown.
After In the Heart of the Sea, the whale hunting seafaring adventure, which was a disaster at the box office and the unconventional Beatles documentary Eight Days a Week, director Ron Howard and producer Brian Grazer are again back in their usual series with hot-footed thriller Inferno. After their adaptations of The Da Vinci Code and Angels & Demons, here we go with their third adaptation of one of Dan Brown's treasure hunts, with Tom Hanks as the art historian and cryptologist Robert Langdon. Once again, Robert Langdon is off on the run around Europe with a younger woman (Felicity Jones) by his side, this time using clues from Dante's epic poem and various works of art to track down a deadly virus.
"The world is overpopulated – let's kill some people…"
What we have here is a boilerplate thriller plot in which a crazy billionaire (Ben Foster) sets out to destroy half the world with a deadly virus. Two hours may seem unwarranted for such a routine scenario, but Brown/Koepp/Howard blow up a dense smokescreen as Hanks rushes around museums in Florence, Venice, and Istanbul trying to decode an unnecessarily convoluted trail left by the madman.
The ever-steadfast Hanks, now 60, in the role of Harvard professor and internationally renowned symbologist Dr Robert Langdon spends less time actually running in this chase thriller, and solves more time-solving riddles, the decade since The Da Vinci Code has treated the actor kindly. Although he's paired with Felicity Jones, as a sharp and cute ER doctor working in Florence, for hunting for clues, he also has a back-story with the age-appropriate Knudsen, playing the head of the WHO task force chasing after the maniacal millionaire, while France's Omar Sy is her team-mate. Rounding out the cast is Irrfan Khan, who makes the most of his late entry as the head of a shadowy security firm.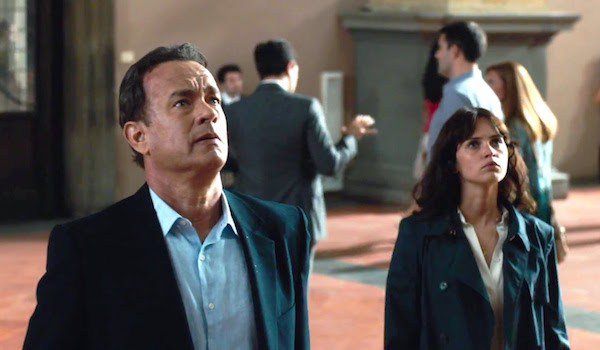 A sight for sore eyes
Production-wise the flick is excellent: while the film also used Budapest as a double, there's a lovely blend of "real" and staged which is as good as seamless that you'll find in a blockbuster today. Designer Peter Wenham has delivered the world that seduces the viewer throughout the running time into blind acceptance, with CG bells and whistles pulled right back to the dream sequences. Hans Zimmer scores and there's some nice early work with sound editing, particularly in the hospital as Langdon wakes up with some rather selective amnesia.
It's enough to ensure a breathless first hour that takes in everything from the Palazzo Vecchio to the Boboli Gardens, interspersed by nuggets of Wikipedia knowledge, visuals from a drone's POV and hellish dream sequences that give Inferno a stylistic audacity absent from its 2006 and 2009 predecessors.
The main problem however is with Inferno's basic plot; with feints, red herrings, and u-turns throughout, belief is not so much suspended as surrendered at gunpoint. Koepp has managed a hurried adaptation, and some of the dialogue can feel especially forced, particularly when it comes to the clue-solving set-ups.
Trust no one, always watch your back
Worse, Howard exchanges the streamlined kineticism of a race-against-time thriller for a bewildering tumult of reversals, flashbacks, and contradictory information. Meanwhile, a mushy romantic subplot involving Borgen's Sidse Babett Knudsen gives rise to a whole new sub-stratum of irrelevant backstory. Not only that, but there's also a pointless side trip to Venice that stops the film dead just when it ought to be gathering momentum.
It has to be said, that Howard keeps the viewer always absorbed. Felicity Jones is an engaging sidekick, and there's clearly a lot more mileage left for Tom Hanks in this franchise's tank – one of Dan Brown's Robert Langdon novels (The Lost Symbol) has still yet to filmed, but perhaps not for long.
Still, we are all left with a feeling of both missed the opportunity and nagging frustration. Having already taken two rides on the Dan Brown merry-go-round, shouldn't this have been the one where Ron finally got it right?
-BadSector-
Inferno
Actors - 6.1
Directing - 6.4
Story - 6.2
Visuals - 8.4
Ambiance - 7.1
6.8
FAIR
Still, we are all left with a feeling of both missed the opportunity and nagging frustration. Having already taken two rides on the Dan Brown merry-go-round, shouldn't this have been the one where Ron finally got it right?