The map is complete, too.
The game's battle royale mode will have several perks, let's see what these are. Paranoia sends out an audible alert when an enemy sets their crosshairs on you, Outlander makes you take less damage from the circle and are given a speed boost when taking said damage, Consumer reduces the time to heal yourself, revive teammates, and use items by 20 per cent, Skulker makes you move more quickly when prone or crouching, Stimulant increases your health by 100 points, Iron lungs allows you to hold your breath longer when sniping or swimming underwater, Looter lets you see ammo, health, weapons, and other items through walls, and Dead Silence reduces the sound of the user's footsteps on the map, which was revealed in full on Twitter: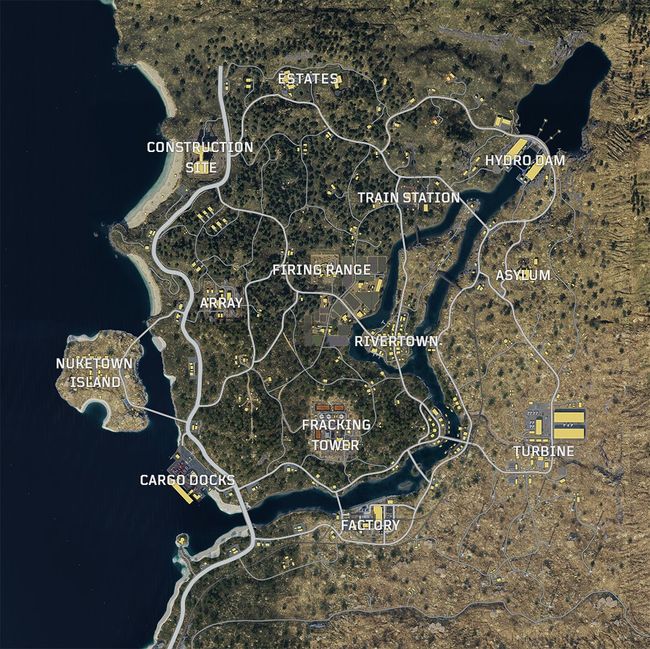 Previously, we have talked about David Vonderhaar's answers to some rapid-fire questions, but now we can hear in video that the Blackout mode might not be able to have a constant sixty frames per second. The game mode, which will have a maximum of eighty players, might see some frame rate drops here and there.
A new trailer has also arrived. Blackout's beta will launch on September 10 on PlayStation 4 (followed by the September 14 launch on both Xbox One and PC – there will be no cross-play!), and it will end of the 17th. Call of Duty: Black Ops IIII, along with Blackout, will arrive on October 12 on PlayStation 4, Xbox One, and PC.
Source: DualShockers, PCGamer, WCCFTech