After a deleted tweet – as we have said many times before -, the Internet never forgets!
One of the worst-kept secret of the gaming industry, Borderlands 3, was announced at PAX East. Regarding it, we have good and bad news. Let's start with the bad news (for PC users, at least): here's a Twitter ad video which got deleted, but got archived here:
Borderlands 3 releasing on Epic Games Store (from a Twitter ad video that is now deleted) pic.twitter.com/d4v17GapWZ

— Wario64 (@Wario64) April 1, 2019
In it, the 2K (publisher) and the Gearbox logo is always present in the bottom left corner, along with the Epic Games Store logo – it almost confirms that Borderlands 3 will avoid Steam, GOG, and a few other PC online game store for about half a year (we'll later explain why) to become one of the big exclusive titles of the Epic Games Store.
The good news? It's for the release date: there's another published and deleted tweet that says the pre-orderers will get a gold weapon skin pack, and that Borderlands 3 would launch on September 13, on a Friday. As both tweets got quickly wiped (and yesterday was April 1 as well…), we still have reasons to doubt them.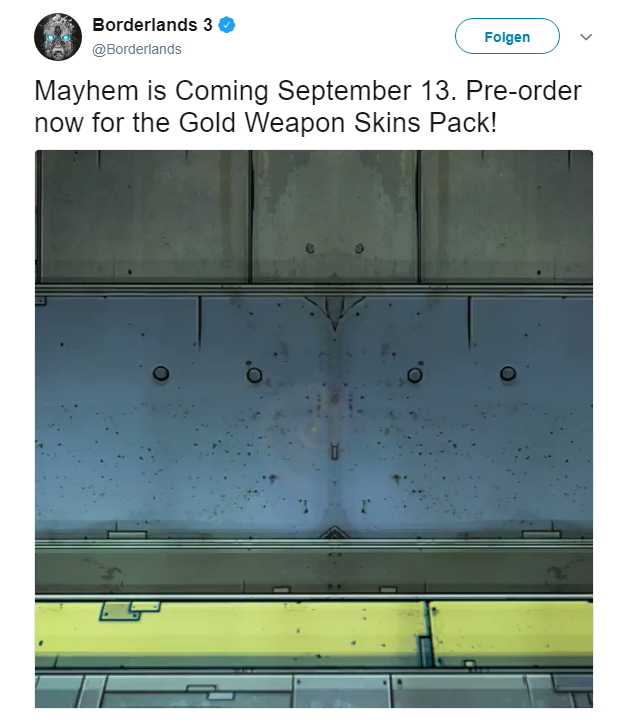 But let's get back to the Epic Games Store subject – Randy Pitchford, the head of Gearbox, expressed his opinion about PC exclusivity via three tweets: "2K/Take-Two has exclusive publishing rights for Borderlands 3 and makes all decisions regarding price-points, territories, distribution and platform partnerships. Please direct all inquiries regarding any of those topics to 2K. We are *just* the talent." "As a customer, I'm happy to shop in different stores – already do! I've bought games from Xbox, Playstation, Switch, Steam, Origin, GOG, Humble, Uplay, Epic and other stores. To me, exclusives are fine when they come w/ advantages and when they are short – say, six months :)" "For what it's worth, 2K's decisions aside, myself and the team at Gearbox have a very keen interest in cross-platform play. We believe multi-platform support is a pre-requisite and Epic's leadership with cross-platform support is helpful to our interests there."
So it seems that Pitchford is seemingly already hinting at Borderlands 3 becoming an Epic Games Store-exclusive for six months on PC aside from the PlayStation 4 and Xbox One release. Also, the fans' previous guess of an October 10 release date seems to be off, if it does come out on September 13. We'll see…