REVIEW – Twelve days. The plague that turns surrealistic and nightmare-ish shows its true colours under the top layer. How can you fare in a dangerous situation? (And how… frightening is it to write about this game in the middle of a pandemic?)
Artemy Burakh and the hometown whose people need to be saved.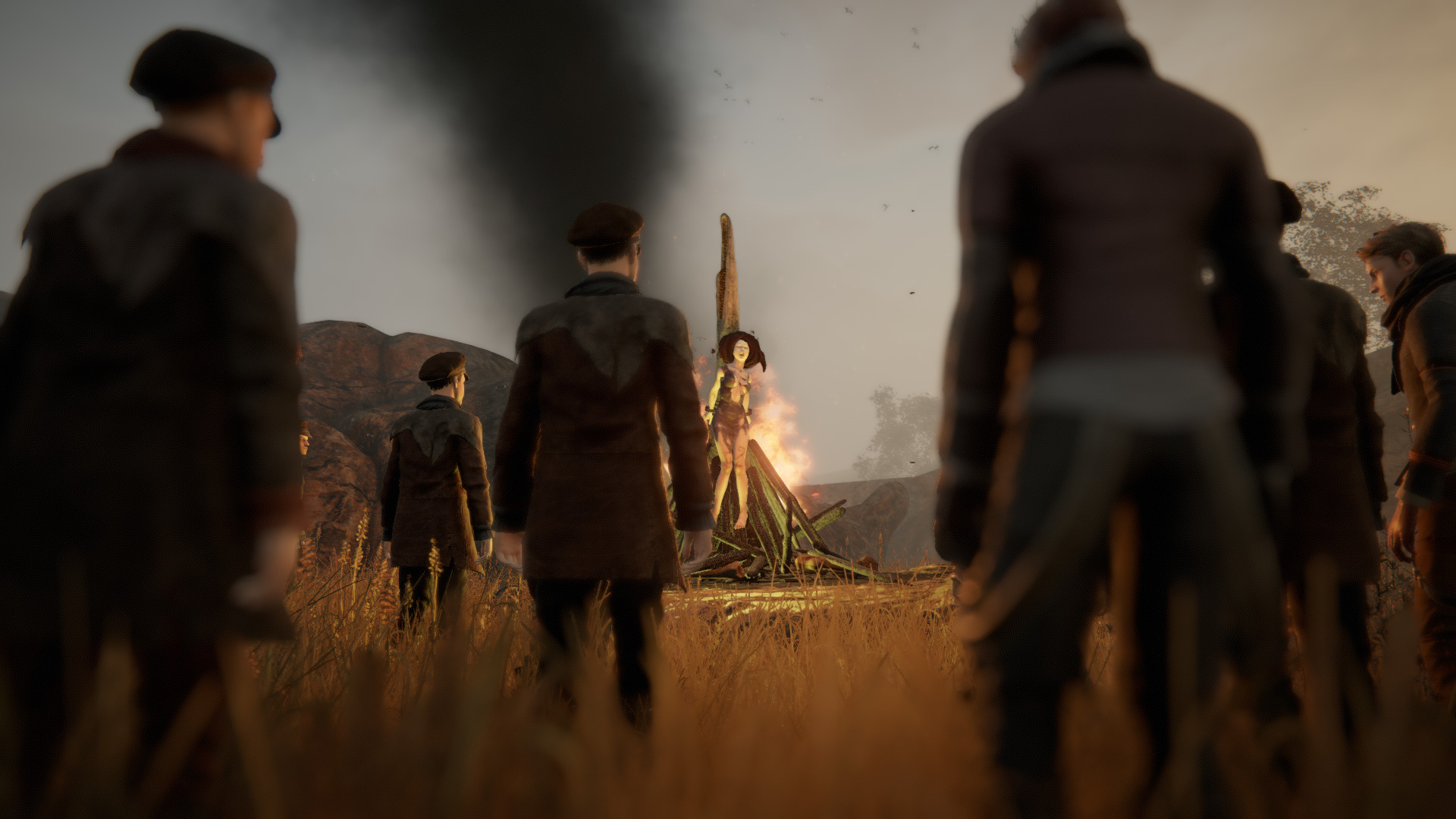 Where death stands
There are games where it's highly recommended that you experience them yourself. Pathologic 2 fits into this category, even with you starting with a bad outcome to get a chance to try again, go back to the past, and try to change the fate of the town in such gameplay where the survival mechanics and the otherworldly story and storytelling gets combined. In a few days, the plague starts to rear its ugly head, and it starts to spread relentlessly. The player gets dropped right into the middle of the events, and then they have to find the solution (and it's recommended to do so on the so-called intended difficulty level, and not the two easier ones). And there won't be many open gates: you will get overflown by everything. Is the truth in meat? Is the earth the right path? What background information awaits us? The door is open but the time is ticking, and as you go forward with the days, the situation will get worse: a fewer NPCs will be healthy (or alive…), there won't be as many resources, and so on.
You can also add how Artemy is fragile: your stamina gets drained by four jumps, or the stomach starts to growl (sleeping stops tiredness but increases hunger and thirst – survival of the fittest…), and we could also die just like the non-playable characters. Sure, we could try again, but Pathologic 2 spreads its wings here – the game, which is essentially a reimagined version of the original from 2005, makes your role (yes, role) harder each time you come back. You can't just learn the patterns or anything like that, as you could be in trouble for other aspects as well, and yes, I could say that Pathologic 2 is a bit frustrating… yet, it has some magic in it, as there is utter hopelessness, causing suffering in the process. Ice-Pick Lodge's game wants to show you this, and it does it in such a good way that it sucks you in.
And then, you quickly realize an hour has passed, or two even, and that is indeed a sign of a good game – it can engage you without any microtransactions or DLC (or, in other words, buy the parts of the game which were supposed to be in it by default). And then, with the side stories and background stories, that replayability c also be increased (as nothing will happen exactly as you expect). And then, I didn't even say that you could fine-tune multiple aspects of the difficulty, so if you want to modify the speed you lose your health, you can set it up. This is an excellent idea to give a bit of relief for those who cannot progress further – you can change it whenever you want.
Where does death stand?
Pathologic 2's ambience is incredibly good. It was nailed – this is how you showcase the breakdown of society in a video game. The environments are also superb, and while there are invisible walls (nothing is perfect, technical issues….), the soundtrack, and, in my opinion, the voice acting is top-notch, too. You'll hear these a lot, as the city seems to have been intentionally designed to make you feel lost – and yes, in a race against time, that will benefit… the plague to spread.
There's also the dialogue system, which – as expected – has multiple options (and the way the characters look at you looks a bit like The Council's depiction of its respective characters), where the rhombus-shaped, coloured options will end the dialogue, and it could change the ending as well – already in the first few minutes, you will hear that you should talk to this person and not that one. It pushes desperation even higher. The graphics are alright, but I have seen better – it might be one of the weaker points of Pathologic 2, plus you should expect to die A lot if you go ahead and play the game on the intended difficulty.
Death stands here
The PlayStation 4 version, which launched recently, is still a bit buggy, and its technical performance is questionable. Especially the base PS4 seems to struggle a bit with Ice-Pick Lodge's product. That version of the game is getting a 7.5 out of 10, while I'm willing to give the PC original a kind-hearted 8.5 out of 10. The fighting didn't seem to work that well – I didn't think I was playing Mike Tyson's Punch-Out on the NES (but at least you don't get knocked out by a single hit).
If you get over this, as well as the ridiculously difficult base level, then you get a game that we could easily recommend to everyone, especially nowadays. It's a recommended buy, although the launch of the PlayStation 4 version (March 6) seems to be somewhat unfortunate. In short, you will never be in complete control of events. You have to make tough sacrifices, and meanwhile, you could also become a victim – stay home and play. Maybe play this game.
-V-
Please support our page theGeek.games on Patreon, so we can continue to write you the latest gaming, movie and tech news and reviews as an independent magazine.
Become a Patron!

Pro:
+ Ambience
+ Game design
+ Customisable difficulty level
Against:
– It's not eas by default
– Technical issues (a bit more on PlayStation 4)
– The combat system
---
Publisher: TinyBuild
Developer: Ice-Pick Lodge
Genre: Survival horror/adventure/RPG
Release date: May 23 2019 (PC, Xbox One); March 6 2020 (PlayStation 4)
Pathologic 2
Gameplay - 8.2
Graphics - 7.3
Story - 9.1
Music/audio - 8.9
Ambience - 9