MOVIE PREVIEW – Razor-sharp but reclusive Loretta Sage (Sandra Bullock) has spent her career writing romantic adventure novels set in exotic locales, with photographer Alan (Channing Tatum) as the protagonist Dash on the cover. Loretta is on a promotional tour with Alan to promote her new book when she is kidnapped by an eccentric billionaire (Daniel Radcliffe) who hopes she can lead him to the ancient lost city where the treasure she has been writing about is located.
Alan sets out to prove that there is a hero in real life, just like in the novels, so he sets out to save Loretta. And so begins a hair-raising jungle adventure: the odd couple must team up to overcome the elements and find the treasure before it is lost forever.
Big adventure on the big screen
Sandra Bullock has long been preoccupied with the idea of making an action-adventure film with a comedy twist, like the classic films she used to watch in the cinema. He decided to create one with his production company, Fortis Films. As expected, the Oscar®-winning actress set the bar high. "We set out with a serious ambition, but we knew we had to do it properly," says Bullock, "This film won't work if all the nuances don't fit together seamlessly. The protagonists are a writer and a model who are completely shut in and shouldn't be venturing into the jungle, or even into nature at all. The jungle eats people like them. They should just stay in a hermetically sealed building with air conditioning."
Bullock asked her friend Lisa Chasin to be one of the producers of the film, as did Seth Gordon, who was the brainchild of the project.
According to Chasin, after a time of pandemic anxiety, there is a great need for fun. "Sandy and I realised that we hadn't seen a film like this in a long time," says Chasin. "It's a full-throttle popcorn movie that can take us out of our everyday lives for two hours and bring back the sense of community that we've been missing for so long. What we can offer is that the two protagonists take everyone on an action-packed, funny, sometimes disastrous adventure."
The film's directors were found when Bullock and Chasin watched the action comedy Band of Robbers, written and directed by Adam and Aaron Nee. In the film, Mark Twain's immortal heroes Tom Sawyer and Huckleberry Finn are grown men who must make the big decisions of their lives in the present day. Bullock and Chasin met the directors.
"This was exactly the project we were looking for, we just weren't aware of it yet," says Adam, "The Lost City is the film our much-struggling world needs, but right away. It's pure escapism, a high school of entertainment."
"We like to borrow elements from different types and tones of films and harmonise them," Aaron says. – The Lost City is an action-adventure film with a strong comedy twist. Taking these three currents and bringing them together was both a difficult and a happy task, because when it works, you get a very rich cinema."
"Aaron and Adam are terribly visual types," says Bullock, "They come from the independent film world, so they're versatile and they understand how to put together the pieces of a mosaic that, when they come together, make the film work."
From novelist to fumbling adventurer
The idea for the film came from Seth Gordon, who once visited the Romantic Novelists Festival when he was making a documentary. "They held a contest for the cover boys, who were supposed to embody the charming and innocent hero-lovers of romance novels – and the ladies in attendance, many of whom were serious university-educated novelists, were visibly jumping out of their skin with glee, obviously enjoying being off the ground," says Gordon. – I am struck by the fact that these writers are likely to be cynical and squeamish about the desirability of pure, ideal love, while making a career out of peddling it. From this milieu come the heroes of the film: the woman writer, fed up with her constant romance, and the male model, not a rocket scientist, whom she doesn't take seriously until he rescues her in the most unexpected situations."
Loretta was originally a historian, until she worked her way down to bestselling author of romantic historical novels. "Her books on historical subjects wouldn't have been bought by the dog," Bullock explains, "so she packed a lot of sex into the original material and it was a huge success."
Loretta is a widow whose beloved husband was an archaeologist; now she lives in seclusion. Holed up in a comfortable house, surrounded by artifacts and memories, she entertains herself with stories from her bedroom, rewriting a time long past. "Loretta finds solace in her home, in her books, in words, and in her mind," Bullock continues, "She adventures in her imagination, so she doesn't need to step out into the world and test herself."
Loretta prefers to send her heroine, Dr Angela Lovemore, into the wilderness in chiselled titles such as A Year in the Bush and The Lost City of D.
"Loretta feels like she's never going to turn over a new leaf, but then she's thrown into an adventure she can't even put on paper," says Aaron. – Her life suddenly takes a sharp left turn."
When Loretta faces a creative crisis, her best friend and publisher/marketer Beth persuades her to go to a book festival to recharge her batteries with new ideas and boost sales. But Beth knows that it won't be enough for Loretta to attend the festival in person – she needs a secret weapon, namely Dash, the dangerously handsome model who charms readers with the covers of Loretta's romance novels.
Dash is the perfect man: handsome, cheerful, easy to talk to, smart and brave. But Alan, the model who embodies him, is anything but Dash. But Alan is a fundamentally good kid, honest, helpful and loyal, and despite the circumstances, he ends up being the Dash he always imagined himself to be.
"Dash is the typical swashbuckling, swashbuckling adventurer who bursts onto the scene at the height of the action on a white horse or swings into a sleigh and rescues the distressed," explains Channing Tatum, who plays the character, "Alan is far from that, but he tries. I think Alan was a bit embarrassed when he started modelling, but then he had an epiphany and realised that he could bring a lot of people joy with this character. Is there anything more noble than making people happy?"
"Alan is not completely mad," the actor continues. – He doesn't think he's Dash, but he'd like to think he's like him in some ways, like having a good heart."
For Bullock, Tatum was the perfect contrast. "Channing tends to underestimate himself, he doesn't want to fatten his ego, which works perfectly when he's playing Alan because it comes across so innocent," Bullock continues. Few people can play such a straightforward, open man, but Channing plays Alan with perfect instinct.
Channing is a master of physical comedy, using his body to convey the punchline. We immediately found common ground. It's great when you're on the same wavelength as your film partner, who has perfect timing. At the same time, we are different enough to complement each other well."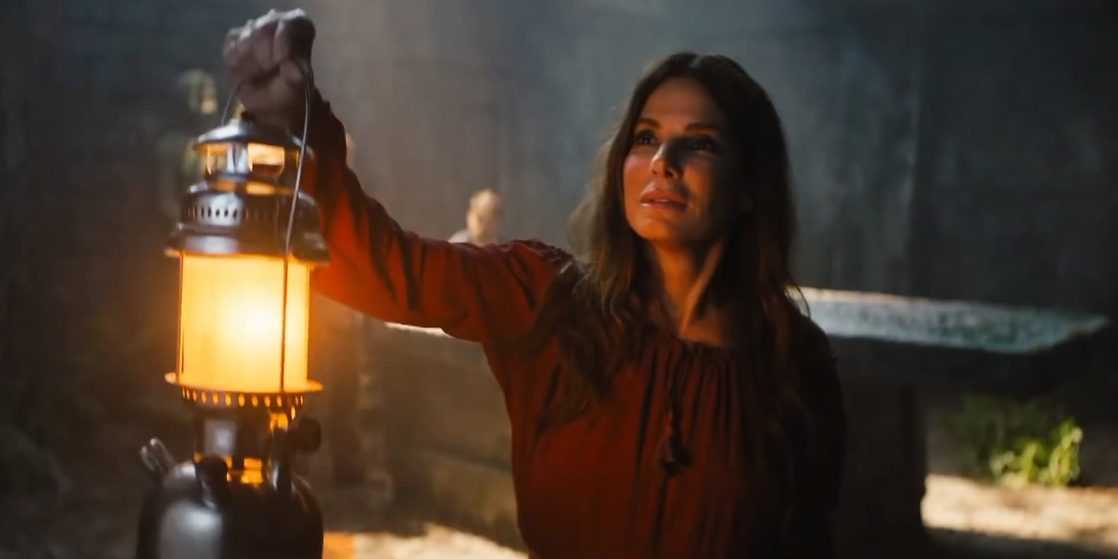 The billionaire's "lost" search
An action-adventure comedy is only as good as the villain that keeps it churning, and The Lost City has an unforgettable character: eccentric billionaire writer-robber Abigail Fairfax. Daniel Radcliffe's name immediately came to mind, and Bullock thought the idea was brilliant. "Daniel's piercing blue eyes are kind and friendly, until Fairfax starts to go mad," says the actress. – Then Daniel turns into an obsessive madman. It's so brilliant, I wonder what the audience will think when they meet a Daniel Radcliffe they never expected."
Bullock, Chasin and the Nee brothers put a lot of thought into Fairfax's style, and meticulously worked out how he should look in terms of his clothes, hair and make-up. In the end, they came up with the idea of making the wealthy entrepreneur look like he'd just stepped off the pages of a men's style magazine, Gentlemen's Quaterly.
Radcliffe felt he was totally suited to the evil but always entertaining character. "Fairfax is the bad guy, but he's also a very funny character because he's a big rascal and he can be offended by anything," says Radcliffe. He's just a horrible, self-proclaimed colonialist.
Originally, he was seriously interested in archaeology and history, but for all the wrong reasons. Fairfax wants to get his hands on treasures so that others can't get their hands on them. It's a very childish motivation."
Fairfax pitches his audacious plan to help Loretta find the lost city of D, where a great treasure – a rare red diamond head – is hidden, and he thinks the writer will jump at the chance. But Loretta won't go for it, so Fairfax decides it's best to kidnap her.
"Fairfax chloroforms Loretta and puts her on his plane, hoping she'll change her mind, then when it turns out she won't, the billionaire realizes his original plan won't work," Radcliffe continues, "Loretta steals the only guide to finding the treasure, so the billionaire concludes the writer is no longer innocent. He's got the launch permit, Fairfax wants to hunt it down."
"I love that name," laughs Radcliffe, "I've always had fun with it, because Fairfax is very attached to it. He's spent his whole life trying to prove that it's a gender-neutral name."
Radcliffe was not fazed by the fact that the sun was shining down on his head and the temperature was at boiling point during the shoot. "Extreme cold or heat is usually a good thing because you forget you're acting, you're just in the situation. But Fairfax is not the sweaty type in our minds, so there were five people around me with fans all the time to keep my shirt from getting wet."
Loretta is not alone
The cast is rounded out by actors with a comic vein: Da'Vine Joy Randolph, Oscar Nuñez, Patti Harrison, Bowen Yang – and in a special cameo, Brad Pitt.
Randolph plays Beth, the publisher of Loretta's books, who is also her best friend and unofficial therapist, as well as her manager, publicist and, last but not least, private detective, because he starts investigating when the author disappears.
"Beth knows that Loretta has too much time on her hands, yet she does nothing," says Randolph, "She tries to motivate her friend, encourages her to start writing again and get out for some fresh air. He keeps nagging her because he doesn't want Loretta to get mouldy at home."
When Loretta is kidnapped, Beth springs into action. "She realises that the police and the FBI can't solve the problem, so she makes the bold decision to head off into the unknown," explains the actress.
"Da'Vine plays a powerful female boss, but she has the comforting human warmth and intellect that the viewer can immediately see the relationship between Loretta and Beth," says Chasin, "It's not just a professional relationship, but friends who are emotionally connected."
Bullock was already smitten by Randolph's comic abilities, but when she discovered that the actress was also an opera singer, their relationship became even closer. "My mother was an opera singer," says Bullock, "I found out Da'Vine was also an opera singer and I just melted."
Patti Harrison as Beth's quirky social media manager Allison. According to the actress, her character's job is to "make Loretta meet the needs of the market and get young people to love her books".
Bullock was very pleased that Harrison brought an unconventional approach to the role. "Patti is very conscious of the comedy genre and she can sometimes go over the top into the crude, but that's what makes it so funny. Then you ask yourself: is it really OK to laugh at this? It's not for everyone if it's totally relaxed, but at the same time has a caustic sense of humour. It works for Patti and he and Da'Vine make a perfect pair."
Oscar Nunez, who rose to fame with The Office, was the first actor to be signed up for the film. "Sandy co-starred with Oscar in the comedy The Aces Offer and had such a good experience that he kept bringing it up in casting meetings. We wanted Beth to have her own mini-evolutionary story thanks to her encounters with odd characters. She gets involved with a really bizarre guy – his name is Oscar and he's played by Oscar Nunez."
The first thing you know about Oscar is that he transports animals from island to island. Beth is not entirely sure if this is a legitimate business, but she boards his transport plane. Oscar is starting to fall for Beth, so he stays with her to help her on the rest of the journey.
Oscar also has a best friend from the Nee brothers, Randy the goat. "We wanted to put Beth in a situation that was sharply different from her normal life, just like we did with Loretta," says Aaron. – So Beth got a boyfriend in love with a goat. Beth and Loretta go on parallel journeys, with Loretta making out with Alan in the jungle and Beth, who as the boss at work wears high heels and a costume, sits on an animal-packed plane and is smuggled across the ocean."
Brad Pitt's memorable role begins when Alan decides to rescue the kidnapped Loretta. Alan suspects he's not quite up to the task, so he hires Jack Trainer (Pitt), a former Marine commando who does yoga and hostage rescue as an avocation.
Bullock chose an actor for the role by turning to an unusual consultant – her old friend and hairdresser Janine Thopson, who recommended her other client Brad Pitt. Bullock had recently appeared in a flash in Pitt's Bullet Train, and Pitt was happy to return the favour. After all, who wouldn't want to play a well-educated ex-commando turned fortune hunter, with aanything from Lao Tzu and Tao Te King leaving his mouth by the minute?
"Brad has captured the character in a very special way," says Bullock, "Trainer is a Buddhist, a child of the Earth, very granola. (Granola is originally the name of a superfood like fried granola, but in American slang it's used to describe modern hippies who roam the planet in t-shirts and shorts, backpacks, hair in dreadlocks, canteens hanging from carabiners, and want to save the Earth while exploring alien cultures.) Alan is panting like a Labrador puppy in their wake."
Pitt even helped to design Trainer's look. "We envisioned Jack Trainer with long, wavy hair, which Brad thought was a great idea," says Thompson. But you don't know exactly what Jack has achieved or who he's saved, because he'd still be a mercenary."
"We threw Brad right into the middle of it, I don't know if he knew what he was signing up for," says Aaron. – But he did amazingly well, he was involved in everything that came his way."
Tatum was delighted to work with Pitt. "I'm always afraid of meeting people I admire," the actor reveals. – Because I wouldn't be happy if the bubble burst. But Brad was everything I always imagined him to be. It's amazing that he took this role."

The completely unique one-dress
Loretta's stunning and perfectly jungle-appropriate outfit – a fuchsia sequined jumpsuit that made her look like a walking disco ball – is the work of a prominent yarn designer, Marlene Stewart.
It is a creation that speaks more eloquently than anything else about its creator. "I think I'll be talking about this jumpsuit for the rest of my life," says Stewart, laughing. – But do I want to change that? Of course not, it's a funny subject. Here's this woman on a spit, Loretta, who can't get off the path she's on. Her friend and manager Beth persuades her to put on some sparkly clothes to look and feel sexier, but things don't turn out as expected. Little did Loretta know that she would be kidnapped and suddenly find herself in the middle of the jungle in this sparkly dress."
"The idea for the jumpsuit came from the fact that I love wearing it," Bullock reveals, "I usually love matching outfits. It's all in one – zip it up and you've hidden what needs to be hidden. On the other hand, this is the most embarrassing and awkward outfit Loretta Sage could wear. I thought it would be fun."
Channing's wig
While Loretta is defined at least in part by her cover, Alan, aka Dash, shocks audiences at the romance novel festival with his hair-dyed mane, pirate-style bomber jacket and artfully ripped jeans. The hairstyle left a deep impression on Tatum: "I had no idea that this wig could have such a personality-shaping effect. I didn't even know who Dash was until I put the wig on. Suddenly this psychotic, crazy character took shape."
The wig was designed for Tatum by Rob Pickens and was put together, cut and dyed by the actor's stylist Derrick Spruill. "The wig needs its own trailer because it's a character in its own right," jokes Spruill. He's no longer Channing Tatum, he's no longer Alan – he's totally Dash. With this prop, he becomes his own hair. Sometimes a tuft would go in his mouth and he hated it. Get it off, get it off, he demanded. Channing has never had long hair, preferring the zero military hairstyle, done with a zero machine. It's very funny because he had a real 'hate it and love it' relationship with the wig."
Action, adventure and laughter in the jungle
The film's creators aimed to entertain with spectacle and humour. "We wanted to make our island explode, but without trying to be forced," explains Aaron.
Cinematographer Jonathan Sela – John Wick, Deadpool 2, The Killer Flight – worked with the Nee brothers to create a special version of the Zorn palette (Swedish painter Leonard Zord worked with just four basic colours – white, ochre, red and black – which can be easily used to create harmonious shades in the Zorn palette). ) to give the film a unique colour scheme. "The Zorn palette is limited in colour, there are no saturated blues or greens," Aaron continues. – We used this colour scheme in the first act of the film to create a kind of Wizard of Oz effect. We held back on the saturated greens and blues, and then as you get into the jungle, these hues suddenly burst onto the screen."
To elaborate on the exotic details of the fictional island, anthropology professor Dr. Seth Mallios, who has studied ancient indigenous cultures, was asked to piece together the mythical story of King Kalaman, Queen Taha and their tribe lost in the mists of millennia, inseparable from Loretta's allegedly fictional novels and Fairfax's criminal schemes.
The lush jungles and majestic waterfalls of the Dominican Republic were chosen as the perfect backdrop for the legendary Lost City, D and its surroundings. DK also provided the crew with well-equipped studios to build their sets.
You wouldn't think that a film set in the jungle would also need a plant supervisor to make sure the jungle is as green and lush as possible, to meet the audience's expectations.
While the studio work was going on, the stunt team built a stretch of road, known as the Shaman's Way, between the studio and the adjacent golf course. It was here that they rehearsed and filmed the key action sequence, in which Alan, wanting to save Loretta, single-handedly takes on Fairfax's harami on top of a moving Mine Resistant Armoured Personnel Carrier (MRAP). It took five nights to film the scene. "Alan follows the MRAP on his scooter, drives past it, jumps on top and the big fight begins," explains stunt coordinator Kyle Woods.
-theGeek-
Source: UIP Dunafilm