REVIEW – Telltale surprised me. Initially, I thought after the "finale" that was moved forward to December 13 that it will be no less than a sixty-minute episode for Batman and Bruce Wayne. I was wrong with this episode called City of Light – it has everything that makes a Telltale game what it is supposed to be.
This episode made a change that your starting position would change depending on your decision made towards the end of the fourth chapter. The action quickly kicks in, which is expected by Telltale and their season finales. Yes, season finale – otherwise why on Earth would a certain character show up at the end of the episode if there wasn't a sequel planned? Simple logic…
Chess figures
There are three major chess figures on the table to be knocked off to succeed (although it's a bit of a subjective definition here). Due to my decision, one of them, the smallest one (still a personal opinion) got taken out at the end of EP4, followed by the middle piece with a Deja Vu scene. Isn't this location showing up in almost every episode?
There's a bit of remembrance of the past, a bit of dialogue, followed by some teamwork with Gordon in the end. I have to point a scene out here that made me laugh for minutes due to it being unexpected. You get the chance to kick someone, and Gordon's reaction will be an "I didn't see a thing" sentence while pulling out a cig. Telltale should have more moments like this one.
If your things are going well, the story won't be that hopeless as there will be some behind the scenes coming up as revelations, sometimes bringing up some insane things as well.
Torture
You'll meet an another figure, which could have been a plan to make you move away from the Wayne Manor because the third chesspiece comes in and takes someone away. This scenario takes up at least half of the episode: an investigation is followed by another, while we see a torture chamber leading to another location eventually. I'm going to write this here, I don't care if it's a spoiler: Alfred, despite being aged, has quite a lot of intelligence and brawl.
We get to the main baddie, which turns into effectively a cat-mouse chase for a while, while this person only wants us to take our mask off. Do we get to a… altar? (I did not understand that location, to be honest.) We will hear one particular quote that stuck in my head: "You belong in this darkness, Batman." That took it all for me. It describes the whole season flawlessly, not to mention that person that shows up at the end. It's your typical Telltale-ending. It's a cliffhanger…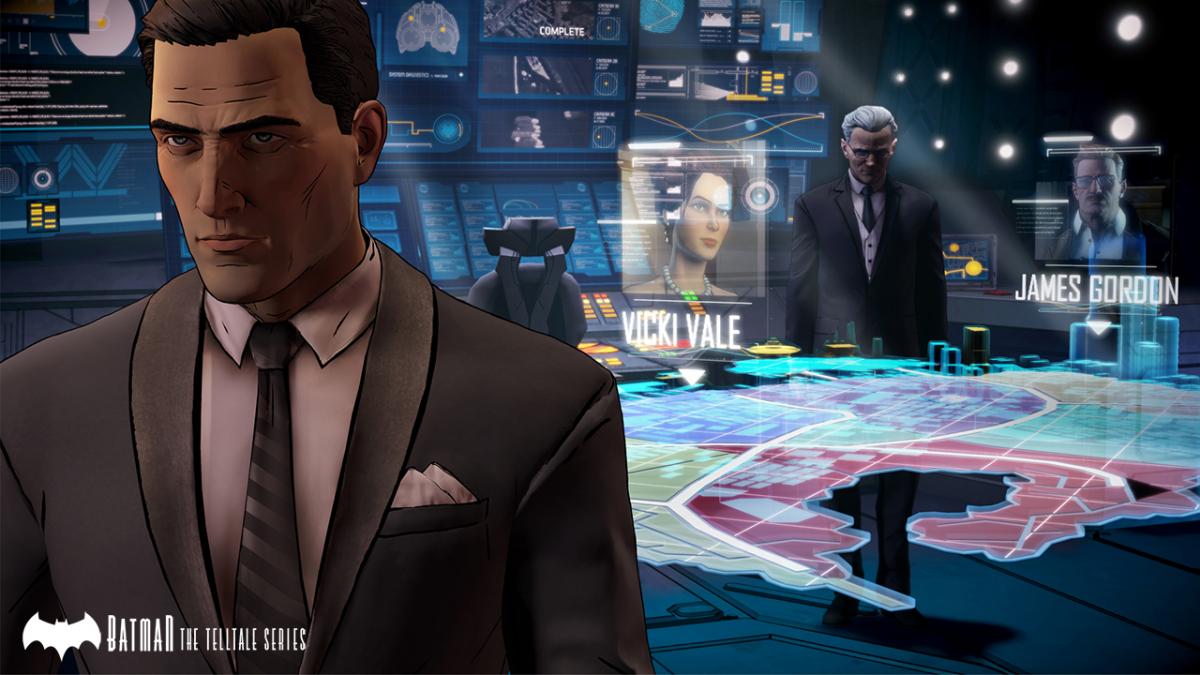 Error
The animations seem a bit off, I could not see my decisions after the ending, and from the menu, the Ep5 choices were grayed out. Meanwhile, the episode feels inconsistent: there wasn't much behind the investigation scene here, which you are forced to do even if it's quite obvious what happened. It felt like a waste of time and making us hyped for the finale seemed to have backfired.
Sure, the episode has quite memorable points here and there, but what happened to the relationship building aspect with a few characters? The two-faced aspect (Batman/Bruce Wayne) was not maxed out: sure, you get a decision towards the end of the chapter, but I don't think choosing the other option would have changed a lot…
Worth a buy… during a sale
The SEASON itself gets a kind-hearted, low 8. The pros and cons, as well as the score, is for the whole series so far, not for the episode. City of Light is somewhere between a 7 and a 7.5 – the plot is alright, the gameplay makes it easy to be picked up by everyone, but the graphics screw up here and there, which is balanced out with the great audio.
If Batman – The Telltale Series is getting a price cut during a sale on the Store, pick it up. Only get it at full price if you are a hardcore Batman fan.
-V-
Pro:
+ Telltale's usual style and approach
+ Here's an example of a good Batman game without Rocksteady's involvement
+ High-quality audio
Against:
– The graphics and animation are not perfect
– The ending could have been better
– The last episode to an extent
---
Publisher: Telltale Games
Developer: Telltale Games
Genre: Episodic, adventure
Release date: December 13, 2016 (PS4, PS3)
Batman - The Telltale Series: Ep. 5: City of Light
Gameplay - 7.5
Graphics - 7
Story - 9
Music/Audio - 9
Ambiance - 7.5
8
EXCELLENT
Of course there's going to be a sequel...