OPINION – The online multiplayer is great, no one doubts it, but there is nothing like sitting with friends to play a local cooperative game. The experience is incredible! We review some of the best games with local cooperative on the PS4. Did you all know them? Are you missing one?
There is something special, unique, when you sit down with a friend, side by side, and you start playing Diablo, Nex Machina, or any of many other videogames with a local cooperative . Internet rules, the online multiplayer is still the king, but in recent years there has been a remarkable growth of cooperative game experiences on the same machine. It does not matter which type of game you play, the result is the same; immediate fun, laughter, jokes and, also, of course, the odd heated discussion. It was his fault! But everything is forgotten when the game resumes and the people you play with are there, by your side, sharing experiences as before.
Cuphead
You will constantly curse them; as many times as defeats accumulate in the challenging Cuphead , one of the most difficult video games of recent years but, also, one of the funniest action and platform adventures of those that have passed through our hands. Much more if you accept the challenge in the company of a friend then, and never better said, two are better than one! in a title like this, in which each battle requires inhuman skill and ability. You will suffer to defeat the incredible bosses of this videogame with the aesthetics of traditional animation films, but you will also enjoy like children jumping, shooting and dodging attacks in extremis. Your partner needs help? Rescue his soul before losing his life in the attempt.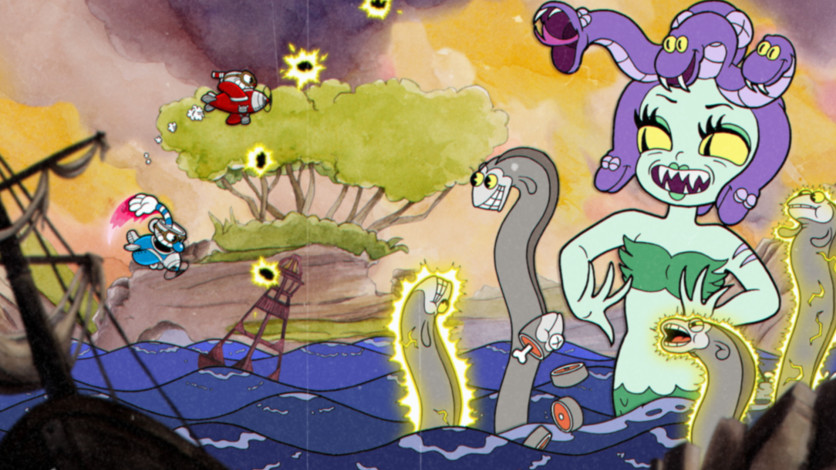 Lovers In A Dangerous Spacetime
You shoot that I'm in charge of driving. Or the other way around! Leave me the controls of the ship and you have to redirect the energy shields to protect us from enemy fire. Few video games have understood the essence of cooperative multiplayer as well as this fantastic Lovers in A Dangerous Spacetime., a videogame with the essence of the roguelike that proposes that to us, to control a spacecraft not directly, as we are used to, but from within, as astronauts, moving from here to there while accessing the different command options. Shields, turrets, engine; with scenarios that are generated randomly, with lots of enemies with their own ways of proceeding and innumerable traps to escape, this colorful space adventure will make you smile in the company of up to three friends, because there is no other, you will only escape if aprovecháis ye work team which will save you from failing in a game that is more challenging than it might seem at first glance.
HellDivers
Created by the creators of the fun Magicka, this exciting action videogame allows up to four players to face the dangers of a futuristic universe …. in which friendly fire is back! What does this mean? What in HellDiversit's not good to shoot like crazy; that throwing grenades without thinking about the consequences can end up really bad if the road crosses an ally, as this will suffer damage to the point of death. It seems silly but it is one of the funniest aspects of this double stick shooting game in which the levels are generated randomly, and in which the acts of the fans determine the course of a non-linear campaign . Its action is exciting, requires certain combat tactics to survive, and it is spectacular. What more could you want?
Divinity: Original Sin 2
When talking about Larian Studios and its outstanding Divinity: Original Sin 2, The truth is that we are speechless! This role adventure is a real wonder; a video game that not only significantly improves what was seen in its predecessor, which in itself was an excellent RPG, but also expands the experience with a cooperative multiplayer mode more ambitious and infinitely better integrated into the action of the game. Up to four people can collaborate in this exciting adventure almost without limitations. So much so, that you can separate yourself from the main group to live your own challenges, having a voice and vote in the course of events. With a turn-based combat system of those who leave their mark, and lots of decisions that change everything in the course of conversations, but also during moments of exploration, the sequel to Divinity: Original Sin is a videogame that you should not let escape for anything in the world. Also, in case the main adventure was not enough, it also includes a modeDungeon Master so that, together with your friends, you can create your own role adventures.
Diablo III
Fighting the forces of evil in the dark world of Sanctuary is one of the most addictive experiences you can imagine, especially if you do it in the company of your friends, and even more so with them by your side. It is one of the great virtues of Diablo III in consoles; allow up to four players to confront the demons in an all-out fight that includes more than enough options to extend the game for hours. Have you completed the main adventure? Raise the level of difficulty, or put yourself to the test in Adventure Mode, or simply delve into the Nephalem Faults to get the best items from this action and role adventure developed by Blizzard. With the incentive to compete every few months in the so-called seasons, if you feel like crushing hundreds of demons while improving the skills of your hero, here you will find a work more than recommended.
Nex Machina
Resogun authors among other great arcade, the Housemarque team surprises with this spectacular and frenetic action videogame inspired by classics of the likes of Smash TV and Robotron. Nex Machinais a true festival of shooting and explosions, one of the best action games of recent years and, sadly, the latest project of the style developed by this excellent independent studio that, months ago, claimed that "the arcade are dead" after more of 20 years dedicated to this genre. One of the great strengths of the game, regardless of its intense action, has to do with the follies that forces you to perform in order to achieve the best possible score; in order to rescue survivors or overcome certain optional challenges. It's so exciting, so chaotic, so spectacular in its staging, that once you get into the war against the machines you do not want to abandon the game; less if a friend accompanies you. Give it a try !, you will not regret it.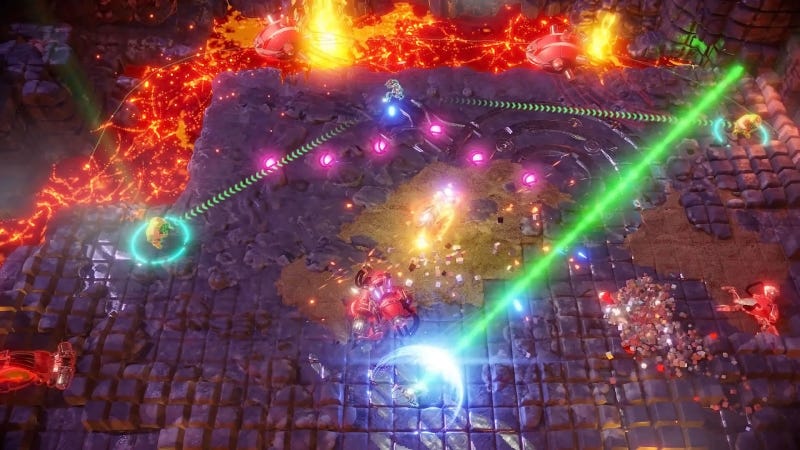 A Way Out
Cooperative by imposition. This is how the action of A Way Out is planned , a great adventure videogame that proposes to escape from a prison in the company of another person. There is no debate possible. Either you do it or you will not have the opportunity to enjoy the new work of the creators of Brothers: A Tale of Two Sons. Worth. With a great staging and a powerful narrative , the adventure starring Leo and Vincent will make you live great action scenes while you test your ingenuity solving simple puzzles. His ability to surprise you with new game mechanics and, of course, his well-grounded argument contribute to build one of the best cooperative experiences of recent years.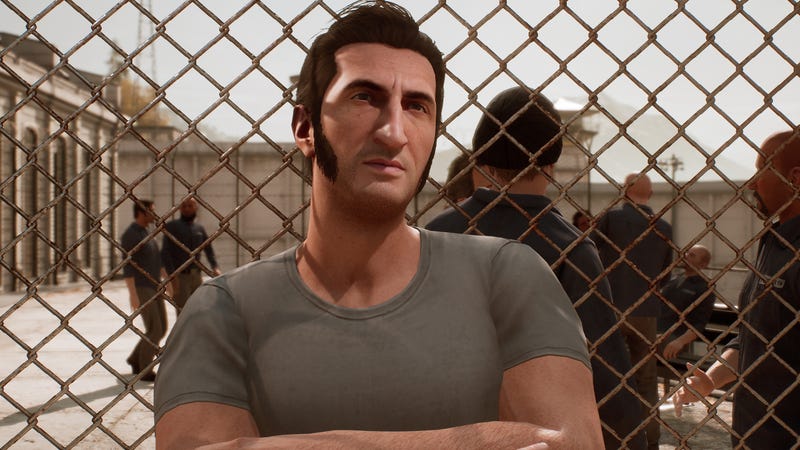 Trine 2
The Trine trilogy has a special something that makes it unique. Fall in love with the beauty of its graphics, yes, but also with the ingenious design of its puzzles and exciting sequences of action. In the skin of three well-differentiated heroes, a sorcerer, a knight and an agile thief, this saga of adventures successfully combines the puzzles with action and platforms, forming a fantastic story that catches as few. And in this context, your cooperative becomes stronger. If you play alone, you alternate the control of each hero freely to solve the puzzles as you please, but if you are accompanied by two more friends, the experience improves significantly with the inventiveness and flexibility with which you can overcome the obstacles you will find in the path. Trine 2 it is shown at this point as the roundest video game in the franchise.
Unravel Two
After the good feelings that Unravel brought, EA and the Coldwood team bet on cooperative action to give life to a sequel that entertains and excites in the same measure as the original video game. Although the premise remains, Unravel Tworaises a great variety of challenges plataformeros that require the perfect coordination of two players to be overcome with success. If the main campaign knows little, or does not pose a great challenge, the additional challenges will make you squeeze your brains while you search for the way to escape alive from the many obstacles that you will find there. With an aesthetic of great beauty and a good pace of action, the sequel to Unravel is not a particularly innovative videogame, but fun, which is ultimately what matters most.
Overcooked
Cooking can become a real challenge in the crazy Overcooked , a fun action game that proposes something as simple as feeding a monster, but that soon proves to be an absolute chaos with which it is difficult not to laugh out loud. Better in the company of three more friends, we will have to divide the tasks in the kitchen, peeling onions, cutting tomatoes and starting the stoves while all kinds of incidents occur around us. Coordinating with your peers will be essential to move the dishes forward. Do not be fooled by its apparent simplicity, once you get your hands on the dough you will enjoy one of the funniest multiplayer titles of the moment.