The more expensive, limited edition version of Naughty Dog's game's third version in three generations has not reached many pre-orderers in intact condition…
This week saw the release of The Last of Us Part I, a new version of the game initially released for PlayStation 3 in 2013 and PlayStation 4 in 2014. Of it, Sony has sold a more expensive Firefly Edition for $100 via PlayStation Direct, so you'll have to order directly from them. Demand was so high that it sold out in less than an hour after the remake was announced.
We want to mention what The Last of Us Part I Firefly Edition includes because that makes it relevant. So, we get the game on disc, which also has the standalone prequel story Left Behind alongside the base game (the same was done for 2014's The Last of Us Remastered), and we get it in a steelbook. Plus, with new cover art, we get the first issue of The Last of Us: American Dreams comics. Earlier in the game, we'll also unlock faster crafting and healing speeds, faster reloading of 9mm weapons, more ammo capacity for rifles, explosive arrows, a dither punk filter, a speedrun mode, and six weapon skins: 9mm pistols come in Black Gold and Filigree, shotguns come in Sculpted Oak and Rubber Tactical, and Ellie's bow comes in Carbon Black and Polar White.
So there are some handy extras. Sony has started to ship the copies, but in several cases, the package was damaged in transit, as both the game and the extras were placed in a cardboard box without any extra protection. Below we've embedded several tweets about the complaints and photos of how Sony has been negligent (as PlayStation Direct is a direct-to-consumer system).
One user contacted customer service, but they won't give them a replacement! They handed out a 20% coupon on their following order. So there is no way to exchange, i.e. Sony didn't count on a reserve stock to deploy for such issues. It's not the best attitude.
Source: VGC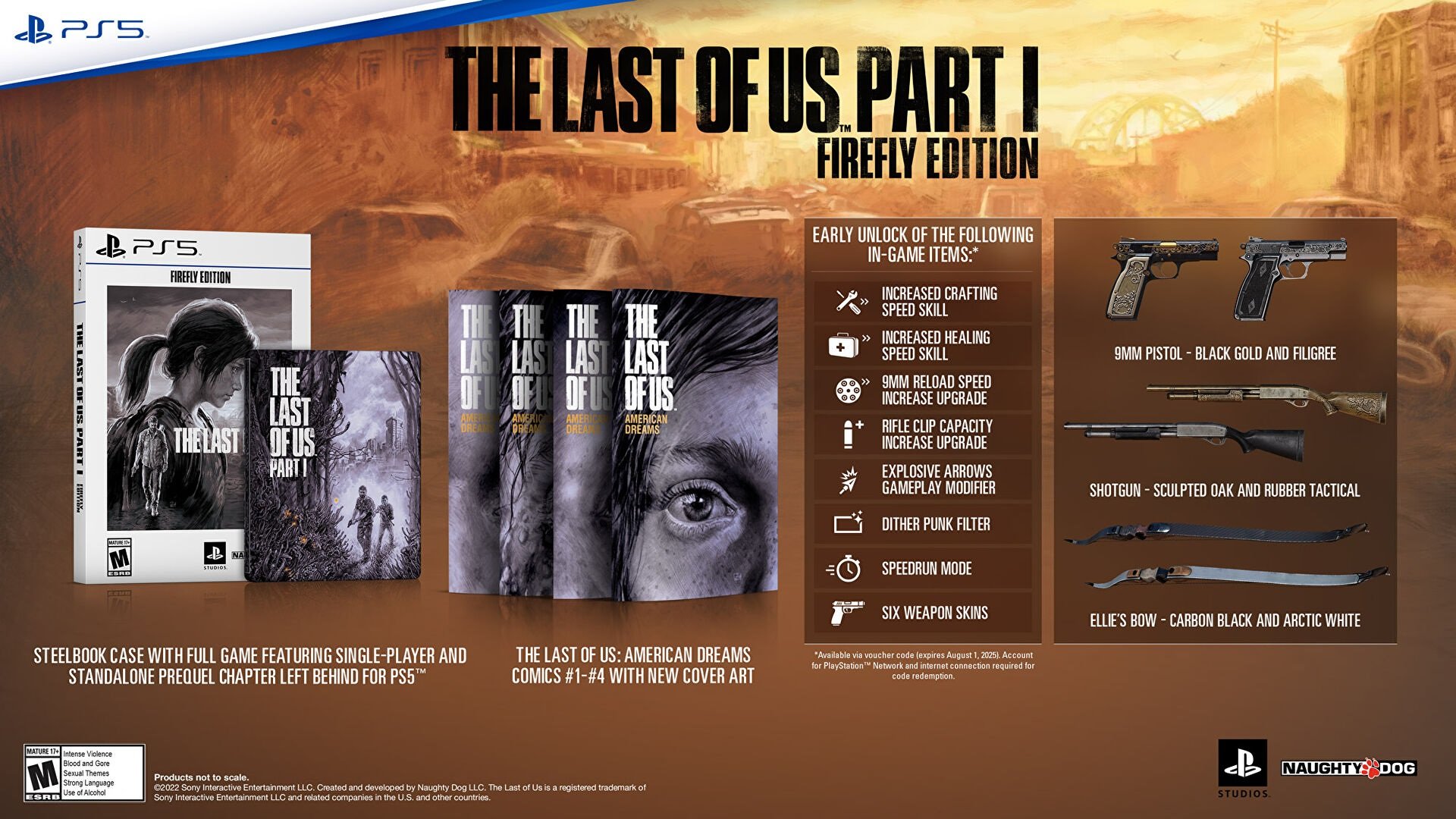 Received #TheLastofUsPartI Firefly Edition, but I am EXTREMELY disappointed with the poor packaging used by @PlayStation, resulting in damage! C'mon @AskPlayStation you need to do better, there was ZERO packing material. People paid collector level pricing for this! @Naughty_Dog pic.twitter.com/vw28dhzSOz

— Minneapolite (@revolutionwifi) September 2, 2022
Very similar for me. Mine the flap of the envelope literally could not even reach the other side, so they stuck it directly on the box top itself, tons of nasty residue from that even ignoring all the actual damage otherwise. Very poor experience from PlayStation Direct. pic.twitter.com/hvPFpuqw7y

— Jacob (@RillIris) September 2, 2022
Well this is how my Firefly Edition of The Last of Us Part 1 was delivered. I'm not impressed @PlayStation. Who do I need to contact to get the box replaced? I'm opening it regardless because I should be able to play a game on release. @AskPlayStation @Naughty_Dog pic.twitter.com/ZOrXC81iXm

— Connor Collects! (@SuperClashGamin) September 2, 2022
Let's try this again…

This is how my $100 collector's edition was delivered from @PlayStation

As a collector and massive LoU fan, this is severely disappointing. @AskPlayStation 🤬 pic.twitter.com/ybcUlUgQry

— Ains (@Porshapwr) September 2, 2022