REVIEW – Warhammer 40K: Mechanicus, a turn-based strategy, which came out last November, got an expansion. Similarly to XCOM: Enemy Within, Heretek got built into the base game, and it flopped on this aspect, and it flopped big time there.
The first paragraph (the second…) immediately starts with me saying that if you have already completed the base game, I do not recommend you to do so again, as I'm not sure if it's worth doing so. Heretek was not able to expand the base game sufficiently to be memorable in the long term, so I'm just going to say that its contents should have been in the base game.

Army
In the Heretek expansion (I'm only going to talk about this, not the base game), our main enemy is going to be a renegade AdMech army, led by Epsiul Dammek-Voth – all fights will be seen on the Caestus Metallican, our Ark Mechanicus headquarters. This game is the first time we see an Ark from the inside, which is a good thing, but problem pro primo: we'll only get several decisions, and expanded dialogue during the expansion (sorry, I can't keep using this term: it's a DLC… if you want a real expansion, look for Blood & Wine for The Witcher 3: Wild Hunt). The former can help at the beginning of each mission (the number of the missions will be mentioned later), as some of our enemies will be dead from the get-go. Our starting location might also change. Of course, you won't be able to access Heretek in a standalone manner. No, instead of picking it from the main menu, you have to play through the base Mechanicus again. At least you can set up the difficulty level to your liking (from the starting Blackstone amount to the enemy HP modifier or extra enemy unity – there are nearly two dozens of options to choose/modify – even beginners can make it playable for themselves in my opinion).
Heretek adds a new subclass, the Xenarite, who are AdMech creatures using either alien or Xenos technology (without turning evil) with a significant HP focus, effectively making them tanks, as they keep boosting that number, so if Mechanicus was easy before, with them, it will be even easier, lol – even with some of their attacks inflicting self-damage, they are still tanks. There are also some Xenarite items that other classes could use, which is logical, as it effectively throws the lore credibility out the window, landing on the ground less than three seconds later from 90 feet above.
In case you still decide to go for a playthrough despite the things mentioned before, then get ready for some bugs here and there, as, for example, the game's photo mode button seems to cause one. So if you press F12, the game will remain in this mode until you happen to press F12 again. At this rate, I just start asking how much time the dear developers (called Bulwark Studios – haven't named them yet) have spent on Heretek, which thus… well, does not deserve a high score.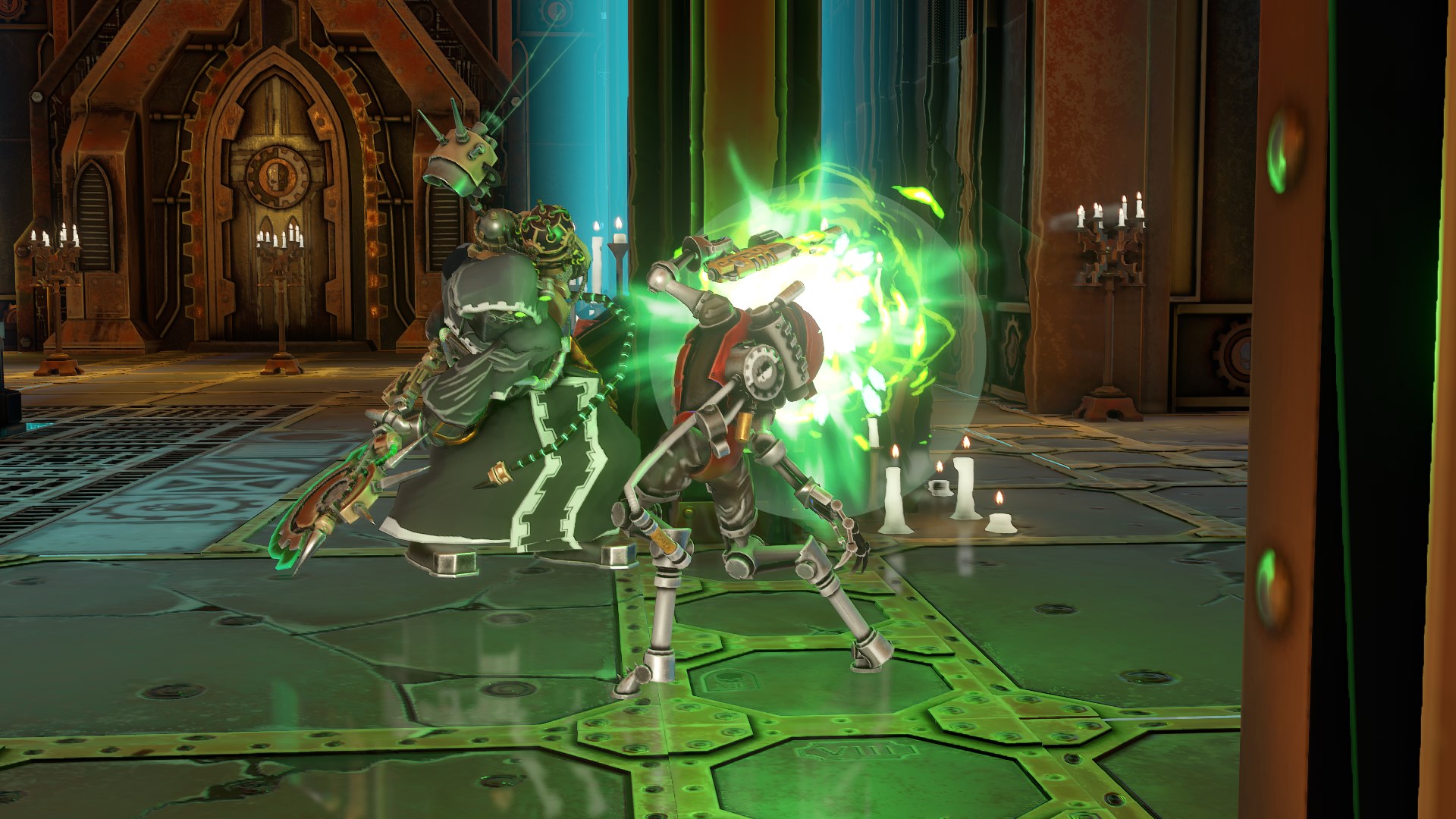 Short!
Due to the DLC being built into the game, I do have to say that I can only recommend Heretek to those who have entirely skipped Warhammer 40.000: Mechanicust, available on PC, Mac, and Linux, so far. For them, with the base game involved, I say that give it a shot: the XCOM-like strategy gives them solid experience, and with Heretek, the base game is easily worth an eight out of ten. However, the DLC itself can only receive a six-and-a-half out of ten. Content-wise it is lacking, and Problem pro secundo: FIVE MISSIONS. FIVE. FIVE!!! (another landing sound three seconds later)
It is short! Far too short for its good! Sure, it has a bit of prelude with its text-based adventure style, where our decisions change a few things, but despite the armies of tech-priests, despite the XCOM: Enemy Within approach cloning, it's not enough on its own. Sure, there are a few new enemies, but I just shrug. A good Gauss weapon gets rid of them fairly easily.
Repeat
The machine wars' (which could be AdMech vs. AdMech) quality and quantity in itself is not sufficient, and thus, only newcomers are recommended to give a shot for this Warhammer 40K strategy, because otherwise, you'll get repeats of former combats. So spend these eight-and-a-half euros (nice, there's not even a dollar-to-euro conversion, meaning us Europeans pay more than the Americans once again!) on something else, or wait until Bulwark Studios expands 40,000: Mechanicus further. The Sicirian Infiltrators and the Ruststalkers as the new troops are not going to win this war.
-V-
Pro:
+ Ark Mechanicus
+ Xenarite, Sicarian Infiltrator, Ruststalker
+ Customisable difficulty
Against:
– Short
– Slightly buggy
– Needs another playthrough
---
Publisher: Kasedo Games
Developer: Bulwark Studios
Genre: turn-based strategy
Release date: July 23, 2019
Warhammer 40,000: Mechanicus - Heretek
Gameplay - 2.7
Graphics - 6.8
Story - 7.4
Music/Audio - 7.6
Ambience - 7.5