The Nintendo Switch pulls off solid results in software sales, too.
In the United States, NPD Group keeps track of the sales, and their top list has a few exclusives in August – Nintendo has claimed half of the top 10: Fire Emblem: Three Houses (4.), Super Smash Bros. Ultimate (5.), Super Mario Maker 2 (6.), Mario Kart 8 Deluxe (7.), Astral Chain (10.), and Astral Chain came out on August 30, meaning it cracked the top ten in two days, not including the digital sales' data that Nintendo provides to NPD! (The first three has the usual games for the summer: Madden NFL 20, Minecraft, and Grand Theft Auto V.) Sony has only one exclusive in the top 20, namely Spider-Man that has been on the market for nearly a year. (Okay, 16. Super Mario Party, 17. Marvel Ultimate Alliance 3, and 18. New Super Mario Bros. Deluxe are also not that strong, but they are three more exclusive titles by the big N.) Microsoft had zero exclusives on the chart – however, they allow Xbox Game Pass subscribers to play even the newest exclusives for a monthly fee on Xbox One and Windows 10…
The situation is not that different in Europe either, Vandal reports that in Spain, Nintendo took six spots in the top ten: Astral Chain: 1., Fire Emblem: Three Houses: 2., Mario Kart 8 Deluxe: 4., Super Mario Maker 2: 5., Super Smash Bros. Ultimate: 8., Super Mario Odyssey: 9. The rest were filled by Sony (in order: GTA V, Minecraft, Crash Team Racing: Nitro-Fueled, Red Dead Redemption 2). And a newer chart: on the September 16-22 week, Nintendo had only one spot in the EMEAA top ten charts, but it was the first one with the Nintendo Switch remake of The Legend of Zelda: Link's Awakening…
So the Switch is running away with the end of the current console generation while PlayStation 4 offers it a few more exclusives with the Xbox One slipping away with the Game Pass system.
Source: Nintendolife, Vandal, Gamesindustry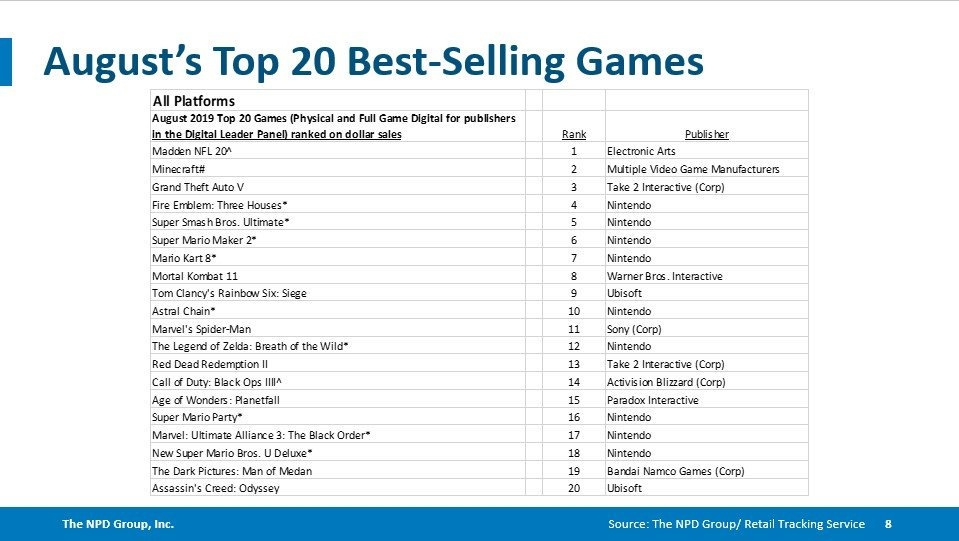 Please support our page theGeek.games on Patreon, so we can continue to write you the latest gaming, movie and tech news and reviews as an independent magazine.
Become a Patron!