MOVIE NEWS – The Brad Pitt-led action movie Bullet Train is delayed again.
Audiences will have to wait a little longer to see Hollywood superstar Brad Pitt go head-to-head with an assorted assassin in the upcoming action movie Bullet Train, as Sony Pictures has decided to delay the film by a week. Originally scheduled for July 29, 2022, Bullet Train will now explode onto the big screen everywhere on August 5, 2022.
No reason for the delay was given, but this is far from the first setback Bullet Train has suffered. The action movie was first scheduled for April 8, 2022, then delayed to July 15, 2022, then again to July 29, and finally to August 5, 2022. Let's hope this is the last delay for Bullet Train.
Based on Kotaro Isaka's popular manga "Maria Beetle", Bullet Train has the concept that action movies dream of. We follow Brad Pitt as the trained assassin Ladybug, who wants to give up a life of violence and move on, but is pulled back by her handler Maria Beetle to collect a briefcase on a bullet train from Tokyo to Kyoto. Boarding the train, Ladybug discovers that she is not the only assassin on the train and comes face to face and bullet to bullet with several other killers who slowly realise that their goals are all connected.
Directed by David Leitch (John Wick) and based on a script by Zak Olkewicz, a star-studded cast has bought tickets to Bullet Train: Brad Pitt leads the ensemble cast, which includes Joey King (The Kissing Booth) as Prince, Aaron Taylor-Johnson (The King's Man, Tenet) as Tangerine, Brian Tyree Henry (Eternals) as Lemon and Zazie Beetz (Joker) as Hornet, as well as Andrew Koji (Warrior), Masi Oka (Heroes), Michael Shannon (Knives Out), Logan Lerman (Hunters) and Sandra Bullock (The Lost City) as Maria Beetle. In addition, Hiroyuki Sanada, Karen Fukuhara, Bad Bunny, Pasha D. Lychnikoff, and Miraj Grbić round out the other excellent supporting cast.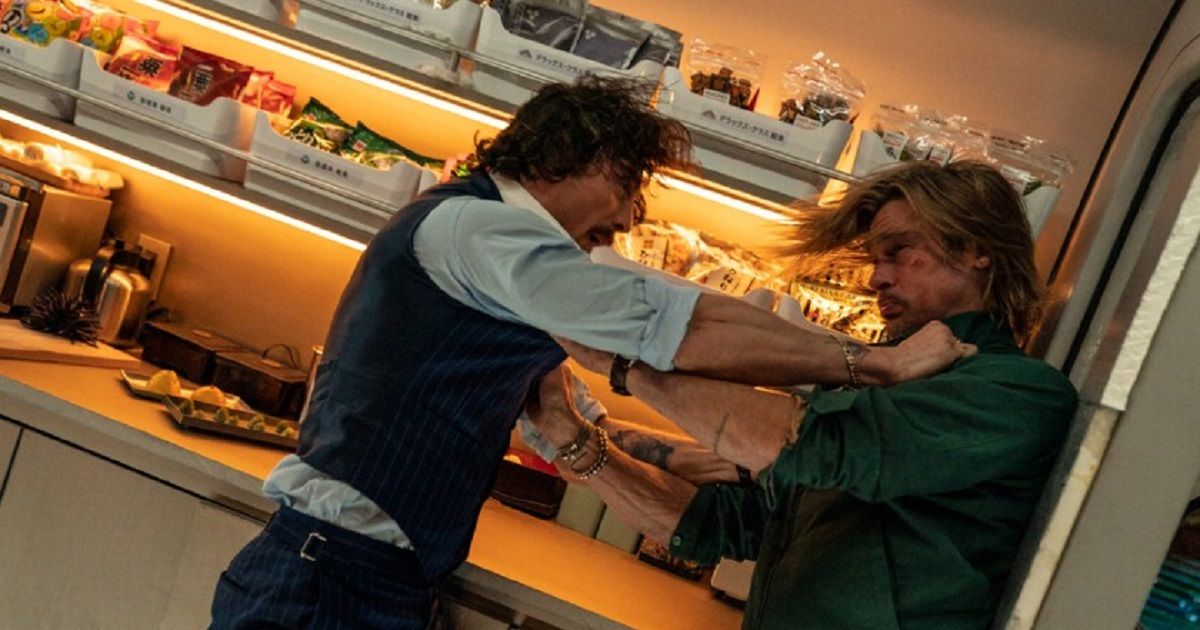 May Bullet Train be the action film of the year?
The first reactions to the premiere of Bullet Train came recently after footage from the film was shown at CinemaCon 2022 in Las Vegas. "We just watched about the first 15 minutes of #BulletTrain, which was fantastic. It's a bunch of crazy assassins on a train, all bumping into each other. Brad Pitt thinks it's a simple robbery; then all hell breaks loose. Awesome humour, too," was one of the first reactions.
Another reaction adds, "First, BULLET TRAIN. David Leitch in the house. He showed us the first 10-15 minutes of the film. It turns out that Brian Tyree Henry plays Lemon, not Logan Lerman, as I had suspected. It was as if John Woo had got his hands on a Guy Ritchie script. Does that sound good or bad to you?" Honestly, it sounds pretty good to us.
So, once again, for those of you not paying attention, Bullet Train is now set to hit theatres in the United States on August 5, 2022, distributed by Sony Pictures Releasing.