REVIEW – Tropico 6, which was announced in 2017, finally launched on PC (the PlayStation 4 and Xbox One ports are in development), and in multiple aspects, it seems to be an improvement. You cannot get tired of El Presidente's character, so this dictatorial god game, or, to be more exact, this society building simulator could be providing tens of hours for the fans of this genre.
The situation is a little complicated – when isn't it, though? – as the dev team, this time around is Limbic Entertainment (Might & Magic Heroes VI-VII, Might & Magic X: Legacy, Memories of Mars), making this group the fourth team in the series. Luckily – for the most part – Limbic managed to keep the quality around, and this, the rating is reasonably high. (However, I do have to add that it could have been higher, too…)
Island
Tropico is basically a city builder under the supervision of a dictator. (We can customise this person, as well as their place of living, too!) The sixth game allows you to build a society on more than just one island, as you'll have an archipelago to toy around with throughout the four eras (colonisation, World Wars, Cold War, modern), and you could build something serious in time. (The modernisation will be present, though: you will see your "hero" casually pull out a smartphone to tweet…).
Meanwhile, I did not describe how the franchise doesn't take itself seriouséy – Tropico can be significantly funny even when you're in a terrible situation with seemingly no solution to fix your problem. With the colourful visuals, you'll also get an excellent soundtrack as well – it has that Caribbean tone down right to a tee!
In case you haven't played any Tropico games before, you'll have to get through the gist of the game with the tutorial – you must learn things. Tropico 6 opens up after understanding the basic rules of the game. You'll have to know how to trade efficiently with other countries to get the resources you need.
You must get the defence buildings (such as a guard tower) done in a way to possibly not piss off anyone in your society (as one part of them might support your action, and another one would rather see something else built). You must be ready for that embargo, which will inevitably happen at one point. (And then I didn't even mention the election speeches yet, and you can't get away with saying no more than "we'll continue," or have no election program at all…)
Government
The heists must be mentioned as well: you can hire various people to bring you monumental, famous items/tourist attractions from around the world – these are risky, entertaining missions (that could make the game a bit too easy if you get used to it!), and now that I mentioned missions, I must also say that Tropico 6 can be played in two ways. You can either go with the ordinary sandbox route or go with the scenario, where you have fixed events and missions with requirements to pass.
During the campaign, you'll learn about the past of El Presidente, and you'll always have your bootlicker called Penultimo by your side. It's decently written (and voice acted, might I add…), but there might be some clichés here and there. There seem to be references to modern political situations as well – it's bold, even after Life is Strange 2 pulling this off… -, and I'm pretty sure Limbic might surprise the players with this move. The political satire has always been the strong point of Tropico, though. Ambience-wise, the game has hit a high point, and with the voice acting, they even managed to find different tones for each faction…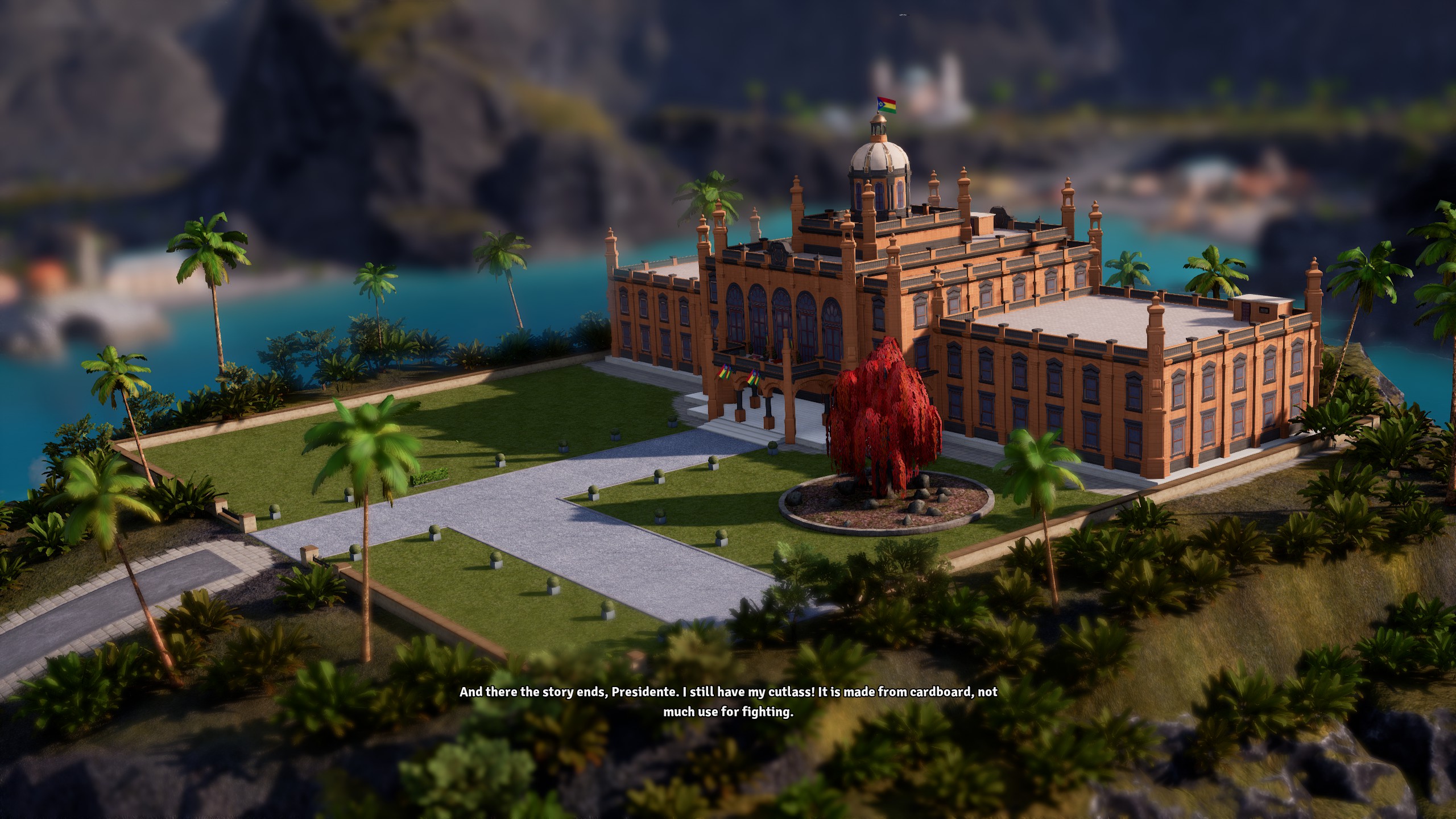 Beta
And yet, Tropico 6 has its flaws. Although the game launched out of beta on March 29, I still feel it's in that state. (I'm not afraid to admit it, that's why I cut one point off the rating on a 1-10 scale.) Sure, the lack of money in the game might only happen because I'm terrible, so I'm not considering that as a negative.
However, I found the public transportation buggy (there's nothing better than losing part of your population as they are stuck in those vehicles…), the bridges seemed to be allowed only with beaches on each end, there's no dynasty system, and I don't think you can also zoom into a new building either… so I feel Tropico 6 is slightly unfinished (and who knows what the game could offer for others bugwise…?). However, I think the visuals are alright with Unreal Engine 4, but you can't run it on an old PC. Oh, and if you want online: you can do so with up to three other players. (This is how you ruin friendships. Alternatively, there's Mario Party for that.)
7? 8?
I would honestly give Tropico 6 an 8 out of 10. Really, I would! But it has bugs, which is why I do not recommend an immediate buy. Currently, El Presidente can go back to their presidential castle with a 7 out of 10, and by the time the console ports are out (where I'm pretty sure performance will be an issue, as a simulator like this will need horsepower – if the frame rate will be around 20 fps, I'll laugh…), maybe Limbic will fix the current issues. It's a good game, and it seems to be an evolution over 5, but I don't think Tropico 6 is completed just yet. Later on, you can easily consider this 7 an 8 out of 10. Oh hai, character limit.
-V-
Pro:
+ Perfect ambience
+ An enjoyable story with tons of humour
+ Decent audiovisuals
Against:
– It might be a little buggy…
– Slightly cliché story
– It seems to be somewhat unfinished as of now
---
Publisher: Kalypso Media
Developer: Limbic Entertainment
Genre: City/State building management simulator
Release date: March 29, 2019
Tropico 6
Gameplay - 8.1
Graphics - 7.8
Story - 3.6
Music/Audio - 8.8
Ambiance - 9
7.5
GOOD
El Presidente is expanding, but they need time...