Yesterday, the first Nintendo Direct Stadia Connect was held, and during its broadcast on YouTube, we had about a hundred errors in its 26 minutes. Thankfully, we have seen the most important things and a few things we need to discuss.
Let's start with the most important aspect. The Google Stadia will have a subcription model, but it will have a free version, too. Stadia Free will launch in 2020, and it will have the following: up to 1080p resolution, 60 FPS frame rate, stereo sound, you can buy games whenever you want, but you won't get Stadia Pro-exclusive discounts on select game purchases, nor additional free games released regularly. (How will Google fund this? By putting ads into the games…? Is this the reason why Google Chrome started going against adblockers recently?)
What does the Stadia Pro subscription will offer for ten dollars per month? Up to 4K resolution, 60 FPS frame rate, 5.1 surround sound, the ability to buy games whenever you want, Stadia Pro-exclusive discounts on select game purchases, and additional free games released regularly, starting with Destiny 2: The Collection! (We learned a few things about Destiny 2 yesterday. The key points: the Shadowkeep expansion, as well as its annual pass,  got confirmed; Destiny 2 comes to the Stadia, and Destiny 2: New Light will be a free-to-play version of Bungie's game with all the year one content.)
There's also a 130-dollar Stadia Founder's Edition, which you can preorder here. It will contain a "Night Blue" colour controller (a Stadia Controller will cost 69 dollars separately…), a Chromecast Ultra device, three months of Stadia Pro, a Founder's badge on your profile, a Buddy Pass to play with a friend, and a Stadia Name – you'll be one of the first to choose one on the service.
Let's see the list of confirmed games for the Google Stadia. You'll see the publisher in brackets (and we don't know the exact launch list – this is all we know so far):
Assassin's Creed Odyssey (Ubisoft)
Baldur's Gate III (Larian Studios)
Borderlands 3 (2K Games)
The Crew 2 (Ubisoft)
The Division 2 (Ubisoft)
Darksiders: Genesis (THQ Nordic)
Destiny 2: The Collection (Bungie)
Doom Eternal (Bethesda Softworks)
Dragon Ball Xenoverse 2 (Bandai Namco)
The Elder Scrolls Online (Bethesda Softworks)
Farming Simulator 19 (Focus Home Interactive)
Final Fantasy XV (Square Enix)
Football Manager 2020 (Sega)
Get Packed (Coatsink)
Ghost Recon: Breakpoint (Ubisoft)
GRID (Deep Silver)
Just Dance 2020 (Ubisoft)
Metro Exodus (Deep Silver)
Mortal Kombat 11 (Warner Bros. Interactive Entertainment)
NBA 2K (2K Games)
Power Rangers: Battle for the Grid (nPlay)
Rage 2 (Bethesda Softworks)
Rise of the Tomb Raider (Square Enix)
Samurai Shodown (Athlon Games)
Shadow of the Tomb Raider (Square Enix)
Thumper (Drool)
Tomb Raider (Square Enix)
Trials Rising (Ubisoft)
Wolfenstein: Youngblood (Bethesda Softworks)
There are a few more things we have seen on the Q&A page of the Google Stadia. We'll quote the important parts: "Other colours [of the Stadia Controller] include Wasabi (Not available in Canada or Nordics), Clearly White, and Just Black," but you can use any other USB controller or a mouse and keyboard on PC. On TV, you have to use a Stadia Controller and a Chromecast Ultra device.
What about Internet requirements? Let Google's image answer the question instead: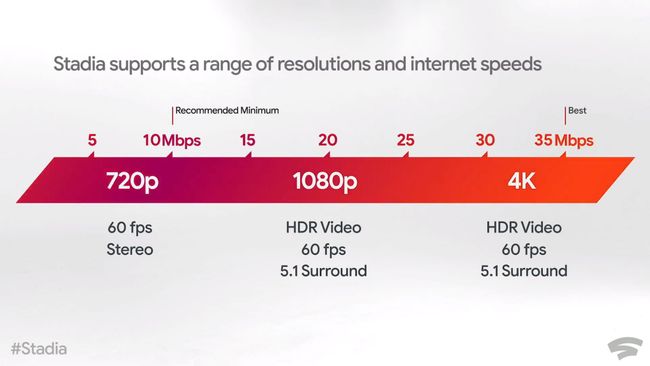 "If you happen to lose connection, Stadia will maintain the game where it got cut off for several minutes so that you can quickly get back online without losing progress. Also, if the bandwidth fluctuates, Stadia will adjust to deliver the best possible visual quality at all times." (Hopefully, not to a 144p resolution.)
There will also be the Crowd Play function. "[It] allows viewers of a live stream to join in the game, directly with the stream creator; stay tuned for more details about these features and launch dates." It also applies to the Google gaming studio called Stadia Games and Entertainment, which is led by Jade Raymond (who previously worked at Electronic Arts' Motive studio, and before that, she was working at Ubisoft as a key person behind the initial success of Assassin's Creed for example). Google doesn't rule out cross-platform play either.
Finally, the list of supported devices: Mac – Requires macOS X 10.9 and higher. PC – Requires Windows 7 and higher. (Both require the Google Chrome browser.) TV – Requires Google Chromecast and an HDMI port. Tablets – Requires Google Chrome. Phones – only Google Pixel 3 and Google Pixel 3a are supported at launch.
If you want to play in 4K, you'll need 65 hours to reach a one terabyte data cap. In 1080p, it's 113 hours. And you haven't done anything online aside from playing Stadia! It's a lot of data, and our ISP would likely alert us about it. (And it might be raising the services' prices, too, especially if everyone started using the Stadia.)
Google Stadia, launching in November in a lot of the Western countries.