REVIEW – You are a young cop living in a bleak future, where strange and fearsome creatures called the Chimaeras menace the fate of humanity. Besides your sibling, you have strange "companions", called the "Legion": "tamed" and chained Chimeras helps you in battle and with your investigations. PlatinumGames action-RPG is an absolute must, not only the best game from the company but also the best game for the Switch and easily game of the year contender. We'll explain why…
In the Ark, a multi-cultural city in the near future, disaster strikes when gates to another dimension suddenly appear! Dangerous creatures begin to emerge, attacking the people and polluting the land, and normal police forces are unable to compete with them. To stand up against these threats, a brand new, special police unit is known as Neuron is formed…
In the opening sequence of the game, you can choose between two playable characters – one male, one female – on your adventure. The character you don't choose also appears as your younger twin, and a fellow member of Neuron. In order to resist the creatures, humanity developed a special weapon: the Legion, who acts as your partner and helps you any way he can: in your investigations and the fierce combat.
Varied gameplay
Although the combat system is the undisputed pillar of PlatinumGames, let me talk to you first about everything else. Recently, I told you that Astral Chain had a production team that had worked to a large extent in Nier Automata. Keep this in mind because you will see many parallels, not only in matters such as the interface (very similar) but in the design of scenarios and even in the type of missions to complete.
The game is divided into several chapters, and they are not a succession of clashes without more. In between, there is always some part of exploration, research, platforms and even the odd puzzle. The variety stands as the key to a video game that, just at the moment when I began to notice that it became monotonous, immediately changed the register to propose something different. It could be a chase in the middle of the street, important parts of infiltration and even some other motorcycle phase.
The best thing is that none of these components felt forced, or of poor quality. It is obvious that where Platinum shines most is in his battles, but I was glad to see that everything was incorporated with meaning, not only for playable purposes but respecting the thread of narrative events. I can only applaud the approach since it is not easy to make this combination and it goes well. The balance between the different parts is excellent, with sections essential to follow the plot … and other more accessory, designed for those who want to squeeze the title to the fullest.
Portals
Probably, the most important of the structure are the portals that take us to an alternate dimension, the astral plane, where are the chimeras, that are ravaging come from to our world. These parts are made up of a proportion of combat, but they also put special emphasis on two of the things I liked most about Astral Chain. One is the platform challenges. Although paradoxically our character can not jump, it can be driven with chains to overcome all kinds of cliffs, with mobile platforms that are gaining in complexity as the adventure progresses. The other element to highlight are the puzzles. Do not expect anything excessively elaborate, but enough to make you think about the occasion.
Each chapter may contain one or more of these portals, in addition to research parts, which are erected as another key to the video game. Sometimes we will be asked to go to the scene of the crime, at which time we must activate the IRIS device (which mimics the Assassin's Creed eagle view ) to search for all kinds of clues and complete a kind of questionnaire that another police officer will ask us. This introduces a more narrative and thoughtful variant – in addition to calm – that proposes a pleasant change of pace to the game.
Exploration
Another important part of the structure is in the exploration. Astral Chain is not an open world, but a series of locations that we visit depending on the chapter in which we are. The interesting thing is that these scenarios have many things to do. We can dedicate ourselves to collecting red matter, freeing reddish citizens, buying from vending machines, talking to collect information and even finding optional missions, which could go about getting rid of a bunch of criminals, finding missing people or rescuing kittens (as you have read). It is very important what I am going to tell you: do not go fast and stop everything you want. The game is grateful that you take your time and do not accelerate the pace; there is too much to do.
Last, and not least, a part of the action is at the base of Neuron, the police unit we represent. It has several floors and lots of rooms. There is a database where you can consult character profiles, a locker room to modify our appearance, a gym where you can practice combat techniques, an infirmary to get first aid to take us to the missions … and so on. We have enough secrets, and I recommend that to see one of the friendliest you go to the toilet (WC). Japanese eschatological humour does not fail.
Thus, combining everything: fighting, portals, investigation, police base and a good dose of exploration in each of the parts, we obtain what is Astral Chain. It has more variety than Bayonetta and has more combative depth than Nier Automata. In this sense, I have seen it as something in between, which brings out the best of each of these video games. PlatinumGames may have created its most varied and complete work, as well as brave and innovative, the result of the experience accumulated since its foundation in 2007.
Easy to play, hard to master
Combat is the central pillar of the game and distils the aura of PlatinumGames in every action you take. The answer is formidable and it has that Kamiya effect that you should not wait for a bang animation to end to dodge. They are invisible elements to the user, but in the long run, they form a very satisfactory combative experience, which goes from less to more. I felt very clumsy at the beginning of the game, but hours later I was already chaining amazing combos, learning new things as I passed chapters.
These adrenaline discharges are the key to the Platinum action games, and they are very present here. The reason we have it again in that how well Bayonetta did by means of a precise combination between attacking and dodging. There is no sorcerer time, but a small slowdown that prepares you to fight back. We also have guns, which we can alternate with our police baton for the most brutal melee combat.
Thus said, it seems a most conventional combative system, but the distinctive feature of Astral Chain is in the legions, chimaeras adapted and placed at our service. The interesting thing is that they help us during battles, acting autonomously, although you can also control them manually. There is a good variety of techniques to learn. We can surround the enemies with the chain, catch them, and undertake a devastating combo. We can also propel ourselves towards the enemies or even create a straight line as a trap that stops the chimaeras specialized in carrying out thrusts at full speed.
Each enemy of the game (they are a few) has a certain pattern of attack, and there is always a legion that adapts to their weaknesses. For example, aerial enemies will succumb to the arrow legion, and those protected with a force field will lose it when the Arm legion throws a huge rock at them. In total, there are five legions that we will be unlocking throughout the campaign, each of them with their special abilities. The sword legion can cut the connections between chimaeras that protect each other, and the beast legion allows us to merge with it to strike shocking punches.
There are many ways to face the enemies, but few that are optimal, and that is something that the best players will end up understanding, those who dedicate hours and hours to decipher everything that this videogame offers at the level combative, which is very much. That is why I have been rendered; because apart from everything mentioned, the reflexes are rewarded . Not only do I mean to know when you have to dodge or attack, but to react when – during a combo – a flash of light appears that invites you to pull the ZL trigger. If you do it right, you continue a combo … and if you do it well again when asked again, you extend it a little longer.
The satisfaction of chaining attacks one after another and seeing how a cloud of sound and visual effects accompany you in your success is the best of Astral Chain. That feeling of dancing to the beat of your cane, your gun and your legion cannot be explained with words: you have to experience it. Sometimes the dance is interrupted by a somewhat erratic camera , which behaves especially poorly in enclosed spaces. However, it is not something that ruins the experience. An experience that when everything goes well and you see an S + rating as a snap to your performance, you understand that it matters a lot that you overcome the proposed challenges, but even more so that you look. It is a game made so that, with practice, you can make an authentic exhibition.
And that at first I did not understand; The first measures of the adventure are slow, partly because all the tutorials are presented suddenly. Maybe there Platinum could have better calculated the amount of information shown. However, the game is somewhat complex within its style. It was something necessary, and besides, my patience was greatly rewarded. In fact, I once returned to the training camp to practice those techniques to which I had not paid much attention. I learned to use legions well, to attack enemies in the back to cause them more damage. I missed so much that in the final stages of the game I still felt that I had not fully understood everything I could do.
I think it is not necessary to say much more. Just emphasize that there are many possibilities, with gigantic final bosses to defeat and that will make you put all your senses into operation. It is necessary to make good use of the legions, manage their recharge time, learn to know when to dodge and attack, use the items with head during the fray (there are even drones!) And ultimately have patience, but also a lot of nerve, to take advantage of a simply exemplary battle system , the best I've seen not only in PlatinumGames but in general in the work of Hideki Kamiya. His role as a supervisor has surely been focused on battles. His spirit is here.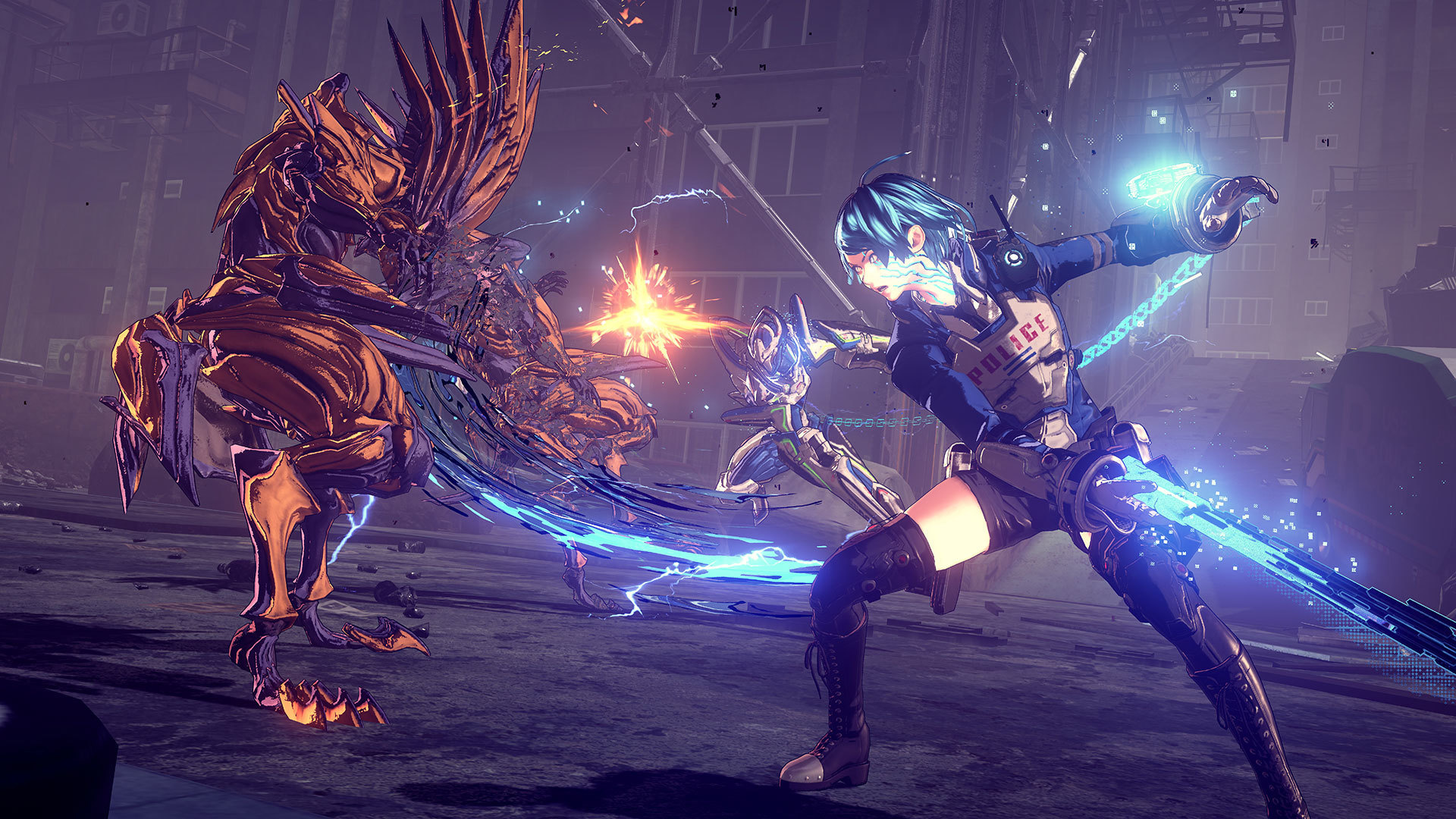 Unlikely to play Astral Chain only once
Astral Chain is one of those games that would be a shame to leave in a first game because it is precisely when it becomes more interesting when you have begun to master it. It has been a key in PlatinumGames games and it is here again. In addition, it has a strong incentive to re-complete the missions: unlock the Pt. Extreme difficulty. Already in the normal difficulty, it is a challenge to overcome the adventure, especially in its final stretch, so you can imagine what the thing is about …
Then there is the issue of whether you want to obtain the S + rating in all missions, something that I advance that is a titanic task, because it is valued not only your combative action, but those parts in which it is required to collect all the red matter scattered by the scenarios (which is a lot, and some quite hidden). In addition, there are a total of 185 achievements to unlock, ranging from things as simple as overcoming different missions, to things as specific as unlocking some improvement of our legion.
Since we are, another crucial part of the gameplay is to improve our legions through a progression tree quite extensive in possibilities. This requires genetic codes that we add to our counter as we play, in addition to specific and rare matter (something harder to get). This forces us to play more and more. After a first-round, some of my legions were still far from showing their full potential, which can give you an idea of ​​the amount of existing game. You can even equip different techniques and skills, with various effects ranging from health regeneration to the potentiation of the critical attack.
You will say that I exaggerate if I tell you that it is difficult to tell everything about Astral Chain, but it is so. It is not an RPG, but it has many elements inherited from that genre. For example, the task of collecting materials is important. The scenarios are full of them and we can recycle them to see how our checking account grows in digits. For that reason, the sets are also full of vending machines (another feature of Japanese culture) that facilitate the acquisition of all kinds of items, some with unique properties that will help us in the most complicated combats.
All these elements give rise to a playable ecosystem in which the mechanics are intertwined and acquire full meaning. Each chapter of the game has red missions (more narratives), but also blue missions (more accessory) that you will leave without making almost certain. That is another good reason to come back and complete it all one hundred per cent. Well … now the question you were asking yourself: how much does all this I am telling you to give? A first game takes between 18-20 hours, which is an already very significant figure, especially if we talk about an action video game. The figure can be easily doubled if you make a second round, going for all the secrets of the game.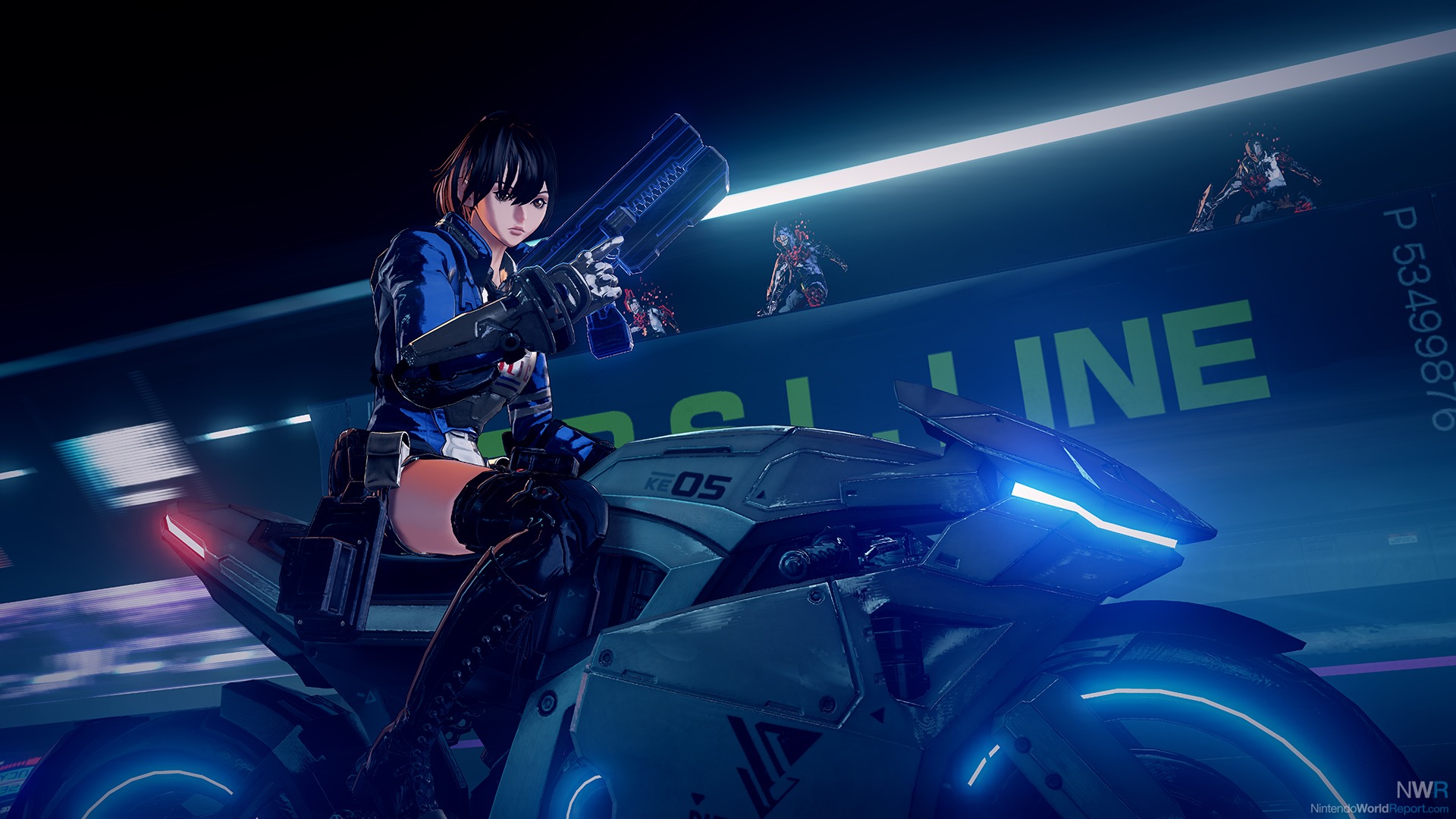 Cooperative mode
Then you have to keep in mind that the game supports cooperative almost from beginning to end (it takes about an hour before it can be activated). This means that two users can join forces for – each with joy – to direct one to the main character and the other to his legion. This is in line with the narrative approach of the game since somehow these two beings are synchronized. That is, to get the most out of this modality, we must actively communicate with the other player -synchronize- to develop all kinds of combos. A different experience, but addictive and that is there for those who want to take advantage of it, which is appreciated.
Considering the different ways available to play, including the coop and additional things like the photo mode , it is certainly difficult to calculate the number of hours you will be in Astral Chain, but what is clear is that the title was designed to last not only days but several weeks if you are a complete user. The scenarios contain many hidden treasures, and the use of different legions allows access to certain detours. It is undoubtedly one of those games that are worth what they cost, which are made with the maximum dedication possible towards the players. For these reasons, it is not hard for me to say that it is also one of the most complete and playable games PlatinumGames has in its catalogue.
Choose your sibling!
I haven't talked about the plot yet, and I'm not going to do it much. The reasons: it is better that you discover it for yourself. What you have to know is that the game lets us choose between two twins – boy or girl – at the beginning of the game to represent the Neuron police, a unit created to fight against the chimaeras that plague the Ark region.
The rest I leave to you, because there are important twists, and also issues that are not usually seen in Nintendo games, with drugs and a considerable amount of violence involved. For more signs, the world in apocalypse that is handled and certain narrative elements reminded me of the classic Neon Genesis Evangelion, although it is fair to say that PlatinumGames has put enough elements on the table to distance itself and get its own essence, even in spite of that on some occasions everything that happens gives the feeling that we had already seen it elsewhere.
One of the most worked elements comes from the protagonists and villains, who are charismatic, thanks tot he works of manga-maker Masakazu Katsura (Zetman), with designs of enemies that are imposing, and in many cases even diabolical, which seem to be brought from hell itself. There are reminiscences of Nier Automata and even Bayonetta, with that angel-demon dichotomy that here has also been wanted to capture in a different way, but equally memorable. The designs are spectacular.
The way to represent it on the screen is also noteworthy. Modellers and animators have done a splendid job, with great use of colours and lighting system. Everything distils a futuristic air, but at the same time decadent; maybe something dark too. This is reflected in an interface that has not only present for visual purposes but also playable: IRIS mode allows us to distinguish key elements of the stage when they cannot be seen with the naked eye.
But if I have to keep something it is with the visual effects that accompany us while we fight. Those are the ones who make a difference and those who put us fully into action. Everything is accompanied by outstanding technical performance in both TV mode and portable mode. There is nothing to reproach here: it looks spectacular in both ways, without having suffered a single notable slowdown after all the time I spent. Good optimization with voices to choose between English and Japanese, also with more than remarkable interpretations.
Another aspect that has surprised me is that in the pause menu we can select independent options for portable mode and TV mode, such as screen brightness, camera speed, selection between four types of controls, as well as a very complete customization of the elements shown in the interface (even the colour of it). Few things occur to me to improve this, and it is that at the level of detail it is added that we have a soundtrack that can become epic, with a lot of rhythms, by Satoshi Igarashi.
There is no doubt: PlatinumGames has given everything, and if you had any doubt that it was going to be a heap game in its catalogue… none of that. Astral Chain opens a new path within the Japanese company, in this case as intellectual property of Nintendo, which results in the establishment of a new IP. It is a very complete game, very varied, with combative freneticism but that also knows how to move in areas such as exploration. All with a lot of quality, Japanese essence and that point of distinction that this study always brings to its creations.
Astral Chain is the consecration of all the experience accumulated by PlatinumGames, not only in the combative side of its productions but also in other less treated areas such as exploration. The result is a vertiginous videogame in the playable and in the variety, with a very long-lasting campaign, very high replayability, very powerful elements of progression and an audiovisual quality that takes full advantage of Nintendo Switch. An exclusive that is worth its weight in gold, or rather in platinum, that metal that never loses its lustre, just as Platinum developers have shown us this time.
-BadSector-
Please support our page theGeek.games on Patreon, so we can continue to write you the latest gaming, movie and tech news and reviews as an independent magazine.
Become a Patron!
Pro:
+ Deep, varied and challenging combat system at high levels of difficulty
+ Wide variety of experiences: exploration, research, infiltration, driving with legion added…
+ Well built plot, adult and interesting, with several script twists
Against:
– The camera can be erratic during fighting
– The main character doesn't speak
– No New Game Plus
---
Publisher: Nintendo
Developer: PlatinumGames
Genre: Action-adventure, hack and slash
Release date: August 30, 2019
Astral Chain
Gameplay - 9.6
Graphics - 9.7
Story - 9.2
Music/audio - 9.8
Ambience - 9.8
9.6
MASTERPIECE
Astral Chain is the consecration of all the experience accumulated by Platinum Games, not only in the combative side of its productions but also in other less treated areas such as exploration. The result is a vertiginous videogame in the playable and in the variety, with a very long-lasting campaign, very high replayability, very powerful elements of progression and an audiovisual quality that takes full advantage of Nintendo Switch. An exclusive that is worth its weight in gold, or rather in platinum, that metal that never loses its lustre, just as Platinum developers have shown us this time.