REVIEW – With scenarios that you will want to explore down to the smallest detail, with a captivating story and the perfect fusion between action and platforms, Double Fine dazzles us with one of the best video games of 2021. A worthy successor to that classic that seemed never to have this longed-for sequel. But as you will see in the review of Psychonauts 2, all these years of waiting have been worth it.
The truth is that being an experienced gamer with many titles played behind his back is sometimes a heavy slab when judging a new video game. Comparisons, references and memories of previous great titles always prevail and dwarf recent achievements. Still, there are other occasions when they serve as stars in the sky that function as guides for new generations in the form of eternal nostalgia. And this is what happens with the titles in which Tim Schafer has participated. It is what Psychonauts 2 gives off on all four sides, a dose of renewed nostalgia, a title that should never have left: a PURE video game.
The first Psychonauts was a great example of many things, a turning point in a career tied by paid employment, a liberation of ideas, orderly artistic chaos under the guise of a platform and, for many, a true stranger. But most of all, it was the project that Double Fine was built on. An idea originated when Tim introduced a phase where the protagonist smokes peyote in Full Throttle and gets into his mind. That is precisely why the launch of this second part supposes, in addition to the end of a tortuous development in which the unstable financing prevented the completion of the project, the joy of an entire studio to see how they finally manage to finish their work and present it to the whole world.
The greatest gift from Xbox Game Pass
It is a video game that shines with its own light, that thrills with its frenetic action scenes, that captivates with the visual power of its settings, and that is even capable of surprising you with its story and script twists. Obviously, I want you to continue reading the Psychonauts 2 review here, but this is one of those cases where I would cheerfully tell you, "buy it; you won't be disappointed." Or if you have Xbox Game Pass, download it and play from day one because you won't regret it. But my job is to tell you why it is an actual video game and what the hell! I liked it so much that nothing appeals to me more than talking about Psychonauts 2, its protagonists, the imaginative worlds it transports us to, its jokes, its epic moments, its double meanings and how well written the story of this adventure is directed by the great Tim Schafer, father among others of the memorable Grim Fandango.
With its action, platform, secrets, and collectables, this game evokes the golden age of 3D adventures that we live in the days of Nintendo 64. A style of play that today has almost fallen into oblivion and, therefore, makes Psychonauts 2 a video game even more special. That it already was! Its history, art, and crazy plot premise are a perfect excuse to get lost in its crazy world. Still, as you will see in the review of Psychonauts 2, it also has an extraordinary quality as a video game.
Double Fine proves its worth
More than 15 years have passed since the original game was released, so Double Fine had a colossal challenge before it. On the one hand, satisfy all those who once enjoyed the adventures of Raz in that camp for children with psychic powers., and on the other hand, also to conquer a whole new generation of players who, with some luck, perhaps, heard about the classic but never enjoyed it. Psychonauts 2 achieves both, and it also does so without losing that point of originality that will make you grimace in amazement and surprise every time you enter the heads of its protagonists. Because this crazy adventure is precisely about that; to enter the minds of others to confront their traumas, obsessions and hidden fears, much like Christopher Nolan's Origin.
The great thing about this adventure is that each of these brains is an independent world with its challenges and sometimes even with a radically opposite visual style, so Double Fine's game always finds a way to dazzle you and make you experience new emotions. Until the final stages of the adventure, he discovers new abilities for you, faces you with more formidable enemies or reinvents well-known game mechanics to give your action a different flavour. It is something that the original game already did very well, which you have available on Xbox Game Pass, but its sequel goes a step further with a rhythm of the action that does not decline in any moment; with a more elaborate, more polished platform that encourages you to do crazy things and, above all, with a set design that is the true protagonist of the adventure.
Every time you explore the mind of a new character, it is impossible not to let out a sigh of astonishment. Every time you think that you have already seen it all, that Psychonauts 2 will no longer be able to surprise you anymore, the Double Fine team takes you into a setting even more surreal and incredible than the previous one. All this is seasoned by a story written with the usual mastery to which one of the parents of the mythical Monkey Island has accustomed us, masterfully combining humour and mystery to delight us with one of those arguments that hide much more than what they appear to be naked eye. And it doesn't matter if you haven't played the original. Although the story takes place just a few days after Raz's first great adventure and is, therefore, a direct continuation, Psychonauts 2 manages from the first minute so that even newcomers can enjoy this fantastic adventure in a big way. Although obviously, there will be references and jokes that they do not understand at first because they are directly related to the original and the Psychonauts In the Rhombus of Ruin adventure for virtual reality.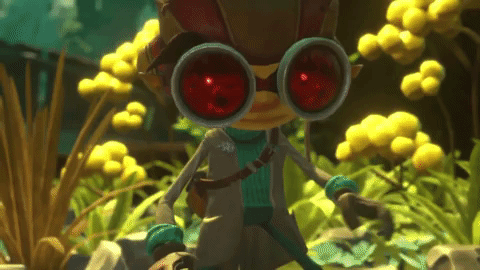 Action and adventure like old times
I think about the battles I have fought, the scenarios I have explored, or the surprises I have taken when I discover a crucial aspect of the plot … and I smile. No more. I can't help but smile every time I remember the great moments of Psychonauts 2, which from the very first minute goes all the way into the mind of the deranged Caligosto Loboto, the great villain from the original game, whose brain is utter nonsense. Everything around you there is insanely funny and surreal. Still, it's just a glimpse of what's to come, a convenient tutorial to fully understand the powers of Raz and the challenges he will face.
The essence is a 3D platform adventure that gives us the freedom to explore large open worlds full of secrets and collectables, with great combats and challenges requiring the specific use of particular skills, almost as if they were puzzles. We saw most of these in the original game, such as psychic shots or telekinesis, but some new ones are quite a discovery. The one that has surprised me the most and I think is most used in action and in the story itself is the ability to connect ideas. In combat, it allows you to draw the most elusive enemies towards you. Still, when you explore the minds, you can use this ability to "jump" from one disjointed thought to another, thus reaching areas otherwise unreachable.
Combat, exploration, puzzles and platforming uniquely combined
Good old Raz can also create a mini paper Razputin capable of crossing insurmountable barriers for the protagonist. However, when it comes to fighting, he will not stay still attacking whoever we order. And this is something that I love. Combat, exploration, puzzles and platforming are uniquely combined throughout the adventure to the point that even abilities like clairvoyance, which allows you to see through the eyes of others to uncover hidden treasures, also play a role in the battles. That's why the fighting they are so funny. Although Psychonauts 2 is a fairly straightforward game with just a couple of button combos, Raz's skills are essential to survive the rain of cakes and explosions that rages around you. Delicious chaos that does not lose interest throughout the adventure because, in the end, the game always finds a way to surprise with more challenging confrontations.
Slow down time, set other enemies on fire, pick up objects from a distance and throw them with fury… and of course, punch and dodge at the right moment. The action in Psychonauts 2 is constant and reaches its zenith in the boss battles, which have surprised me very positively because of the originality of these enemies and because they are more elaborate than I expected. They all have something special, require you to take advantage of a unique combat strategy, and are all a spectacle. I still think about many of these fights, and I am amazed by the talent of Double Fine, who signs here one of his best works with an incredible artistic section.
The greatness of Psychonauts 2: its history and settings
I've barely delved into the history of Psychonauts 2 because I don't want to ruin that magical moment that occurs every time you step into the mind of a new character without really knowing what to expect. Still, I have to say: it's fantastic. The premise is to hunt down the mastermind that guided the steps of Caligosto Loboto in the original game. Although it seems like a small thing at first, the story gets more complicated until entirely captivated by its protagonists, and you begin to discover one and another and another surprise. And you smile, you put on a face of astonishment, and you even vibrate with emotion in the most epic moments because there are also. And a lot of humour, with some hilarious scenes that help to empathize even more with the crazy characters that populate this great world of crazy.
The story is written with exquisite taste, and it knows how to catch you and surprise you by using mystery well. Those moments before losing yourself in someone else's mind are priceless, and one, in particular, is spectacular. The way you go from one scene to another; how it dazzles you with the image and the sound, with the words of its protagonists and the game mechanics that it proposes. The first Psychonauts already delighted us with a couple of worlds that were absolute genius, not only because they looked good, of course, but also because of the concepts they explored and how they did it. And this sequel is not far behind. Indeed, I have not seen any scenario that impacts me as much as The Milkman Conspiracy, which delved into the idea of ​​paranoia. Still, after about 20 hours of adventure, I can only applaud the work of Double Fine.
Unique worlds
Each world feels unique; every mind you explore is a paradise you don't want to run away from. And that's the reason why I've gone crazy looking for all the collectables. With scenarios like this, so beautiful, so varied, with so many small details that denote the care and affection they have been designed, how could I not? And what I like the most is that they all feel, in their own way, different. There are those in which action is the main protagonist, others that seem open worlds designed to delight fans of the platforms, and another in particular that proposes us to overcome challenges in the middle of a cooking contest. Double Fine has unleashed its imagination to design a world-class action-platformer adventure.
Although the stages are full of collectables, sometimes the screen is crowded with them; at no time has it been difficult for me to go in search of them. Not even when it is necessary to return to previously explored minds to discover new paths using Raz's unique abilities and enhancements, up to that point, I liked Psychonauts 2, which, as you can see, is an admirable video game artistically. Before I told you that the new Double Fine might seem like a minor game but as soon as you start to see its crazy settings, how varied they are, and the level of detail with which they have been created, you will know that it is just the opposite. I have gone from playing in dark environments that seem to be taken from a movie by the best Tim Burton to also exploring islands as if I were a castaway, fighting in psychedelic scenarios emerged from the mind of a hippie from the 70s, or getting lost in a colourful casino where nothing makes sense. And in all these places, something that surprises and attracts attention, including 2D platforming phases with excellent aesthetics.
Jack Black is back
I find it difficult to contain the emotion because I have enjoyed Psychonauts 2 in all its dimensions. As an action-adventure and platform, it seems to be a great video game with a lot to offer, but also in the plot, it is capable of surprising; he knows how to fall in love with his characters, humour and the mystery behind all those jokes; and the best thing is that it will also captivate you with its graphics and a fantastic soundtrack by Peter McConnell, which also has a song sung by Jack Black.
Not everything is perfect, of course. I would have liked to find a greater variety of enemies because their number is not exceptionally high, although new rivals appear until the very end of the adventure. It makes up for this by forcing you to use different abilities simultaneously, but a few extra enemies would have indeed won the combat experience. On the other hand, some guided or rail sequences feel somewhat limited but are pretty effective thanks to the brutal staging of the game. So yes, I would have liked to have the occasional extra option on the platform, but I say this after having thoroughly enjoyed this adventure.
I have played Psychonauts 2 on Xbox Series X and PC, with the cross-save option is a blessing, and its performance is perfect. 4K and constant 60 images per second will make you enjoy this strange universe more populated by histrionic characters and endearing crazy people. You can check all the details about the resolution and FPS of Psychonauts 2on all other platforms, considering that the game works on PlayStation 5. Still, only through backward compatibility with PS4 it does not enjoy the technical improvements of the new generation. That said, get this game. It is a title that is worth it, with which it is easy to have fun and that I am sure will surprise you with its history and the imaginative design of its game worlds. Psychonauts 2 is one of those games that I would recommend without fear. And I hope that you too enjoy for the first time, or as veterans in this saga, all the charm and magic that defines what one of the great video games of 2021 is.
-Zardoz-
Pro:
+ As funny as ever, some levels are laugh-out-loud funny
+ Insanely creative
+ Awesome gameplay
Against:
– Challenge too far behind in all the game's components
– Greater variety of enemies would have been welcome
– Bosses and puzzles are a little less inspired than in the past
---
Publisher: Xbox Game Studios
Developer: Double Fine
Genre: Action-adventure
Release date: August 25, 2021
Psychonauts 2
Gameplay - 9.4
Graphics - 9.6
Story - 9.6
Music/audio - 9.4
Ambiance - 9.8
9.6
MASTERPIECE
I had very high expectations, so I was a little scared that Psychonauts 2 wouldn't surprise me as the original game did more than 15 years ago. In just a few minutes, the new Double Fine showed me how wrong I was. Thanks to its imaginative set design, how well it combines action and platform, its fantastic narrative and the memorable characters that star it, Psychonauts 2 has become one of the best games of 2021 and a more than worthy successor of that classic that dazzled us in the days of the first Xbox. If you enjoyed him in his day, you would love it, and if it is your first time in the Psychonauts universe, I am sure that you will end up worshipping Razputin Aquato and all those who accompany him on this journey.