PREVIEW – Call of Duty is a bit of a rough spot, and that is putting it mildly. With youtube's most disliked video for the trailer, and it seems that this will be the worst Call of Duty ever regarding sales. Is the hate warranted at all when it comes to this entry of the franchise?
Has Call of Duty overstayed its welcome, and should Activision shut down the whole thing, especially since Battlefield is gaining record "Likes" and feedback. Even with the massive shitstorm that was the initial reveal trailer, Call of Duty Infinite Warfare looks fun, and not that dreadful – it just looks Call of Duty.
Call of Expanse
The story for Infinite Warfare is similar to a TV/Book series called The Expanse when I first read about it. In the distant future as Earth has run out of most of its resources, ends up uniting into one big global "nation" aka the United Nations Space Alliance. This alliance goes forward to gather resources from space and live in a peaceful harmony.
Except that there was a war of secession between the main Earth government and the colonies that provide resources to Earth. Tension rise high as both factions are in a deadly cold war. Which in turn suddenly becomes an all out interplanetary war as the Settlement Defence Front decides to attack Geneva. It is a full blown war, and you as ship Captain of the UNSA Retribution must save the solar system.
Captain on the Ship!
For the first time it seems that the developers of the franchise will allow us to not just be some rookie soldier/secret agent/nameless super soldier, but instead, we will have authority. As Captain (based on the E3 trailer), you'll get to select missions and side mission instead of the usual linear path. Further enhancing our freedom is not just the mission selection, but the dogfights in space. While many assumed that these would be boring on-rails sections, the developers have confirmed that these are controllable and not scripted entirely.
It seems as though while the stigma that has plagued Call of Duty, the on-rails cinematic experience is getting a bit removed. We're getting the option to choose again (which was removed from Black Ops 3), and we actual get to take charge on the missions. So that seems to be a major tone shift for the series once again.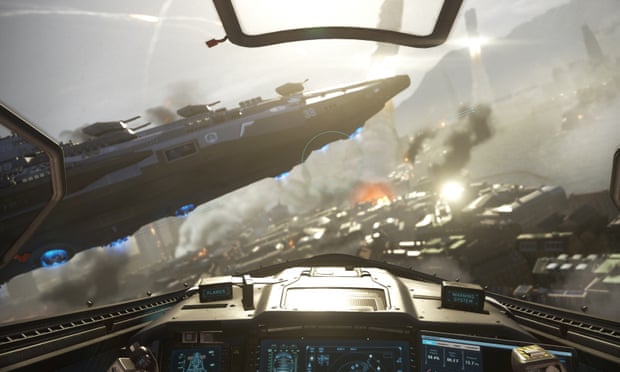 The game moving into sci-fi territory allows it to be freer to do whatever it wants. The multiplayer has not been revealed fully, but we do know that we will have co-op, zombie mode once again with its story.
Everything to me looks awesome, after Titanfall I have been dying for another epic space game. However, the zombie mode is a bit insulting, as I would have loved to see some unrelenting alien faction in epic space battles. How will zombies even work in such a setting (Unless it goes full Dead Space on us)?
Still to be honest, it seems that Infinity Ward is trying to right the wrongs committed by Ghosts, and is actually bringing us a new ideas plus content. The hate to me seems a bit harsh, and Infinite Warfare seems like a fun action packed game. Lets just hope the multiplayer, the DLC, and the Zombies will also look this good.
-Dante-
Could be awesome:
+ SPACE WARS!
+ Finally, not a rookie, get to choose missions
+ Looks varied, and new with full sci-fi influence
Could be bad:
– Zombies? Again.. ugh
– Graphics did not get big of an upgrade
– Will it have space combat only MP?
---
Publisher: Activision
Developer: Infinity Ward
Genre: Tactical, Action, First-Person, Shooter
Relase date: Nov 4, 2016