REVIEW – Some four years ago a masked assassin: Corvo Attano sneaked onto our HD screens to steal our heart from another medieval hero: Garrett from the Thief games. The first Dishonored from the French developer team Arcane Studios had great success and the following Thief game couldn't conquer back its stolen crown either. Back to the present time and the next episode is finally here, with both Corvo Attano, and Emily, his daughter – trained in the art of stealth and assassination – as playable characters.
While in our real world only four years passed, we are set fifteen years after the events of the first Dishonored game. Emily Kaldwin (who was a child in the first game) follows on the throne her mother who was assassinated at the beginning of the first title.
Father and daughter
After a short training session with father and daughter, Dishonored 2 begins with a rather unexpected (and unforeseen) coup – same as the first game. (It seems to be the trademark of this series now.) Following those dramatic events, we have to make a choice in the throne room: we must choose between Emily or her father, Corvo Attano (the original Dishonored protagonist) to voyage to the southernmost point of the empire and unravel the conspiracy of this successful putsch and exact vengeance. I choose Corvo Attano for the first playthrough, but I will certainly make another one with Emily.
While the story is mostly identical in both cases, there are differences in the playstyle for the characters. Corvo is Dishonored 2's more direct, brutal assassin. As in the first game, he can possess corpses and rat swarms to flow over enemies with devastating damage. Bending time is also back, which acts as a force multiplier for your crossbow, pistol, mines, or dagger. Blink is Corvo's main magic, though, which lets him teleport to short distances. Yes, Dishonored 2 is a still stealth game, but Corvo is the direct option.
In contrast, Emily is a trickster, with a lot more finesse. Her Mesmerize power allows you to put enemies into a daze for a short period, while Shadow Walk turns her into a living shadow to hide outside of the cover. (It's an essential power, as enemies in Dishonored 2 can spot you lot faster, then you are used to in other sneaking games. I had a hard time honestly to hide Corvo.) A doppelganger can send enemies on a wild chase with a ghostly double. Emily also has Blink-like power: it's called Far Reach, and it can pull her along a ghostly tether instead of directly teleporting.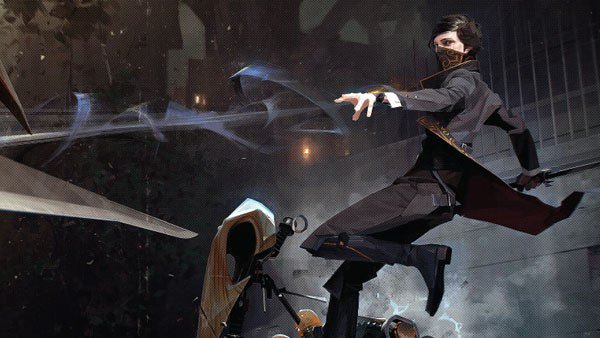 Apple did fell a bit farther from the tree
There is also a difference between the way you can be more or less aggressive towards your enemies. Sure, Dishonored was never a game that encouraged mindless aggression, but with Emily it's fatal. You need to plan, combine your powers and be even sneakier about how and when you act. Go unprepared into close-quarters combat with three or four guards, and you'll almost certainly die, so you need to think, combine your powers and act decisively every time.
At times, it feels like there's less room to improvise on the hoof, but there's something really tense and exhilarating about playing as Emily. You come to learn that the Domino power can be supremely effective against groups of guards, transforming Emily into a veritable angel of death, come for vengeance. Combine it with Doppelganger, however, and you can clear a room in seconds without taking a single blow. Throw in your passive abilities, building up your reflexes or turning corpses into ash, and she's very much her father's daughter.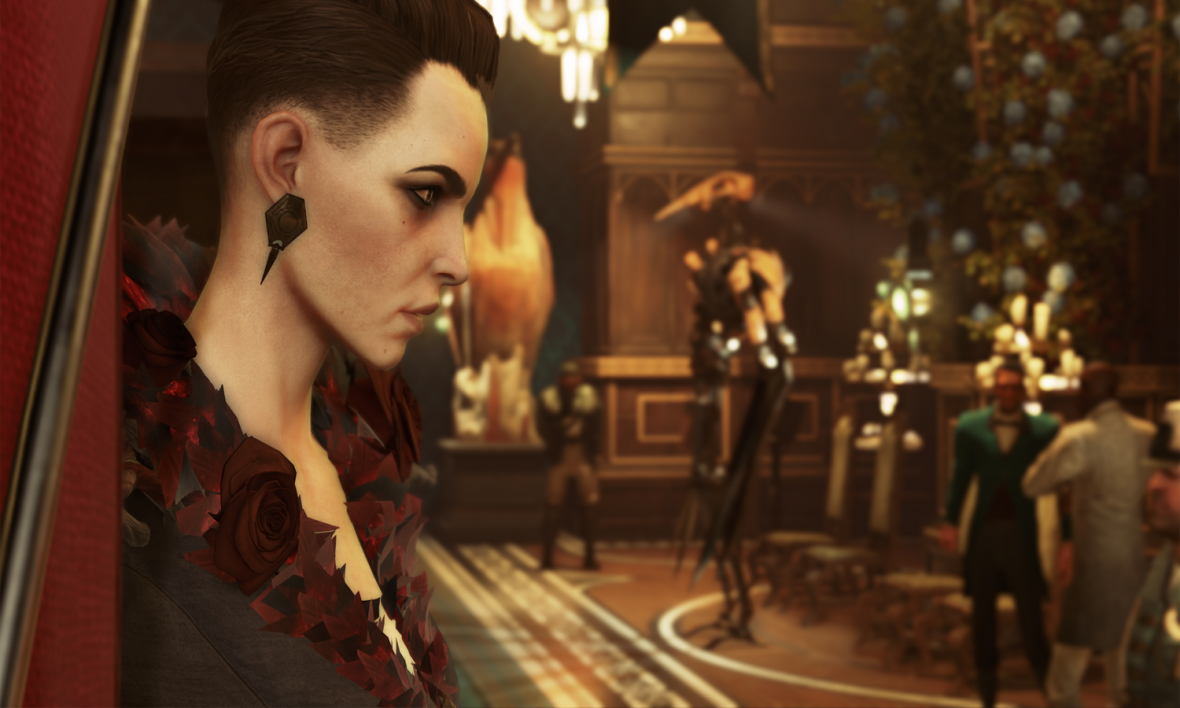 Farewell Durnwall, Karnaca, here we go!
Dishonored 2 also have a brand new city to explore. With the prolog done, Dishonored 2 leaves Dunwall behind for the sunnier climes of Karnaca, a city on the southern fringe of Emily's empire. Same as Dunwall blended London and Edinburgh in a chilling Steampunk dystopia, Karnaca combines elements of Naples, Venice and Barcelona in a heady mix of Mediterranean architecture. We can almost feel the marital, salty wind as caressing our face, while whale-oil-powered tech and airborne plague, in the shape of the horrible bloodflies, which infest the city.
There are also more soldiers and citizens strolling the streets and more corrupt aristocrats sitting in the luxurious apartments. Dishonor 2 definitely feels livelier than the first game – despite the fact that, like Deus Ex: Human Revolution's Prague, it's heavily fragmented into bite-sized portions.
Everywhere you go, there are hidden passages, dark secrets, and interesting story bits to discover, apartments to explore, conversations to listen into that connect to where you're going or what you've done. Various books, writings, and audio logs can be found in offices and labs, which fills you in on the details of the backstory, even turning mostly evil figures into sympathetic human beings. Dishonored 2's world is shaped with an extreme care from the French developer Arcane Studios.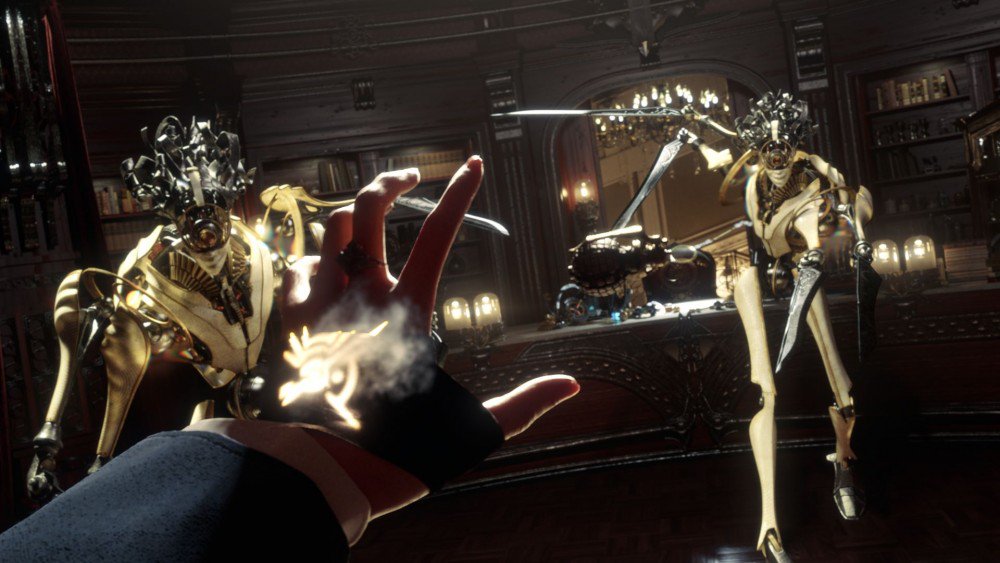 I got the powers!
Upgrading powers is done by finding runes hidden in out-of-the-way locations throughout levels. That means that you have to clean up many of your kills, or at least move the bodies to somewhere out of the way. You can also find and equip bone charms, which can grant boons, while some corrupted bone charms will offer you a benefit while also taking something away. As if that wasn't enough, you can also craft your bone charms, with varying effects and chances of corruption.
Once you've acquired enough powers, your controller will quickly feel very cramped. Since this is a first-person game, the shoulder buttons are already spoken for, especially when you have your right hand permanently assigned sword duty, and your left hand tasked with handling weapons and firing off powers. You can only map skills and arms to one of the four directional pad buttons while holding L1 will show you a quick select wheel while time slows down (but does not stop). Meanwhile, R1 blocks using your sword. The Triangle buttons feel a bit under-utilized, as a lean mechanic that isn't really used unless you're going for a no-detection run. The controls take some getting used to, but work just fine most of the time.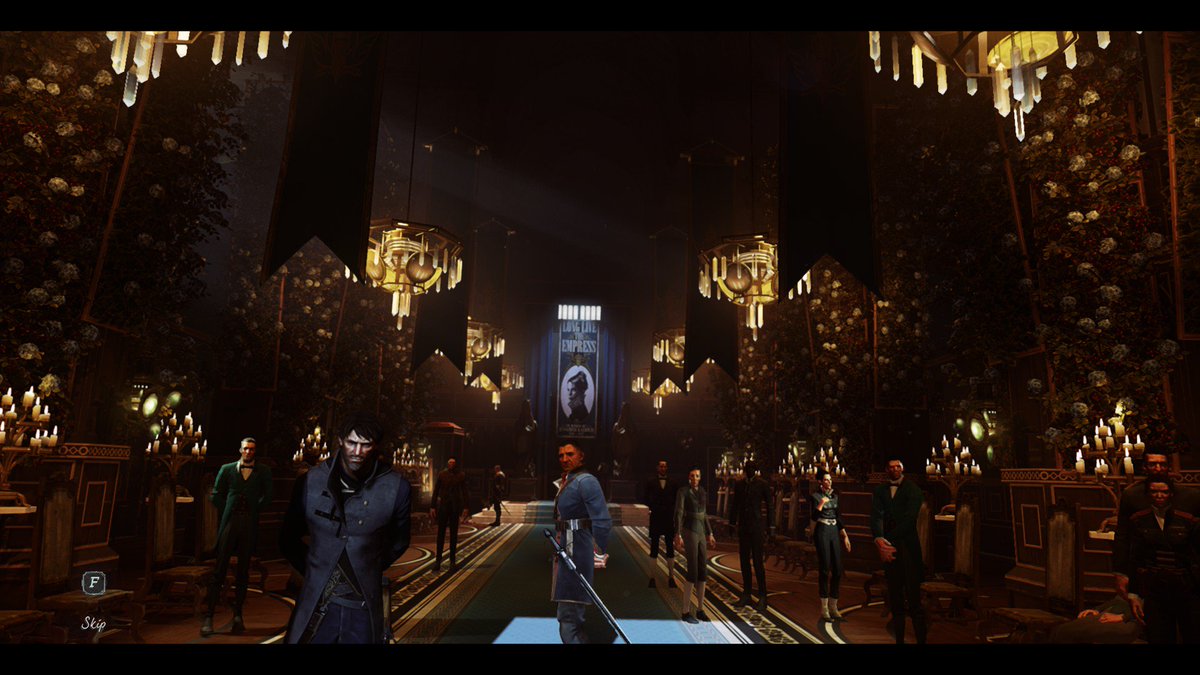 Take my breath away?
While the original Dishonored was built with the Unreal Engine 3, Dishonored 2 has exchanged most of that out for a custom-built "Void" engine, which is itself based off id Tech 5. The result is some overall graphical improvements, particularly in the areas of lighting and backgrounds. Some of the city regions that you'll see during your journey are breathtaking, to be sure.
Dishonored triumphed by wedding its ornate, goth-meets-steampunk visuals to a painterly style that was more about the personality and visual impact than blunt photorealism. Dishonored 2 takes that up a notch, creating a dazzling run of stunningly detailed interiors full of light and period texture, combined with characters who could have come straight from the pages of a European graphic novel. The sound is incredibly immersive and absolutely vital to locating targets, opportunities, and threats.
Unfortunately, character models remain rather lackluster, and animations, in particular, can be pretty rough. Then again, when you've got several dozen characters contained within a very small area, it is impressive that the game does keep a consistently high frame rate throughout the experience.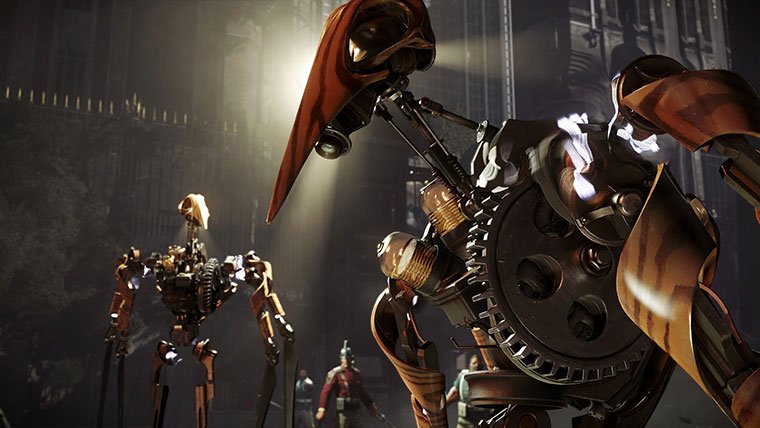 Skipped the first title? Mistake!
Dishonored 2's story is good, but it does feel like it's missing some context if you haven't played Dishonored and its DLC. There are lots of allusions to past characters, like the murdered Empress, whose soul will appear a lot, and sometimes you won't understand either what's she's talking about, or why she's such an important past character to Corvo if you haven't played the past game.
The story itself is a bit too straightforward too: while there are lots of interesting characters, ultimately it's the same kind of revenge tale as it was with the first game. Regarding details the storytelling is very good, but the bigger picture is handled in a surprisingly clunky manner.
The morality system doesn't quite come together for me either. Killing enemies increases an unseen amount of Chaos while using the non-lethal takedowns or ghosting a level keeps your chaos low. You can also use the Heart to listen to the thoughts of NPCs, allowing you to exact justice only on those that deserve it. The amount of chaos you have feeds into the game's ending, which changes depending on your overall chaos level, with permutations depending on which named characters you killed or spared.
We are honored – again
Dishonored 2 is a fantastic continuation of everything the first game started. With the first title, Arkane Studios stole the crown from Thief. With the sequel, the studio has defined its style and rule. It's a stealth-action title with some kickass abilities, and some huge, visually-interesting levels. While we hope, that the family of Emily and Corvo doesn't have another horrible day, we still fo want another Dishonored sequel beyond this.
-BadSector-
Pro:
+ Very solid stealth and action, with cool special abilities
+ Interesting milieu, story, characters
+ Fantastic steam-punk ambiance and level design
Against:
– The basic plot is a bit too simple and similar to the first game
– We are discovered too quickly, it hampers gameplay flow
– Lots of bugs (besides bloodflies)
---
Publisher: Bethesda Softworks
Developer: Arkane Studios
Genre: FPS, stealth action-adventure
Release date: November 10, 2016
Dishonored 2
Gameplay - 8.8
Graphics - 8.6
Story - 8.5
Music/Audio - 8.7
Ambiance - 9.2
8.8
EXCELLENT
Arkane Studios is back to their favorite steampunk with Dishonored 2, with a bigger, better, more complex and intricate version of the game they debuted in 2012. Choose between the direct violence of Corvo Attano or the deception and guile of Emily Kaldwin. With a host of incredible power, you'll stealth your way through massive, expansive levels with the fantastic artistic design. Dishonored 2 is a great stealth-action game and deserves every honor.