The ex-id Software developer timed his announcement to the 25th birthday of DOOM.
Romero Games was working on none other than a free expansion/mod to the 1993 FPS game. DOOM will get a new megawad called SIGIL (which is a nod towards fan-made content that is called similarly), and it will arrive with nine single-player and deathmatch maps each in February. The devs' website says it's necessary to own a registered copy of DOOM to get the spiritual sequel to the fourth episode (and we don't mean 2016's DOOM by that!). SIGIL will be free, by the way!
On the website, we see details about the two limited editions that Romero Games will release via Limited Run Games. The standard edition will have box art designed by Christopher Lovel (known for his metal CD artworks), and in it, we'll find a 16 GB pen drive that looks like a 3.5″ floppy with the megawad data and other "extra content" (behind the scene information), as well as two CDs (one with the megawad data, and another one for the soundtrack by Buckethead), as well as one SIGIL and Romero Games sticker each. It will cost 40 dollars.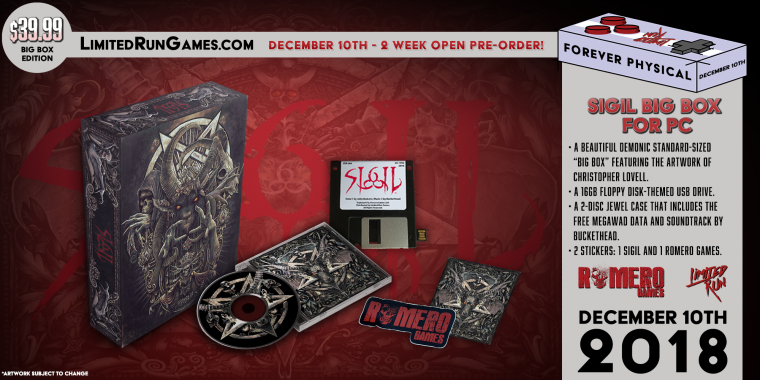 The Beast Box will have a bigger, numbered box, signed by Lovell and Romero, and on top of the previous version's content, it will have an 8×10″ art signed by Lovell, a SIGIL-themed coin, an XL SIGIL T-shirt, as well as a pewter statue of John Romero's head on a spike. The price is 166 dollars, and it's limited to two copies per customer. Both versions can be ordered until December 24!
Bethesda celebrated DOOM's 25th birthday, and not just with the video below, but they also announced a DOOM fan club that you can find here. Registering will get you an exclusive, 25th Anniversary Zombie Doom Slayer skin if we buy DOOM Eternal.
Happy birthday, Doomguy! And don't forget: IDDQD, IDKFA…