REVIEW – This time, I did not open microsoftofficewordtwothousandandthree immediately after finishing the episode. That wouldn't have been good. Instead, I waited two hours, thought about a few things, and – still not with a clear head – I got it started. Something ended.
The blowing up ship was a decent cliffhanger after the middle of January, and – as expected – it didn't bring as much of an impact as we would have originally expected. It was still drumming up the mental tour in Telltale-style that happened in this about two hours by the Still Not Bitten team, which was mostly created by the ex-Telltale devs…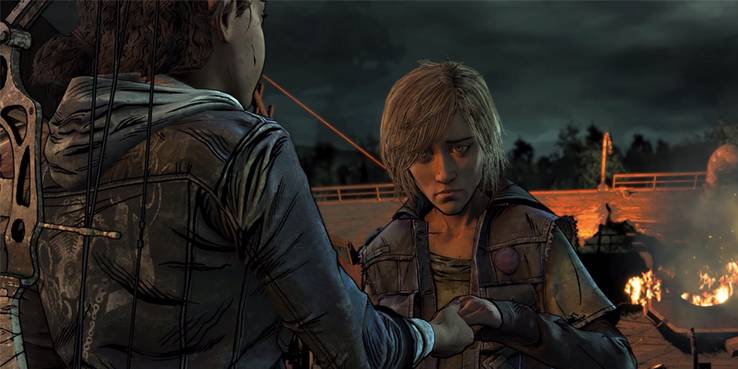 "Sail away, sail away"
We start on the ship, which is close to blowing up as we have hidden a bomb in it in the previous episode. The goal is to get down, presumably in one piece. There will be a certain scene that will happen here – and, since I usually pick the pictures after writing all this nonsense, you might notice its impact -, and the team will form up. People will die, and someone is going to have some godlike hatred towards Clementine, trying to kill us (the same goes with the killing for a guy with a bow and error, and you'll have to aim for the leg… learned it by the third try), and this character will have some unbelievable stamina as well. We'll end up leaving them behind, and since the group is not all together, we have to walk to the school. We get to a cave with its obligatory puzzle portion, and there will be a conflict with AJ in its centre.
Here. I managed to miss one of the four collectables – the other two are in the cave by the way -, as I did not expect THAT thing to be a collectable. Anyway, we get out of the cave, and one character's fate is seemingly intentionally unclear, which is suspicious (there will be another thing with this thought, I'll get to it later – remember, gotta fill out the character requirement). After some discussion with a member from the school group, we'll get to a location that acts as the key scene for the episode, and it also serves as its high point – getting across the bridge, and the car in front of it both play a pivotal role.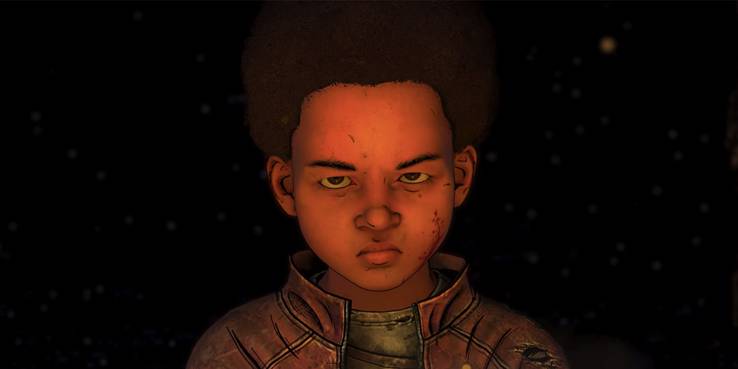 My darling Clementine
This inhumane stamina person comes back, bitten to pieces (how is it even possible to stay afloat…?!), comes in, singing a song, followed by a herd of walkers, and, thanks to the game's mechanics, infinite ammo, which means you can get headshot, only for them to run out of bullets the scene after, showing the bad signs of these scripted events altogether. Of course, this character will try to kill you again, as well as take someone from your group, but your decisions related to AJ will step in here, If you trust him, then one person will die here, and another one will survive.
Clementine continues with a damaged leg. More walkers come, and Clementine and AJ will remain on their own. At this point, I cannot write without spoiling an event, so I'll just say that we won't stay up to snuff, which is underlined by the almost ridiculously dramatic background music composition. You get to a barn that previously played an essential role in the previous episode's best cutscene, you take control of AJ, and…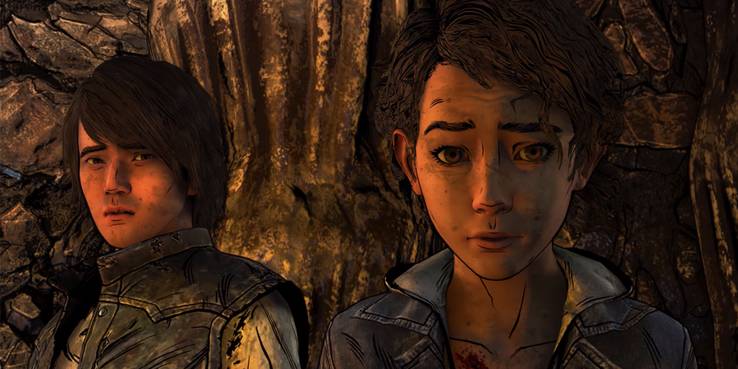 "Not today…"
Cut to a scene in the past, which is also a recurring motive's continuation. You try to save a person, and meanwhile, you might think that it is over, and this is the end, and thus, the circle that has started about six and a half years ago at the end of the first season, is complete. Nope… the game has fooled me. It's not the end yet. The end isn't what you would think – Chekhov's gun has not been fired in an expected way. And that's the biggest surprise.
A character change comes with a changed interface, which seems to hint at the future, which is suspicious, as it could probably build up a fifth season but not with the Telltale name… and after an emotional song, the mini staff roll is an amazing idea and the fact that the game thanked me for playing hit me right in the heart. And to think that I didn't even start playing until the middle of season one…
The cat has also nine lives…
Quality-wise, The Walking Dead: The Telltale Series – The Final Season has reached the heights of the first season. If I had to list them in my opinion: 1-4-2-3-Michonne, and I'm not rating the 400 Days episode. The fourth season gets a kind-hearted nine out of ten, and it could have been higher, and I'll tell you how – first off, it didn't seem to tie up to the events of the comic book (which, if I remember correctly, Telltale promised to do), and second, Javier, or anyone outside Clem and AJ, seemed to have shown up from the third season, which is a fucking huge missed chance. Telltale's tombstone doesn't have the repeat of Lee's death. Skybound has closed Telltale's almost seven years of work perfectly with their mental trip. And with that, I give The Walking Dead: The Telltale Series – The Final Season a nine out of ten without any second thoughts.
-V-
Pro:
+ It's shockingly good, especially after Telltale's death
+ AJ
+ Excellent ambience
Against:
– There's no way to get off the road – you are limited heavily here and there
– Minor animation and volume-related issues
– It didn't build up the comics or have any ties to the third season
---
Publisher: Skybound Games
Developer: Telltale Games / Still Not Bitten under Skybound
Genre: Episodic, adventure
Release date: March 26, 2019
The Walking Dead: The Telltale Series - The Final Season: Ep. 4 - Take Us Back
Gameplay - 7.8
Graphics - 7.6
Story - 9.4
Music/Audio - 9.6
Hangulat - 9.8
8.8
EXCELLENT
"The night will be over soon..."