The Blitzchung Hearthstone-player, who openly supported the Hong Kong protesters, is backed by several Blizzard employees.
Daily Beast reports that several employees have staged a walkout at Blizzard. One employee says that about 12-30 employees have been involved in the event, which is a minuscule part of the company's workforce. The protesters went to the iconic Orc statue at Blizzard, which is a symbolic location – Jeff Kaplan, the director of Overwatch, says that the employees do a champagne toast whenever a Blizzard game ships. "The action Blizzard took against the player was pretty appalling but not surprising. Blizzard makes a lot of money in China, but now the company is in this awkward position where we can't abide by our values," an employee told the site. The next image – which is from the Hearthstone subreddit – allegedly shows them. (The umbrellas are an iconic part of the Hong Kong protesters. On this subreddit, a Hearthstone user also announced leaving the game after spending ten thousand dollars in this game…)
Kevin Hovdestad, an eSport personality, wrote the following on Twitter: "Not everyone at Blizzard agrees with what happened. Both the "Think Globally" and "Every Voice Matters" values have been covered up by incensed employees this morning."
The users got infuriated after learning about Blitzchung's ban. On Twitter, there's a #BoycottBlizzard hashtag, but we can also see, for example, someone that announced cancelling their World of Warcraft subscription: "Cancelled my subscription to World of Warcraft. I support young people proactively advocating for their freedom and democracy; they are shaping a better tomorrow. Punishing them for their activism is shameful. #BoycottBlizzard"
"Blizzard shows it is willing to humiliate itself to please the Chinese Communist Party. No American company should censor calls for freedom to make a quick buck," Ron Wyden, the senator of Oregon in the US, wrote. Even the politicians are noticing the Blizzard situation.
"I want to start by saying that I feel what Blitzchung did was very brave. He knew that his actions would likely have serious consequences, not just for his future in Hearthstone but possibly even for his safety, and I commend him for the fortitude that takes. Even so, I do think that Blizzard was correct in issuing him a penalty for his actions. They do not want to set the precedent for their official broadcasts being used as political tools. The players agreed to particular rules for behaviour, and he violated those rules. Maybe I'll make a subtle snide remark on occasion, but I know that I am representing Blizzard in addition to myself. If I were to close a show with a speech about how I feel like Trump should be impeached, I wouldn't expect to be invited back for future events.
[Blizzard's penalty] seems completely overboard to an extent that feels completely unwarranted and unfair. I won't pretend to understand either the intricacies of the geopolitical situation in China and Hong Kong or the full extent of Blizzard's business interests there, but to me, this penalty feels like it is deeply rooted in both. The heavy-handedness of it feels like someone insisted that Blizzard make an example of Blitzchung, not only to discourage others from similar acts in the future but also to appease those upset by the outburst itself. That kind of appeasement is simply not something I can in good conscience be associated with. When I learned about the ruling, I reached out to Blizzard and informed them that I no longer feel comfortable casting the Grandmasters finals at BlizzCon. I will not be a smiling face on camera that tacitly endorses this decision. Unless something changes, I will have no involvement in Grandmasters moving forward. Do not take your anger out on the other casters, or streamers, or employees of Blizzard. This is not the kind of decision that comes from the rank and file. Most likely they're just as angry as you are. I know I am," Brian Kibler, a former Hearthstone pro that turned part-time commentator, wrote.
Epic Games also chimed in: "Epic supports everyone's right to express their views on politics and human rights. We wouldn't ban or punish a Fortnite player or content creator for speaking on these topics," an Epic representative told The Verge. Tim Sweeney, the head of Epic Games, also shared his thoughts on Twitter: "Epic is a US company and I'm the controlling shareholder. Tencent is an approximately 40% shareholder, and there are many other shareholders including employees and investors. [Something similar to what happened at Blizzard] will never happen on my watch as the founder, CEO, and controlling shareholder."
Tencent, one of the major Chinese companies, has a 5% stake in Activision Blizzard, and Blizzard's subreddit was temporarily locked, too. The story is far from over, we are sure about it.
Source: PCGamer, PCGamer, PCGamer, PCGamer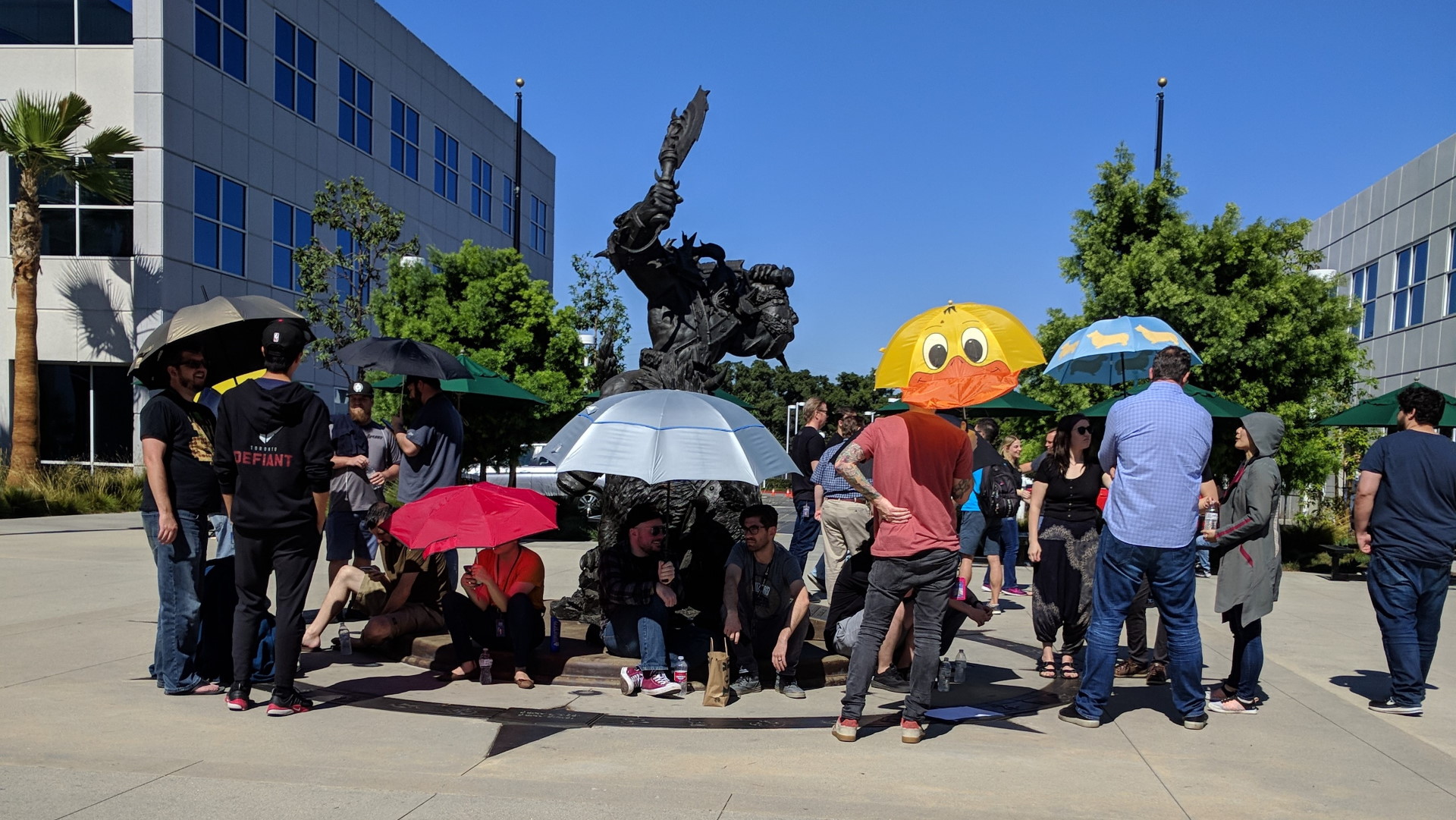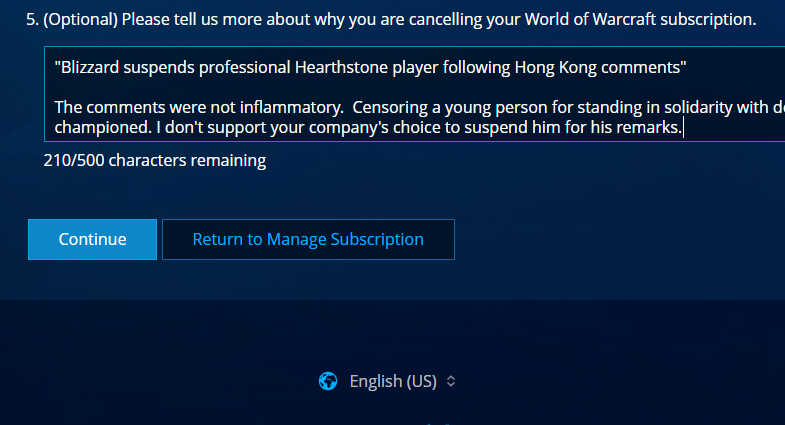 Please support our page theGeek.games on Patreon, so we can continue to write you the latest gaming, movie and tech news and reviews as an independent magazine.
Become a Patron!