REVIEW – In short, I'd simply say three words and be done with it so: please buy this. Finally, we have a remastering effort that was made with respect and fan-like love. With this project, Command & Conquer's fame was restored after it was tarnished by the ridiculous C&C Rivals.
Two hardcore strategies from the past, complete with their pros and contras.
GDI vs. Nod
We're talking about the fight between two factions – GDI (Global Defense Initiative) and Brotherhood of Nod. All of this started when a meteorite crashed near the Tiber (Tevere in Italian) river in 1995 (when the original Command & Conquer launched). Near the crash site, a new material named Tiberium was discovered (the name comes from the English name of the Italian river). The material causes mutation, and it also divided humanity. This resulted in the excellent acting performance of Nod's leader, Kane, formed by Joseph D. Kucan, one of the writers of the game. Westwood, who created outstanding RTS games at an incredible pace, followed the FMV trends of that era, and since then, they were replaced by CGI. Still, it is interesting to experience the technology in the past, including some seemingly lost but found material, which does show its age. (Thankfully, most of the videos got some treatment, so they did not just throw the original scenes into the project without any work on them. Instead, they used machine learning technology, and the result is impressive!)
In Command & Conquer Remastered Collection (which I will shorten to C&C RC until the end now…), you will get two games: the original C&C, as well as the first Rad Alert, complete with all three expansions. You get over a hundred missions, and at least two hundred multiplayer maps, accompanied by Frank Klepacki's remastered, expanded soundtrack that is over seven hours long (and he was the composer of the original, too). The battlefield's graphics were all effectively remade. Every asset, regardless if we talk about a soldier, a weapon, a building, anything, all touched up to make them look more modern. If you grew up on the original game (the editor-in-chief will likely say yes in a comment in brackets here), then you can press the Space bar to switch to the original graphics. As expected, the user interface has also been modernised, which allows rookies to access everything easier – this will be much more important in the future because the developers went and outright open-sourced the game's source code. With this move, the game's longevity has been sharply expanded, as some incredible mods could be made now for C&C RC…
Even the console-exclusive missions and the Covert Ops portions got included in the package, and the multiplayer got a second thought, too. Instead of using GameSpy (which was killed a few years ago), it uses Steam's and Origin's servers. The gameplay is fine (except for one thing), so let's talk about the negatives, as there are a few.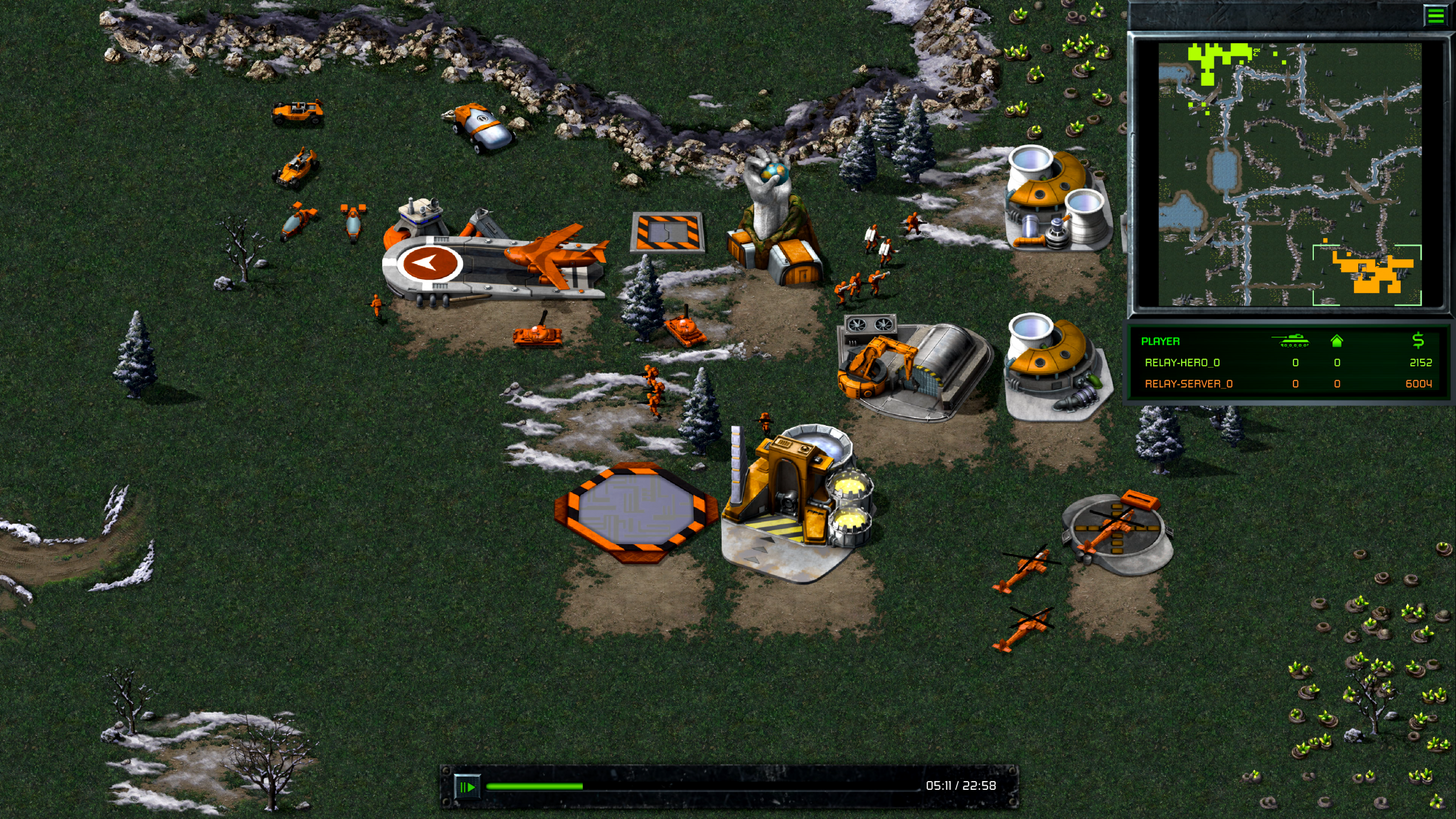 LAN?
The ambience is very good, and if you like this genre, I'm fairly sure you consider Command & Conquer and Red Alert as a must-play. Back in those days, LAN parties were a thing. Now, it doesn't exist in a modernised format. No, not because mobile net, fast Internet, and whatever. Simply put, there is NO LAN OPTION. How on Earth could you miss THIS opportunity? The other thing I could mention as an issue is how artificial intelligence seems a bit stupid in some cases. That's why I believe C&C RC will live on longer as a multiplayer title, plus via the mods. Maybe I'd say the black-and-white cutscenes don't look that good. However, nothing is perfect, and I never thought this game will receive a ten out of ten. Only revolutionary games deserve such a score. Tetris Effect is an example: it took Pajitnov's concept and elevated it higher, and in VR, it's simply beautiful.
9
I might be somewhat divisive, but I'm giving Command & Conquer Remastered Collection a nine out of ten. It's a great remastering effort. Unseen/unheard extras, better-looking cutscenes, quicksaving, remastered soundtrack, everything included from the two games, easier handling, and no Denuvo to top it off. (In the past few years, I can't name a single example from Electronic Arts to NOT use Denuvo!) Petroglyph Games (which includes a few ex-Westwood members) might likely have set a new standard in remastering. Bluepoint Games might have just received competition. If you like strategy games, do not hesitate and buy it for twenty dollars/euros. Okay, you need Origin as well as Steam, but it's a sacrifice that should be taken. It kept everything that made the original oh-so-good but forged even further into something incredible. There's nothing that can be disappointing here, maybe except for the lack of LAN. I showed DigitalFoundry's analysis for a good reason – even they consider this remaster one of the best made.
So get on Steam – thousands of positive reviews don't lie. So what are you waiting for? If you like RTS games, why don't you own this game yet?
-V-
Please support our page theGeek.games on Patreon, so we can continue to write you the latest gaming, movie and tech news and reviews as an independent magazine.
Become a Patron!

Pro:
+ A wonderful remastering effort on the audiovisuals
+ Complete with extra content, and for cheap to boot!
+ Easier UI to use
Against:
– The black and white scenes look somewhat bad
– The artificial intelligence is somewhat stupid
– Where's the LAN support?
---
Publisher: Electronic Arts
Developer: Petroglyph Games
Genre: RTS
Release date: June 6, 2020
Command & Conquer Remastered Collection
Gameplay - 8.9
Graphics - 9.6
Story - 9.2
Music/Audio - 9.3
Ambience - 9
9.2
AWESOME
A must-play game taken to a new level.