Ziggurat Interactive is somewhat updating the vampire femme fatale's nearly two-decade-old stories.
"The response was tremendous when we announced that we had taken over stewardship of the BloodRayne series. Fans have been asking what's next for the series, and now we're excited to show off the great work that's been done by Terminal Reality on the first two titles," said Ziggurat Interactive president Wade Rosen in a press release.
The result is BloodRayne: Terminal Cut and BloodRayne 2: Terminal Cut. If you have either of the original games on Steam or GOG, you will get its respective Terminal Cut edition for free!
What optimizations should we expect? Support for higher display resolutions (up to 4K / 3840×2160), improved rendering with up to 4x anti-aliasing, upscaled cinematic videos, support for modern gamepads (XInput controller support), improvements to lighting at the engine level, plus fully reprocessed lighting data, engine improvements to support uncompressed original textures, and improvements to effects such as reflections, water, fog, and shadows.
The games were now optimized for Windows 10, and there will also be localizations. For BloodRayne: Terminal Cut, it will be fully voiced with localized interfaces in English, French, Italian, and Spanish. For BloodRayne 2: Terminal Cut, expect a localized interface and subtitles for English, French, German, Italian, and Spanish.
Here's an overview by Ziggurat: "The third-person horror action series BloodRayne introduced gamers to Rayne, a brutal half-vampire femme fatale travelling the world to foil Nazi plans, battle supernatural threats, and uncover more about her vampiric heritage. Featuring a unique protagonist, fast-action combat, vampiric powers, and a globe-spanning storyline, BloodRayne and BloodRayne 2 offered a dynamic and visceral gameplay experience. Beloved by fans and critics alike, BloodRayne became a true cross-media phenomenon, spanning games, comics, and films across the early 2000s."
The games will be available from November 20 on Steam and GOG.
Source: Gematsu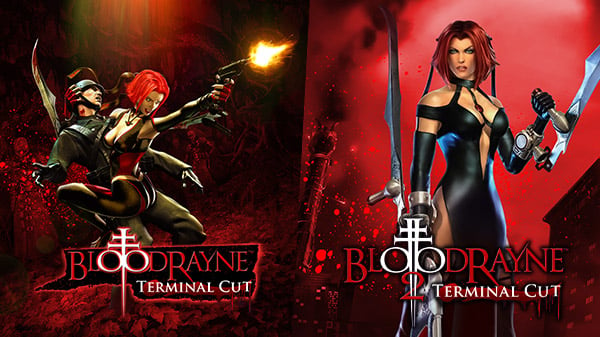 Please support our page theGeek.games on Patreon, so we can continue to write you the latest gaming, movie and tech news and reviews as an independent magazine.
Become a Patron!