REVIEW – The legendary monster hunter, Geralt of Rivia is back again in the third installment of the highly successful Polish RPG series. The Witcher 3 is not only an improvement of everything that was already excellent in the previous games, but this Eastern European game is also the quintessence what western RPG should deliver in this generation.
Charismatic, stoic and sarcastic – yet, stripped from any emotions: the white-haired, mutant monster hunter, Geralt of Rivia has become an iconic figure of gaming. It's also a national triumph for Poland: The Witcher 2 was presented as a gift to President Barack Obama from the Eastern European country's Prime Minister when the Xbox 360 version was released. Just think about it: "If your own country's leader were to present a video game to the USA's leader as a representation of your country, what would he give?"
As for my personal experience with the series, it started with press events in Poland, back in 2006, while I was still working for the Hungarian print magazine, GameStar. It was an instant, absolute love: I became a fan of the first game as soon as I tried its very first beta version in CD Project's office ten years ago. Of course, I played through both The Witcher 1 and The Witcher 2, and I also replayed those two games this year – not only, because I wanted to import my saves the way I want, but also to make sure to get the whole experience before starting The Witcher 3.
Yes, it also means that I played the game on PC this time around. Thanks to that, I was able to squeeze the best possible graphics from the software engine – but also, because of a hard drive failure, unfortunately, I lost all of my save games after 50 hours of gameplay. That's one of the reasons why this review is out so late. But let's not digress too much.
Not without my adopted daughter
While The Witcher series can be proud of many accomplishments, perhaps its best feature is still the rich stories, which accompanies every episode. That's no different for The Witcher 3 either.
This time around, our cynical and century old monster hunter, is searching for Cirilla (or "Ciri" as she's rather called) his former ward and adopted daughter, who – with her white hair and scared face – actually looks like a lot like him – only as a female representation.
Yes, the main story seems to be rather simple, but yet again there's an enormous amount of rich storylines, fascinating or funny characters, quests and subquests squeezed into the game. During your time with Geralt of Rivia in the Northern Realms, while you are searching for Ciri, you will take part in political complots, save mages (and your past love, Triss Merigold) from the witch hunter's pyre.
You will also meet a plethora of interesting characters, like the beautiful Yennefer of Vendenberg, the "true love" of Geralt of Rivia, according to the original books of Andrzej Sapkowski, the Bloody Baron, the witches of Crookback bog, or Dudu, the doppler (shapeshifter).
Geralt was always a connoisseur in love affairs, so there will be plenty of ladies to "romance" as well: besides the beautiful Yennefer and Triss already mentioned he will also meet Keira Metz, a hot blonde sorceress with witty character. While The Witcher 2 was a bit disappointing as far as love scenes go, there will be plenty of those in the Witcher 3.
Every quest and subquest (even minor ones) have interesting stories and characters, and all of them are presented with first class cut-scenes. Thanks to the rich story of the Witcher 3 I have never felt more involved in any RPG at such level.
Northern Realms: show me your true colors!
That tremendous attention to detail is the same regarding The Witcher 3's graphics. The world of the Northern Realms is nothing short of gorgeous with vibrant colors, incredibly detailed environments and characters – PCs and NPCs alike.
Using the game's graphics to its full potential (yes, that was one of the reasons I played the game on PC: with the latest patch Nvidia Hairworks now can be turned on without sacrificing much in the framerate department) The Witcher 3 is easily the best-looking game this year. It's almost true for the PlayStation 4 version as well, which is only bested perhaps by Batman: Arkham Knight. (Which was dreadful on PC.)
The superb music and sound design must be also mentioned. The audio as a whole is nothing short of excellent, with talented voice acting, outstanding soundtrack, and an extraordinary amount of background noise adding to an already superbly atmospheric creation. The themes during battles are dynamic and stimulating, with subtle vocals completing fading instrumental harmonies.
The game is not only beautiful but also, looks extremely authentic, with majestic medieval cities and small rustic hamlets. Those are also populated with an extreme amount of NPCs: rich and poor citizens, bandits and whores roam the streets of the cities, with dancers, fire breathers amusing them, peasants labor in the fields and near the hamlets.
The war is also raging in the country, with soldiers raping, killing and pillaging everywhere. If it were not enough, monsters also roam the land, so our Witcher has plenty of them to slain.
Silver for monsters, steel for humans
Fortunately, he has plenty of weapons and magic tricks to his sleeve to dispose of both monsters, and humans enemies, who try to get in his way. While many gamers complained about The Witcher 2's combat system, it is vastly improved in The Witcher 3.
The swordplay is fast and visceral: you will have to make use of parries, blocks, counter attacks, light strikes, and heavy blows, whether you're holding off man or beast. Still, you can't just sprint into combat, mash a few buttons, and expect to come out of it victorious. Those above evasive and offensive techniques in Geralt's arsenal may sound complex, but the controls during combat are dead right. Each button has its use – with X you can leap or dodge roll, the circle being a sort of strafe, and triangle and square managing heavy and light attacks, respectively.
Geralt is also an expert swordsman, a magic wielding warrior, and a wise alchemist, all in one. Playing on the harder difficulties, you'll probably use every one of Geralt's tools to vanquish the more difficult enemies, and this means preparing yourself for battle as well as fighting tooth and nail during.
Still, while it's not as difficult as Bloodborne or the Dark Souls series, you can and probably will be penalized for making mistakes. Try a quick hit when the enemy's winding up a powerful strike and you'll realize that you've timed it all wrong when a substantial amount of your health quickly disappears. Being extremely offensive in combat is still a good tactic, as many blows will stagger your opponents or send them lurching, but it's all about finding the right moment to strike.
As luck would have it, you have the alchemy system at your disposal, so you can prepare potions, oils, and tinctures through a relatively simple crafting menu. You make those whenever you are outside combat, and in a world that's filled with raw ingredients like fruits, flowers, and monster guts, you'll probably never be left wanting for components. You can find new recipes in treasure chests or purchase them from merchants, and each little bottle of goodness has its use.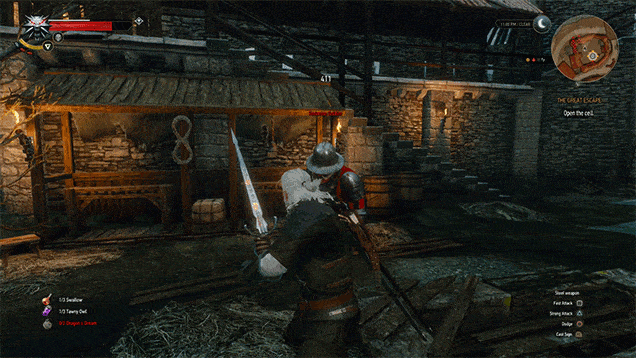 "I am not a great talker." Geralt "Like hell, you aren't!" (Me)
Another great achievement in the game is the dialogue that is natural and smooth, with well written, witty and sometimes funny conversations flowing from one point to the next. You'll also have plenty of opportunities to control that flow, too, through thoughtful dialogue options that give rise to moral choices.
Geralt himself isn't quite the morally perfect guy: he's a professional monster hunter through and through, and this is manifested in his behaviors and rough but down-to-earth demeanor, although you can change his attitude a bit.
Despite the fact that very few of the choices that you're presented are exactly good or bad, you can, however, choose whether to be an emotionless brute or a relatively caring individual, at least to some degree. Geralt isn't a custom built character like the one in the Dragon Age games, but you still feel like you're planted firmly in his shoes.
Masterpiece
The Witcher 3: Wild Hunt sets the bar very high for open world RPGs. Sapkowski's original world in its video game representation is as stunning as it is challenging and thought-provoking at the same time. It's overflowing with mature content that provokes from you a plethora of emotional responses.
The storytelling is brilliant, and the combat is smooth and refined while on the hardest difficulty its unforgiving nature can provide a rewarding experience when you vanquish your enemies. In a gaming industry full of so many uninspired open world titles, The Witcher 3: The Wild Hunt stands out as a gem of an RPG overflowing with creativity. Geralt's latest adventure is a real masterpiece.
-BadSector-
Pro:
+ A cohesive, immersive, beautiful, dark fantasy world
+ Story, main and side missions are all top notch
+ Combat and RPG system both flawless
Against:
– Since the Heart of Stone DLC bugs abound
– Some small framerate issues persist
– It looks a lot better on PC
---
Publisher: CD Projekt
Developer: CD Projekt RED
Genre: Action role-playing
Relase date: 19 May 2015
The Witcher 3: The Wild Hunt
Gameplay - 10
Graphics - 10
Story - 10
Music/audio - 10
Ambiance - 10
10
MASTERPIECE
The Witcher 3: Wild Hunt sets the bar very high for open world RPGs. Sapkowski's original world in its video game representation is as stunning as it is challenging and thought-provoking at the same time. The Witcher 3: The Wild Hunt stands out as a gem of an RPG overflowing with creativity. Geralt's latest adventure is a real masterpiece.