Half of Twitter is laughing at a spreadsheet…
The publisher released a tweet that explains how you can access Anthem, and who has the chance to play the game early. The open demo is starting today, available to everyone (including pre-orderers of the standard, or the more expensive (80-dollar) Legion of Dawn edition, too) on PlayStation 4, Xbox One, and PC (it will end on Sunday or Monday, depending on where you live). Those who have an Origin Access Premier subscription on PC (15 dollars/month…) can play the whole game a week early, from February 15. Those who have an Origin Access Basic sub on PC or an EA Access subscription on Xbox One can play ten hours from February 15, but they won't have access to the full game on February 22. We know, it sounds complicated, and honestly, it is…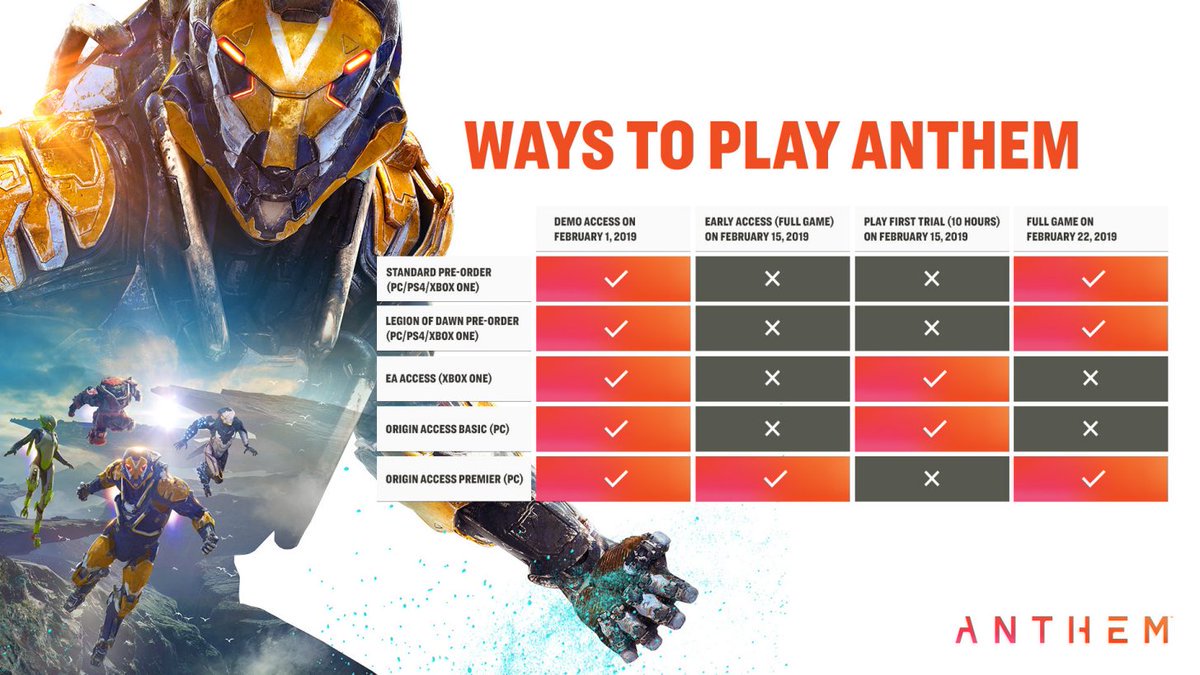 The joke here is that if you pre-order the more expensive edition of Anthem, you will NOT get early access to the game. Twitter-users quickly made fun of the spreadsheet. "This convoluted sh_t is beyond ridiculous. Just. Make. And. Sell. A. F___ing. Game," Jim Sterling says. Several users made fun of the spreadsheet; DatNumbSkull's GIF puts EA into saying the gamers are to blame, and they are not out of touch at all, and that's not all, mind you!
"So… by my calculations I'll be playing this… hmm… carry the one… divide by 3… take into account weekends and overtime at work… never… I'm never going to play this game, or maybe in a few months when it's on  a good enough sale," another user says, someone else believes we need a Masters Degree to understand a release schedule, and even comparisons were made with Fallout 76: "Now all you need is rum and a canvas bag to go with this janky pre-access event." "EA, here is some advice. If you need a spreadsheet to explain all the different versions, it's too many versions," and we have to agree with this tweet!
Anthem's open demo will start today at 9 AM PT/12 PM ET/5 PM GMT. It will end on February 3, 6 PM PT/9 PM ET, or February 4, 2 AM GMT on PlayStation 4, Xbox One, and PC. The full game will be available on the PS4/Xbox One/PC trio from February 22.
Source: VG247
Want to know when you can play #AnthemGame? Here's a breakdown of when you can get your hands on it, and get more info on the Open Demo coming up this weekend: https://t.co/KRoikyBXh4 pic.twitter.com/wdZgRCPVtx

— EA Help (@EAHelp) January 30, 2019
This convoluted shit is beyond ridiculous.

Just. Make. And. Sell. A. Fucking. Game. https://t.co/Y2HjwgWjmb

— Jim Sterling (@JimSterling) January 31, 2019
EA creating their chart pic.twitter.com/aDAxqRB7qr

— Bandit Taco (@BanditTaco) January 31, 2019
— DatNumbSkull (@DatNumbSkull) January 31, 2019
so…. by my calculations I'll be playing this…. hmm… carry the one….. divide by 3…. take into account weekends and overtime at work…
never… I'm never going to play this game, or maybe in a few months when it's on a good enough sale.

— KrazyKain (@KainKravitch) January 31, 2019
I feel like you need a Masters Degree to understand release schedules now… pic.twitter.com/3OT0hPmJFy

— JonnyEthco (@JonnyEthco) January 31, 2019
Now all you need is rum and a canvas bag to go with this janky pre-access event.

— Twocoin, CPhT (@hgryphon) January 31, 2019