REVIEW – Despite what Crowbar Collective says, Black Mesa has been "finished" for years. The only thing that this huge Half-Life remake needed was to end Xen, and it is already a reality. Do you want to know if it's worth it?
Black Mesa faithfully follows in the footsteps of the memorable Half-Life, but since its birth several challenges were raised. The first was to restore the visual appearance of the game, both in terms of textures and modeling and effects; the second was to retouch the shooting mechanics to make it more pleasant and modern; the third, indeed, was to make Xen a worthy end to such an epic.
Not every day a company like Valve grants the license and resources of a game so that a completely independent studio like Crowbar Collective takes care of shaping an official and relevant product like Black Mesa. Times are advancing, technology is advancing, and many users yearn for their past games and experiences to do the same. However, one of the counterweights of development has been that it started many years ago. It is difficult, very difficult to get the title finished, and in fact the study has recognized with the latest update that there is still much to refine and polish. Something that I certify, but that does not worry me too much, since finally the whole title is solid.
The long development reaches 1.0
It is difficult to put an end to such a long-standing development because of the temptation to reform structures, to retrace the steps to polish again, to add new elements … but, of course, it is a remake of Half-Life, so despite the past tense and that the study is scattered throughout the world, Black Mesa has already reached 1.0 and has enviable integrity, worthy of the original product. Valve did well.
I mean that the first Crowbar Collective title offers a gaming experience that respects the legend that shapes it, but at the same time has managed to make a series of reforms, both aesthetic and comprehensive, that make Black Mesa, Black Mesa, and not Half-Life: Remaster. This is a remake, and as such proposes something new and unique. There is that Xen to prove it, of course, but before reaching it is necessary to try several points before, and with this, I stop spinning.
If Black Mesa were crowned a "canon", the advantage it would have over other versions of HL is visual and sound cohesion with the latest games. I no longer say HL2, but the episodes. Add everything the Source engine gave itself at that time. Here I take distance to avoid speaking in absolutes. Not surprisingly, remember that Titanfall was developed in this engine, and visually it has nothing to do with anything we are talking about. Crowbar Collective is a game that respects the modelling of the most advanced characters, both NPCs and enemies, removes textures and effects everywhere and adds modelling so that everything we see in the world is consistent.
The clearest example that comes to mind is that of health and energy chargers, as all game sounds have been rewritten. When we activate them, what we hear is something slightly different. Yes, it is very similar but different. With this, our brain stops "feeling in Half-Life". I can hardly explain it, but Valve's sound library is one of those that personally generates a special funk for me just by hearing a millisecond of audio. Black Mesa, on the other hand, blurs that clear feeling of nostalgia to load its sounds and, on the other hand, some new chargers that incorporate several capsules with green and blue liquids that run out as we use them. It is a very grateful detail, because one is dumbfounded looking at those liquids while healing, and that is very gratifying.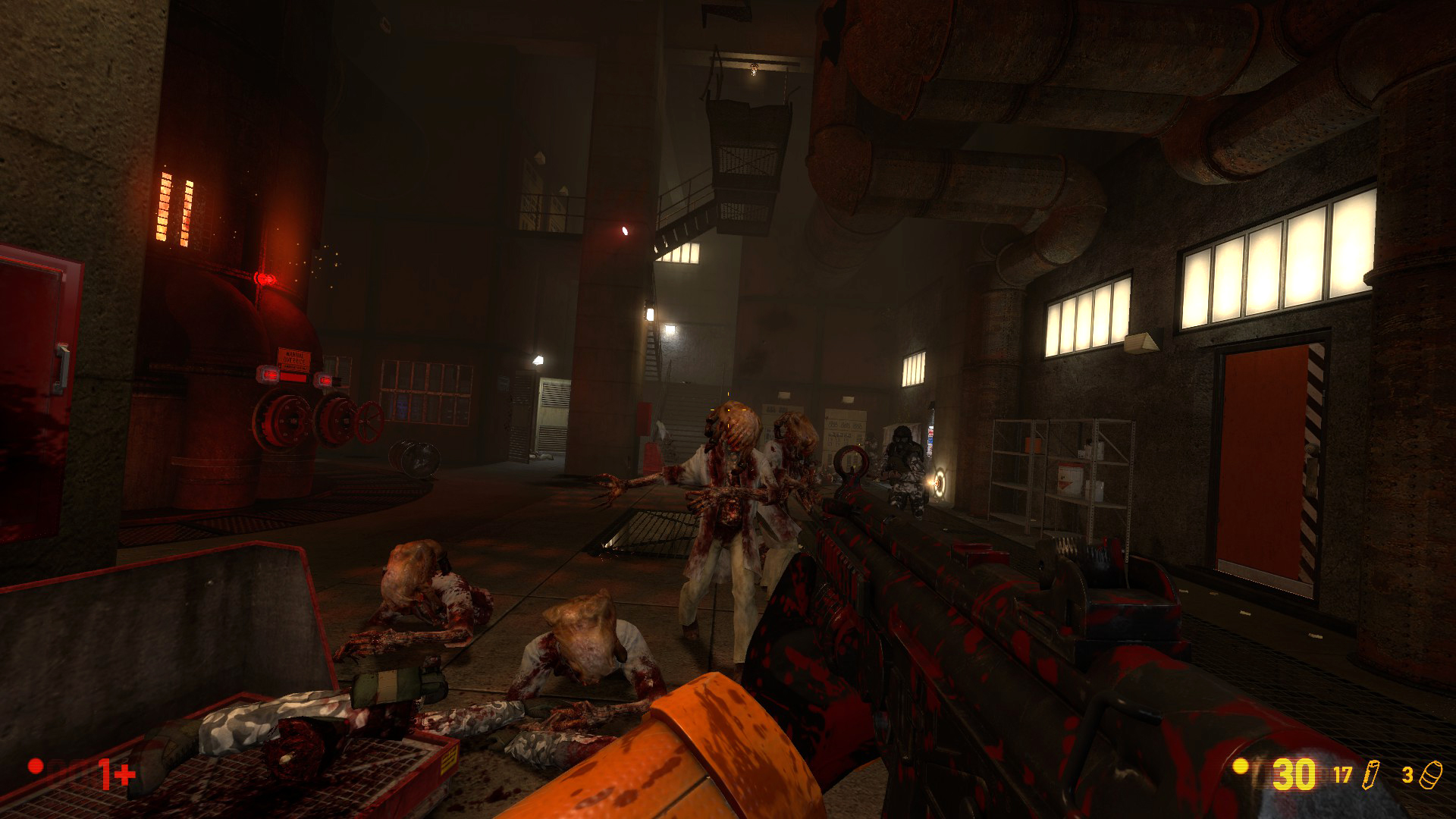 Better gunplay for a more rewarding experience
It has also tried to influence how rewarding it should be to shoot. In a matter of gunplay, Half-Life is not a master of anything. I did what I could [come for me], and that's why there are several independent mods that improve the shooting experience, both for the first part and for the second. This, in the case of Black Mesa, is solved by new models of weapons, animations when handling them, new rates of fire for some of them, new damage tables … But the need to empty a magazine to kill a soldier while the very unfortunate continues to shoot us has not gone anywhere: Half-Life was unfair and still is. It's what the hitscanners have … having chosen death!
Following sensory developments, apart from the new textures, we find improvements in the effects of light and explosions that offer truly impressive scenes. Xen's level especially shines, of course, but there are mythical game scenarios that win whole with the reform. You will see how impressive the moment we put the specimen in the ray at the beginning of the game, how the office complex scares, the intense green glow of the lakes of toxic material that we find, the grief that causes the explosive pit in which it houses the tentacle … And to all this, I can't and don't want to forget about the new music tracks of the game.
Half-Life has always been characterized by minimalism in this section, and Black Mesa deviates a bit from this trend with some accompaniments with too much desire for prominence. However, where they have hit the mark is in Xen, a place that smells new in which as soon as we arrive we are welcomed with dreamlike views and melodies as sung by sirens.
Xen Damn Xen. I'm sorry if for you it was some kind of an idyllic setting, but there was a clear difference between the rest of the game and this final stretch (and this has been recognized by Valve). The scenarios seemed hastily done, and the approach was a very strange balance between hull platforms and sharply difficult peaks. Then there is the visual issue, which for tastes … but I do not want to deviate with issues of the past. In Black Mesa, Xen is flour from another sack. It is noted that the study has dedicated the last years of development exclusively at the end of the game, because they have not only managed to redo all these levels visually and audibly, with an artistic section of registration, but they have managed to rethink the matter at a mechanical level with great tact and ease.
Black table
On this occasion, the long jump becomes a much more useful double jump for both the sections of platforms and the combats – such as the Gonarch -, and we are presented with a much more interesting world to explore and to fight with enemies new. We cross new sections that tell much more about the practices of the Black Mesa research center on other planets, and we are finding a healthier balance between platform, puzzles and fighting with these new enemies.
It is tremendous to see how not only the scenarios are offering more and more, both in the varied they become and in the situations we face. Without going any further, what was once an unforgettable encounter with a Gargantua, now becomes a chasing chase that keeps us glued to the screen all the time. However, it is curious how the game decides to end our epic: facing an army of enemies that do not cease to bother the length, height and bottom of the factory where Interloper runs.
Black Mesa PC
Interestingly, the way to compensate for such an imbalance is to give us more power to the gluon gun (it is evident that they were fixed in the overloaded version of the HL2 gravity gun), but somehow it is not enough fun to anaesthetize the tedium that You can generate this level. It was bad then and it's bad now. However, I could say that of the four levels that make up Xen, three are decent, and that's not bad at all. Besides, given the extra duration, they add to the game, surely many of you find it justified to pay for this remake.
I have the feeling that Black Mesa has a very defined audience. It is broad, but not for the ideal reasons. I would never recommend it to someone who wanted to live Half-Life for the first time. No, I would recommend it to anyone with a monkey to relive all their memories, but I would also like a new touch, something different … Or simply a more memorable Xen. We are very many players who have lived with Half-Life in our memory, and that is a very important advantage for Crowbar Collective. Now it's time to finish polishing bugs, but I can't help wondering what the future will hold for a studio that was born to develop as a hobby but has ended up becoming the creator of the remake of one of the most important games of all times. There is nothing.
In life, there is always a time to return to Half-Life, but sometimes we want to play it with more pleasant graphics, better gunplay and, yes, a worthwhile Xen. After years and years of work, Black Mesa manages to offer all that and is postulated as the remake of an imperfect, but a memorable game that marked an era. So to speak, he has respected the original experience much more than he expected.
-Zardoz-
Please support our page theGeek.games on Patreon, so we can continue to write you the latest gaming, movie and tech news and reviews as an independent magazine.
Become a Patron!

Pro:
+ Update and improve visual, sound and mechanically Half-Life
+ The gunplay is much nicer than the original today
+ We finally have a worthy end to the game: Xen
Against:
– There are still some sections to polish, such as textures or some balance of difficulty
– Some levels were tedious then and still are
– You may lose charm if you've never played Half-Life
---
Publisher: Valve Corporation
Developer: Crowbar Collective
Genre:  FPS
Release date: September 14, 2012; Final: Mars 6, 2
Black Mesa
Gameplay - 8.2
Graphics - 8.1
Story - 8.2
Music/audio - 8.4
Ambience - 8.2
8.2
EXCELLENT
In life, there is always a time to return to Half-Life, but sometimes we want to play it with more pleasant graphics, better gunplay and, yes, a worthwhile Xen. After years and years of work, Black Mesa manages to offer all that and is postulated as the remake of an imperfect, but a memorable game that marked an era. So to speak, he has respected the original experience much more than he expected.