REVIEW – The MotoGP games are arriving earlier and earlier, and this year, the fans can play the MotoGP World Championship's video game adaptation before the season started, but admittedly, the game arrives in stores in an incomplete form.
We're in such a situation right now.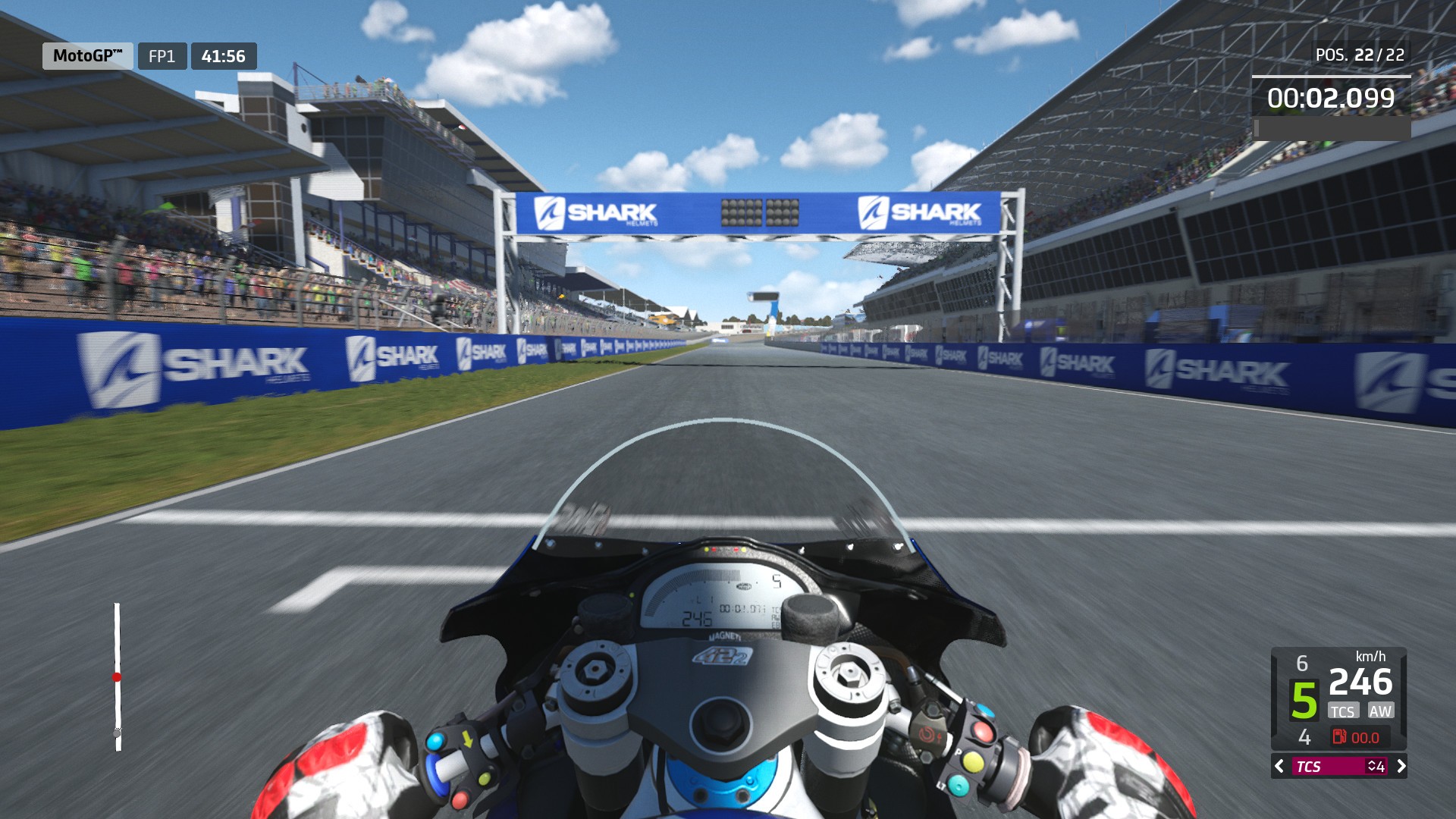 The launch
I'm not joking when I say this: when I first launched the game, I was curious about one thing to see if Milestone fixed it or not. After MotoGP 20 answered my question, I immediately closed the game and left to think about it for a bit, only to get started the next day – the game does seem to improve and let's go through the usual things. The game, which uses Unreal Engine 4, starts by making you pick a difficulty level (…okay?), followed by the usual character creation, still with presets. Then, you get the menu, which is using the same tile method as last year, and let's see what does what.
Quick Modes has the quick race, time trial, championship trio. The race offers you to pick MotoGP, Moto2, Moto3, and "Historical" bikes and riders, including both 4-stroke and 2-stroke. Milestone was tricky with the DLC (they put a DLC option in the main menu again… it's becoming a trend from them). These veterans will not be available by default. You have to pay 500-3000 diamonds to unlock them, and they have a rarity category (common – uncommon – rare – ultra-rare). Thankfully, those aren't loot boxes, because if they were, I'd have immediately uninstalled the game. The middle point is the career mode, where you have to manage the team as well. Just riding isn't going to cut it. The multiplayer has the lobby list (which was empty for me… but then again, pre-release, it's bound to happen, can't criticise the game for it), public matches, private matches, and the race director matches, where you can set the rules. The Customization speaks for itself: here, you can make helmets, stickers and liveries unique, which isn't too bad. The Historic mode has three challenges (with varying difficulty), and Milestone plans to change them each day. For finishing on the podium, you get diamonds (between 1500 and 15000), and in the Historic Market, you can buy some of the 41 riders and 36 teams. Only three will be available, and yes, this is how Milestone wants you to play MotoGP 20 daily: by essentially locking historical content behind pseudo-loot boxes. It's both creative and arrogant. Then the settings have the EULA and the credits… okay…
The career
This time, MotoGP 20 was hyped heavily (and I think I wrote about it in the news just once?) that wow, the managing career mode is coming back. I remember the last time it was in the game, maybe in 17, when it was so glitchy that my developments moved to minus weeks remaining, as the devs have released a broken product. You can either join an official team (which I did with a loot box backmarker KTM, which is such a weak bike that I can't find the right words for it) or create a new one with a sponsor. You can immediately head to the crown category (MotoGP) if you so desire, meaning you can skip the lower two tiers. Red Bull Rookies? I'll get back to it later.
You can choose a personal manager that has three categories (salary negotiations, negotiation bonus, contract searchability), the technical staff has two key members: the chief engineer and the data analyst, with both having experience in the four parts of the bike (engine, chassis, aerodynamics, electronics). The synergy between them can increase the development points – the higher, the better. Upgrading your bike can happen in the four previously mentioned aspects, and you can choose the engineers to work on these upgrades (all of them will have ratings, the one they can work the best with will have a 100 score for the said category), and that's about it. After the weekend ends, you get the credits to pay the salary of your crew (later, you can hire better personal managers, chief engineers, and data analysts), and your reputation will also grow – this figure will be necessary to get the attention of better teams (and you'll have a limited number of negotiations to get that done!).
I'd like to point out that I believe the physics have improved significantly. Now, you have to keep track of your tire wear (both on the two shoulders and the tread). Say hello to the asymmetric wear. Also, your bike can run out of fuel, if you keep the engine running on higher modes, and you have to manage the fuel usage accordingly to avoid that happening. If you brake too hard, then the brakes can lock up, and I don't think it was a thing in previous games. (Give it a try at the back straight on the COTA.) The damage system also saw improvements, and the aerodynamic damage can be quite impactful, and if you bail, the image will get glitchy a bit, although it's not Watch_Dogs. The helping hands are also available for the beginners (but, again, not everything is present), and the rewind can be used as many times as you desire. Now that I'm at the bottom of the second page, let's get through the rest. I'll try to get it done quickly – it's 7 AM and I should be sending this off ASAP…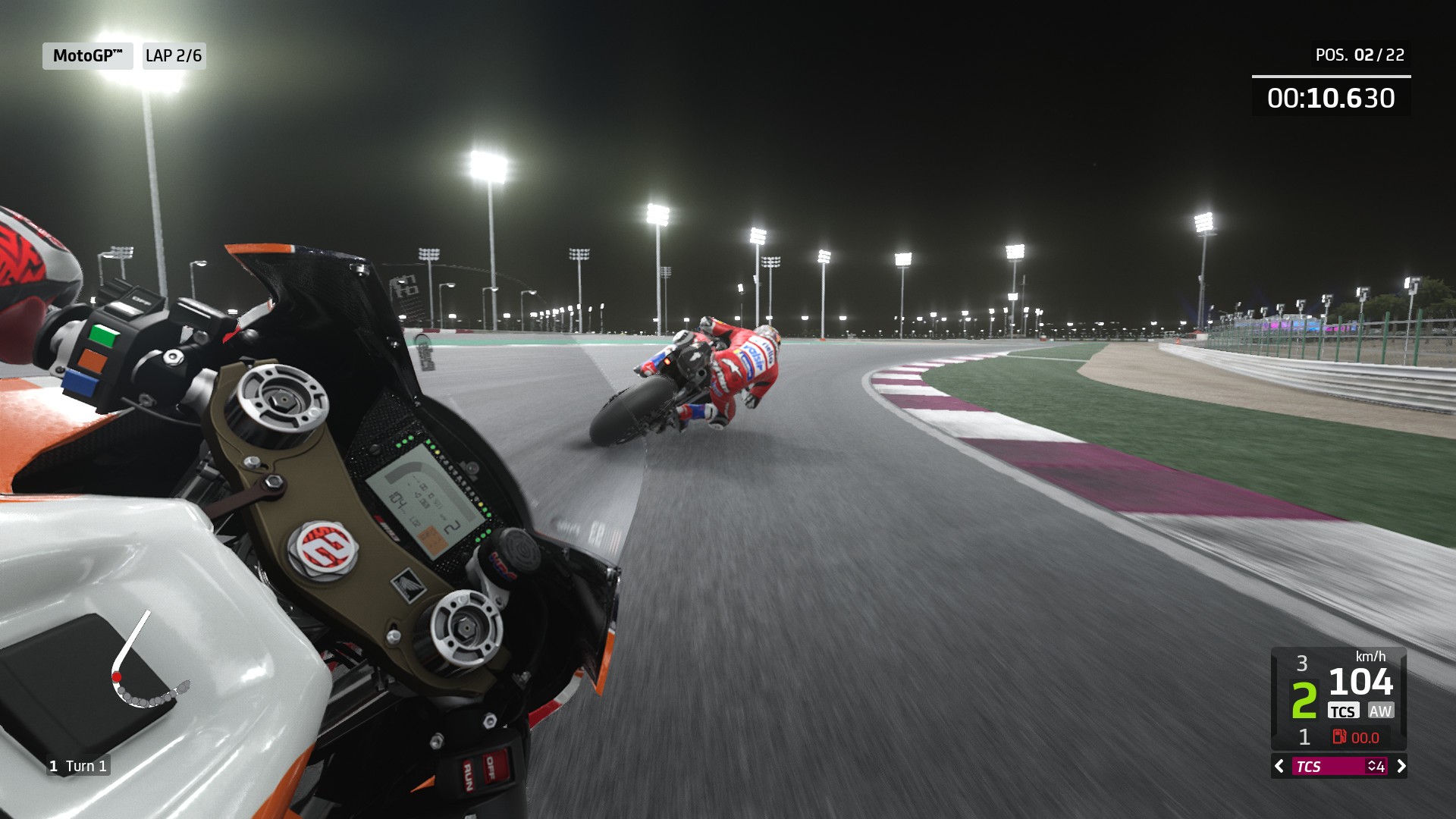 The rest
Let's start by saying that there's no tutorial. Or did I happen to skip it somehow when I alt-tabbed out of the Milestone logo? If that is the case, then I did not find it anywhere else. For the love of God, they could have done something now, amid the coronavirus pandemic, to at least give the basics to the newcomers! But no. Okay, so let me tell you what I was doing on the first page: I loaded Le Mans, cranked everything to the max (the AI difficulty can be set by percentage from 20 to 120; random weather – the rain still kicks ass; manual start management; corner cutting penalty system…), and then I looked if I could still drive through the trackside advertisement boards. I could. Also on this circuit, I unintentionally crashed someone (RIP Nicky Hayden), who ended up disappearing altogether. Then, I got respawned back on my bike (of course…), but near the gravel trap. Also, during testing, my team has sent me out without refuelling my bike. In other words, the moment after flying lap's autopilot ended, I had no fuel whatsoever, as it said 0.00. Never change, Milestone. (I'd like to point out that I like the HUD, as everything important is now put in the bottom right corner at one glance.) The sounds improved, but I've still heard better, and the graphics are allegedly better, but I still think it looks… somewhat off, especially during the scenes, as you get both post-race and podium animations. On the tracks, it felt decent, but it still falls somewhat to the ugly side.
Let's talk about this Historic thing. So technically, the teams and riders are locked behind loot boxes. Okay, we know what you can get, but at the moment, you can only get two riders and one team (and even then, you have to win to acquire them). Why not put them as unlockables after hitting certain criteria? With this move, MotoGP 20 has essentially become a live service game, and I hate that. I know, Milestone wants people to play the game, but what separates them from sneakily adding an update where these diamonds become something that you can buy with real money?
Speaking of real money – Steam doesn't have the two DLC yet, but I already know about their existence. The first one is the VIP Multiplier Pack that increases the number of reputation points, credits, and development points you get after each weekend. So it's a paid cheat. The other DLC is the Historic Pack with four riders and their respective bikes (1995 Kevin Schwantz, Suzuki RGV500 XR84, 1997 Norifumi Abe, Yamaha YZF500, 2004 Marco Melandri, Yamaha M1, with a special Estoril livery, 2007 Colin Edwards, Yamaha M1) – both costs 5 EUR/USD each. Both are feeling like a ripoff, and once again, I got neither of these, so thanks Milestone for nothing.
But what else does Milestone mention? Dedicated servers – a good thing to see the multiplayer improve. A.N.N.A. AI 2.0 – the advanced neural (deep/machine learning) AI system: perhaps they brake a bit too early in a few corners, it could be improved. I love how most of their screencapped Facebook posts (they legit had those sent out in a PDF, lol) are from top fans. Then, they promise 60 FPS on both PlayStation 4 Pro and Xbox One X. I hope that is the case, but keep in mind I play the game on PC. Our rider got a new model – fair enough. The team managers got their face modelled and used in the game – perhaps they could have done so earlier, too. The Nintendo Switch version allows you to play against 11 AI drivers max, or have 2-8 players over wi-fi multiplayer. Good.
However, a few things are missing from the game due to the coronavirus, but it did not affect the rating: the Red Bull Rookies, the MotoE categories, and the 2020 updates to the liveries will come at a later date. According to the email sent to me, the MotoGP category's update happens in early May, followed by Moto2 and Moto3 in late May (with the addition of the Red Bull Rookies category), and in late June, the MotoE category will also be added to the game. I can't write about these – the game is incomplete at the moment. What a money-hungry move, isn't it?
6
The game is improving, so I'm giving it a six out of ten. It's a higher score than what the previous games got (I keep rating them lower what Milestone is touting – I'm not an Italian, so you're not getting your complimentary 7.5/10 score), but it could have been a 6.5 if that stupid live service sh_t wasn't there. It could have been a 7 if the complete lack of collision detection at the trackside advertisement boards, which has been an issue for years, was addressed. I'm saying that the game is improving, but it doesn't have what RIDE 3 had – that game kept me playing. This one doesn't. I could quote what I wrote in previous years about praying Dorna takes the MotoGP license away, but perhaps the devs started to realize that you can't release a game with no extras for such a popular series. Thus, a 6/10 is justified. I like the background music in the menus (but it has nothing during races again, I forgot to mention that, oh boy…).
Thanks to Magnew for providing a review code.
-V-
Please support our page theGeek.games on Patreon, so we can continue to write you the latest gaming, movie and tech news and reviews as an independent magazine.
Become a Patron!

Pro:
+ Decent improvements in physics (brakes, tire usage, damage…)
+ Manage your team in the career mode, expanded customization
+ You can try the new Finnish circuit before the riders
Against:
– Pseudo loot boxes include the historic riders and bikes… live service
– Day-1 DLC once again
– It still has issues that should have been addressed already…
---
Publisher: Milestone
Developer: Milestone
Genre: MotoGP license video game adaptation
Release date: April 23, 2020
MotoGP 20
Gameplay - 6.2
Graphics - 6.2
Physics - 7.6
Music/Audio - 7.6
Ambience - 2.4
6
FAIR
It FINALLY started to improve!