REVIEW – A tumbleweed is swept by the wind outside. Spur boots on the crackling floor of the saloon, the sound of a revolver somewhere, and then a ride rumbles in the distance. A train arrives, tired whores are waiting for the next man in their sad lives on the floor of the inn. Far and near a vast, desolate wilderness, with the earliest signs of civilization: the tiny, secluded towns where any moment can give birth to new legends. It's a world of big-mouthed cowboys and tough women, where survival and honor is everything. The subject of our current review takes us where many have ventured before, but not like this one: it's been some time since our last visit to the Wild West in such garnishment. Let's stealth our way across the Wild West, let's peek into the world of desperados, from a bird's point of view.
I have to confess, I haven't visited the Wild West in a game since the first Red Dead Redemption game, and it's been some time since I watched a western too. The last time I had to use sneak in a video game was with Snake in Metal Gear Solid V: The Phantom Pain, so this mixture of different genres was like a great cocktail to my hungry soul. There were adventures to be had in this far away place, and I've answered the call.
For a Few Dollars More
First, I would never have thought that I'll play another game from isometric view in my life. Although I know that the genre survives, thanks to the indie games, but we must see that their '90s glory days are long gone since the medium is capable of so much more. But you know, I had to realize something: maybe it's a huge mistake to always rush ahead into the next great graphical achievement or huge open-world because the most important thing is the gameplay. And on this note, this kind of game is still king.
It doesn't matter that we enter a world of stealthy western or World War II (I'm thinking of the legendary Commandos-series of course, which revolutionized gaming and maybe first came up with the idea of the sneaky, real-time tactics gameplay), because the basics are the same. We command desperados, bandits instead of an elite group of commandos, who are mostly out for the dollars they hope to gain while achieving revenge in a prequel to the first Desperados game. So there's no need to worry: the number 3 in the title should not scare you off! This is basically the first game chronologically, you don't need to know anything before playing this game. This adventure welcomes newcomers and veterans alike with open arms. It's true though, that members of the first group might have a hard time playing this game. There'll be a player death for every dollar you've spent on this game.
Unforgiven
Maybe it's just me becoming soft over the years, but this kind of "you have to think five steps ahead" gameplay has caught me off-guard. It's not easy. The missions across the 30 hours of the game are nightmarishly hard. Thirty hours! We'd think that it'll be 30 hours of boredom, right, because this and old-school type of game, hah? Well, no, the situation is, this game has a lot to teach us about video games, and one of the first and most important lessons is that graphics or 3D super audio isn't everything. Good gameplay in on itself can carry you through a game with a simple story with minimal depth. If these are achieved, the game (and gamer) already wins.
A revenge plot forms the basis of the story, John Cooper's story, who's the first appearance is presented with style: we first meet him as a kid, we learn through him how to manage in the world of Desperados, and the next time we take control of him he's already grown-up, tough daredevil of the Wild West, new stuff to use from his inventory. Then a new band of characters appears with new tricks and stuff, and soon after we're to witness the birth of mercilessly efficient and professional gang of outlaws. The five desperados come, take revenge upon their enemies, all the while the coffin maker smiles slyly, full of satisfaction.
It's better if we get accustomed to the presence of death, as it does not matter how good we are in the game, one of the first warnings we'll get is to save often. Very, very often. Basically we can fail at any moment, which means goodbye to our progress thus far. In the rough Wild West, nobody's gonna show us mercy: we have to watch out for our enemies' movements, habits, and through a trial and error method plan ahead their murder – or abduction. Because it must be mentioned that you can spare the lives of your enemies, you can tie them up, binding their hands. We won't the other hand can show mercy with our five bandits to anybody, maybe except those who the game wants to see dead. It's up to us if we try to reproduce the grand showdowns of the western movies, whistling and revolvers blazing, or we use stealth as originally intended. We can kill our enemies with melee weapons, like a knife or an axe, silently, or we can stage an accident to avoid suspicion. But let's see how all this looks like in practice!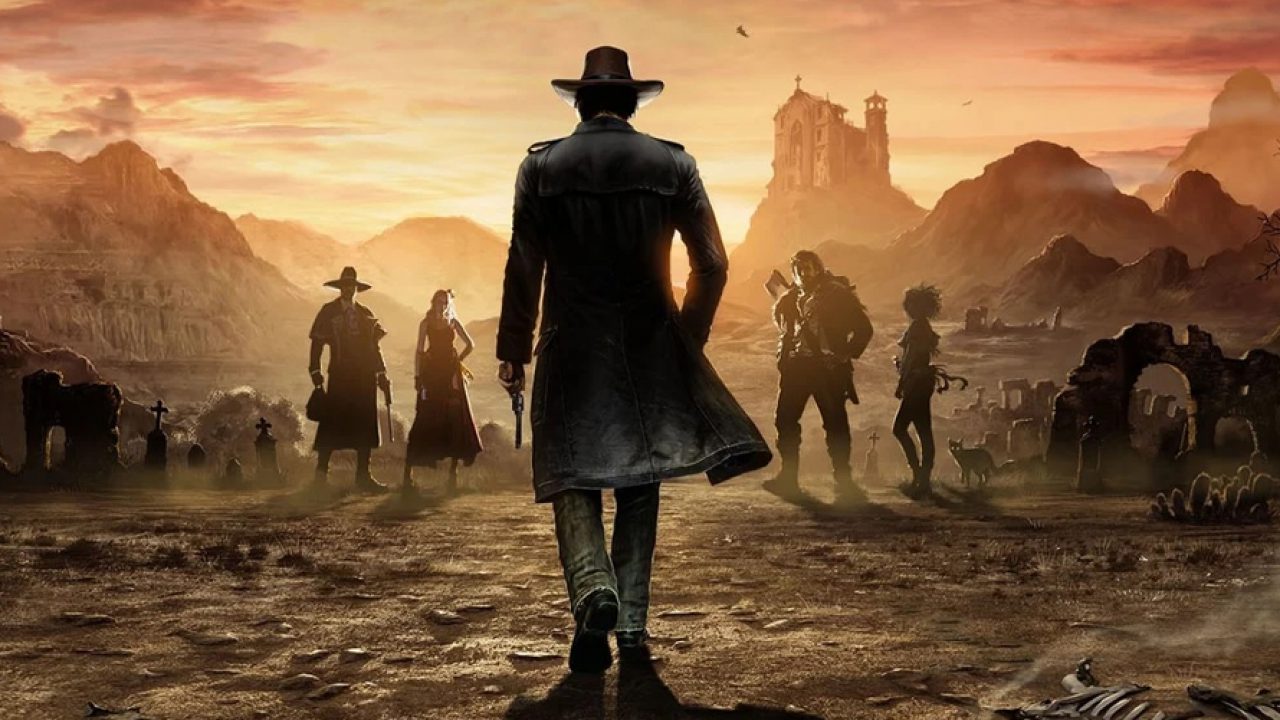 The Assassination of Vincent DeVitt by the Coward John Cooper
Let's be honest here, our "hero" is not some invulnerable mythological character, he dies pretty easily, and he might be a master at arms, but because of the type of the game, he must also act more like a sly fox. The sound of a shot is immediately followed by the sound of the alarm, which means that we must weigh it very carefully when we use loud weapons to instantly take out our enemies by the pull of a trigger. There's no other way to put it: you must be sneaky! That's the kind of game it is. Cooper is also good at throwing knives and accessing inaccessible places, and blending all situations to his will. We'll feel like a hunting predator but not just with him, but with the whole team too. They all come with their nasty little unique tricks, and after the dollars, they're in it for personal reasons. First, the male members of the gang, Hector Mendoza, the muscle, who also serves as something like a stepfather to Cooper, and Dr. McCoy (Star Trek fans are in advantage), who's life is saved right at the beginning of the game, and then he sticks around.
Then there are also two special ladies in the group getting their own roles during the story, who also get their own interesting ways for problem-solving, the beautiful Kate O'Hara, the big gambler and desperado, who also happens to be the love interest of Cooper, and voodoo practitioner Isabelle Moreau, first appearing in this Desperados game. Be it whichever mix of characters during the story, the goal of the game is the same: to make the current mission a success, hopefully without any casualties, which means an instant reload.
So, the members of the gang are here, each and every one of them is unique, let's see what we have to do in the game! Well, like I've said before, we'll see the area from an isometric point of view. While the game constantly reminds us to use hotkeys to manage our stealth, the game can be played with a single hand and mouse easily. Maybe the rotation of the camera is the one exception which requires pressing the Alt button on the keyboard, but apart from that, we're good with a mouse. Using camera rotation might let us discover new ways to approach a situation or someone behind an object or building thanks to the new angle, which makes our job much easier. The game is a great example of area design, maybe the presentation is old-school, but thanks to the Unity engine, they took the genre to the top. A good job indeed, and it even looks great!
If we look around rotating the camera, we may find hidden enemies while we can also be amazed by the art design. A mission looks like this: we go to different areas of the map with our characters, and we use their special abilities together. We can combine their skills by going into showdown mode. Then the game pauses and we can give them orders which then they will execute. We can use both our guns this way, or we can ambush the enemy from behind, there are multiple tricks we can use. Coming out of showdown mode we can witness our plan succeed or becoming a complete failure. (On hardest difficulty the time doesn't stop even in the showdown, we have to plan our next moves in real-time!)
There can be 50 enemies on each map, plus those at the guard posts and guardhouses, so it's recommended that we stay hidden from enemy eyes. Though we can find dynamite or extra ammo around the area, we still lack the resources to take them on directly. (Although we can try, it means that we'll fail part of the side missions and also fail to grab some of the achievements.)
The game doesn't seem to reward mindless massacre, or even if we kill a lot, it almost makes it harder to play because we have to hide the bodies in a shrub, house, or somewhere. If they are discovered then comes the alarm, then the additional guards, who can easily make our playthrough a living Hell. Thankfully, clicking with the Right Mouse button, we can look at the view cone of a thug, which means a little triangular space which approached first turns into yellow, then if we stay in their sight, red, and then again: they sound the alarm. As I've said if we're discovered we might as well reload our game, as it's impossibly hard even on Beginner difficulty. There's no mercy here: the enemy has more men, they've got better weapons, better sight, and they have the Long Coats among them, who are the toughest enemies in the game. But who is the enemy? Who's Vincent DeVitt?
Once Upon a Time in the West
The game might have an incredibly fun story, thanks to the strong chemistry between its main protagonists, the ever-present bickering straight from something like a Guardians of the Galaxy movie, but I must address it here, that sometimes the story grabs a little too much inspiration from Sergio Leone's western classic 'Once Upon a Time in the West'.
Let's start with the beginning: this story is also a revenge plot against a man named Frank (!), who killed Cooper's father when he was just a child, and Frank works for a railway company head Vincent DeVitt. Sounds familiar? Maybe it's all eased up by the light humor and self-reflection of the game because just like Metal Gear Solid, this stealth game is also full of wink-wink moments, which come across more like tributes than anything insulting.
There's a good little quip or taunt for every minute, or something breaking the fourth wall in itself, and this goes on 'till the very end. It's all very neat and in the end, the gang that comes together becomes one that we really want to see succeed in the end. Because the game itself basically consists of harder and harder logic puzzles, it makes it rather easy to learn, hard to master. In the end, the main point to play across the 30 hours of the game is the story and its characters, so I think I'll stop right here with it and stop explaining it. Discover the adventure for yourself. It worth it. Despite all it's clichés, this is a great game, a true celebration of the western genre. But enough of this, let's look at this game from a hardcore gamer's point of view!

The Grand Duel
Desperados is a franchise with history. It's first entry seen light in 2001 on PC, called Desperados: Wanted Dead or Alive. It was one of the first games to ever feature a serious story in a tactics game. The critical reception was rather good, so it was only a matter of time for a sequel, which finally came in 2006 by the name Desperados 2: Cooper's Revenge. Unfortunately, its reception consisted of mixed reviews mostly, and this might be the reason why the next installment in the adventures of John Cooper came out under a different title: Helldorado in 2007, following up on the events of the second game. Players have lost their faith in the real-time tactics genre by the time the game came out, everyone was into AAA titles, waiting to be amazed. The Desperados IP slowly became forgotten.
Because after 2007 there was no Desperados game published, and the game series got worse and worse reviews as the years gone by, THQ Nordic and developer of Shadow Tactics: Blades of the Shogun, Mimimi Games managed to get the rights to make a new prequel to the original game. This game became Desperados III.
I never would have thought that such a hardly accessible and almost "outdated" game concept will be the one which will manage to open my eyes for everything outside of the mainstream game industry, but that's the case. The game of Mimimi Games has such a big heart that it can only be said of a few. It's a tribute before an age when a game's inner value was more important than it's scale. The stealth mechanics work great, thanks to the now almost forgotten camera angle, the isometric view, the game is fair. If we make an error, that's all on us, the game doesn't push us around with unfair mechanics, the rules are simple, and like with a good board game, if we fail to abide by rules, we lose. There is a certain trick against all the enemy types, starting with the guards in the poncho, who never leave their posts, to the tough Long Coats, all of them have a weak point we can match and exploit with one of our main characters' skill. Using this camera view the sneaking becomes more fun and results in more of a fair game because we can see everything, information is on a constant flow to us. It's fun and not frustrating at all, even if we get detected we know why it happened.
The other thing with a big role in this game is using the area we're in. I'm not talking about just the staged accidents, but the vertical design of each map: you can move up and down between different levels of elevations, you must think it all through thoroughly. You can grab the dead or unconscious bodies and drop them down a valley, or throw them at the enemy, knocking them out too. Or you can escape through the roofs if things become too heated on the ground, or we can get around previously inaccessible areas up through the cliffs. It's very cool, but there is one minor flaw in this system: you must think like a Mimimi Games developer to come up with the same idea for progression that they came up with. Sometimes it's not easy to find the one solution to the situation to remain hidden.
The wilderness we travel in is diverse and beautiful, I've been reviewing the PC version, but as I've read it in multiple places the console version looks great too, and the game is also well optimized on all the platforms. There are no complaints regarding the speed of the game either, not on the console and not on PC. It's a masterpiece, especially because the scale of the game is quite epic considering its genre. We can travel the full length of a train or walk through the streets of a huge town full of civilians, or climb a snowy mountain, every single place in the game is gigantic and holds a hundred ways to solve the situation.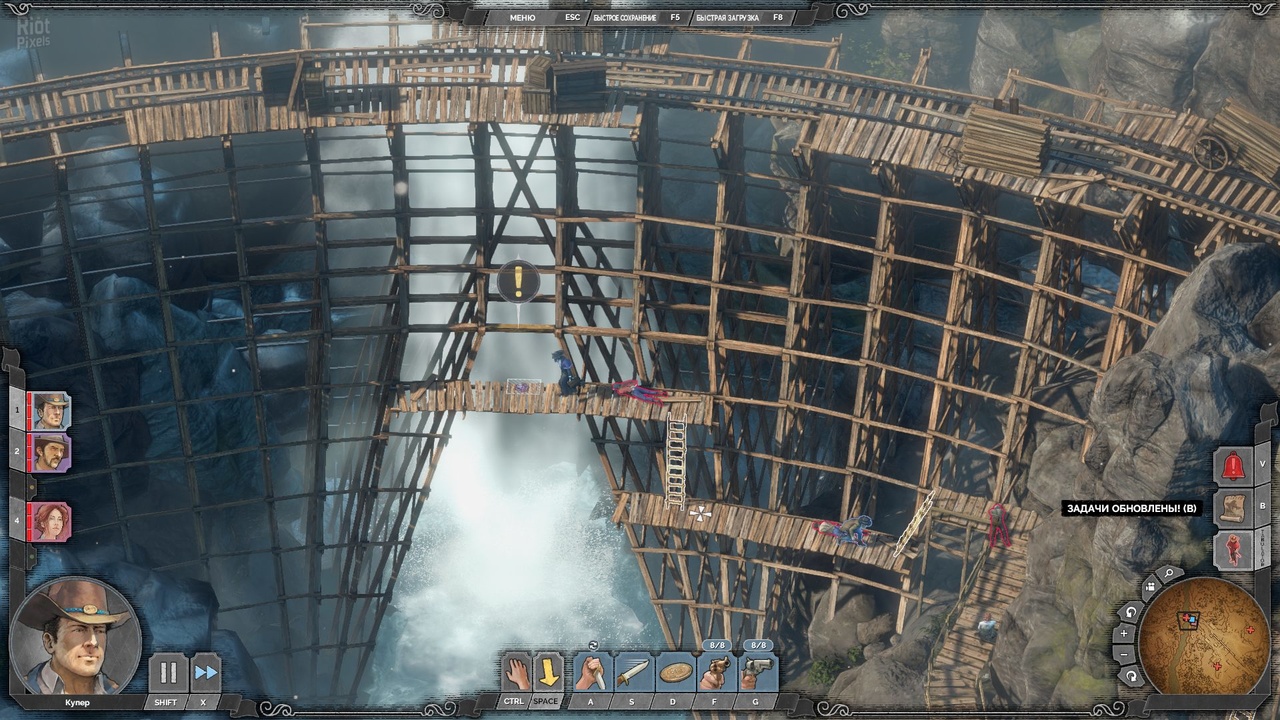 Wild Wild West
The wild Wild West has never looked this great from this point of view before. We are witnessing the innovation of the genre, the beautiful 3D does credit to this game, everything gets a modern garnishment, the entire real-time tactics and stealth become cool and badass thanks to it. The genre has arrived in the 21st Century. The music is simply fantastic too. You know a game has great music when you can't wait to hear the same tunes or main theme over and over again. I really liked the voices, which is sometimes almost caricature-like, as it portrays our fallible heroes in such manner, but always swings back into a serious tone when the story needs it. Redemption and revenge, heroism, and "scoundrelism" are the main themes of this story, and the voice actors are great in their roles: we feel like we're in the 1870's, we feel like we're really among the archetypes of the Wild West.
My childhood memories of isometric games are in every aspect of this modernized masterpiece, which is repetitive, based upon a trial and error gameplay, and may test the patience of many of the players, but ultimately my verdict is to try out this game. Do you know the game Neighbours from Hell? You know, that neat little game you sit down before after every working day to relax, think, and smile a little for an hour? Well, that's exactly the case here. Not every game has to change the world, sometimes it's enough if it carries over an old gem into the new age for the next generation.
If one-day Commandos gets a modern sequel, it will need to take, notice, and improve upon all the things this game has achieved. And I think a game like Desperados III cannot really get a compliment any greater than this.
-Praesagus-
Please support our page theGeek.games on Patreon, so we can continue to write you the latest gaming, movie and tech news and reviews as an independent magazine.
Become a Patron!

Pro:
+ Fantastic atmosphere in a retro coating, while we have to think hard all the way through
+ Great characters and a story shared interestingly
+ Difficulty… It will hold you for a long time before completion, it's a great challenge
Against:
– Sometimes it's hard to figure out the developers' intended way for solving a situation
– A story with clichés, it's told well, but can't hold many surprises for you
– Difficulty… Newcomers may have a hard time getting used to the real-time tactics genre with this one, not everyone's gonna have the patience for it
---
Publisher: THQ Nordic
Developer: Mimimi Games
Genre: Real-Time Tactics (RTT)
Release date: June 16, 2020
Desperados III
Gameplay - 9.6
Graphics - 8.6
Story - 7
Music/Audio - 9
Ambiance - 9.2
8.7
EXCELLENT
My childhood memories of isometric games are in every aspect of this modernized masterpiece, which is repetitive, based upon a trial and error gameplay, and may test the patience of many of the players, but ultimately my verdict is to try out this game. Do you know the game Neighbours from Hell? You know, that neat little game you sit down before after every working day to relax, think, and smile a little for an hour? Well that's exactly the case here. Not every game has to change the world, sometimes it's enough if it carries over an old gem into the new age for the next generation.If one day Commandos gets a modern sequel, it will need to take, notice and improve upon all the things this game has achieved. And I think a game like Desperados III cannot really get a compliment any greater than this.