Devil May Cry 5's next-gen re-release will have some advantage in Japan on PlayStation 5.
Capcom announced that Devil May Cry 5 Special Edition's physical version will be available in Japan from November 12 on PlayStation 5 for 4990 JPY (about 47 USD), and its price is the same as the digital (PlayStation Store) version. The Xbox Series version will be only digital, as Japan doesn't have much trust in Microsoft yet, even though the Xbox Series will launch on the same day there as elsewhere.
Japan will also have a Devil May Cry 5 Special Edition SSS Pack edition, which is on the e-Capcom Store for 11500 JPY (about 110 USD). It will have a copy of the game, book, soundtrack CD, t-shirt, and swappable cover art. However, it will be available from December 22. It can also be bought separately for 7500 JPY (~71 USD). If you want a Master Model Replica Costume: Vergil Version, it's available for 600K JPY (~5700 dollars)!
According to Capcom's announcement, the physical version of Devil May Cry 5 Special Edition on PlayStation 5 and Xbox Series will launch on December 1 in the West. However, keep in mind that the digital version will be a launch title for both the Xbox Series (November 10) and the PlayStation 5 (November 12/19, depending on the region). It will cost 40 dollars regardless.
"Take advantage of the power of the next generation of consoles and tailor the options to your preferred gameplay experience. Fine-tune your experience as you prioritize gorgeous and photorealistic lighting effects using ray-tracing, the sharpest resolution possible, or the highest framerates (120 FPS) the series has ever offered.
Not enough? You'll also be able to hear the action unfold around you with incredible 3D sound, and loading times go by in a blink to keep the thrills coming. All of this with even more intense new modes so you can push your style to the max. And the icing on the infernal cake? Vergil joins the gang as a new playable character! The PlayStation 5 version even uses the DualSense controller's adaptive triggers to let you feel the tension of battle in the tips of your fingers," the game's press release says.
So Vergil will be slightly delayed… on disc.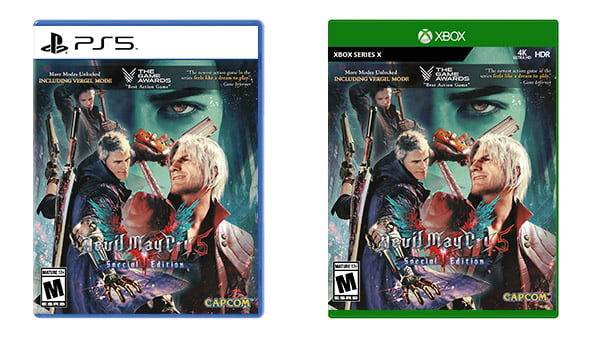 Please support our page theGeek.games on Patreon, so we can continue to write you the latest gaming, movie and tech news and reviews as an independent magazine.
Become a Patron!