We haven't heard official sales figures for a year now, but we can somewhat get around to learn just how many copies of Insomniac Games' September 2018-launch PlayStation 4 exclusive have been sold since then.
In August 2019, Sony Interactive Entertainment announced the acquisition of Insomniac Games, meaning they joined the SIE family. According to the official data published then, Marvel's Spider-Man has had over 13 million sales, which is an outstanding result in less than a year, and only Call of Duty tends to go higher than that, but that series is like a slice of bread: it just does what it needs to do without any fanfare (breaking records over and over…).
David Bull. who works at PlayStation's global brand marketing, published a new figure on his LinkedIn, claiming that over twenty million copies have been sold. He has updated his page since then, but it's too late: the image has saved what he wrote before.
It's an important figure, as only one other Sony game managed to reach this result, namely Naughty Dog's The Last of Us. And Bull's usage of words – over twenty million – isn't making it accurate, but it could mean there's even more than that. GamStat, which tracks PlayStation Network accounts, claims that over thirty million of them had Marvel's Spider-Man played, but you have to consider the resale of used copies, as well as friends and family members using a single copy of the game. Thus, it's a lower figure, but still likely over twenty million.
The number is set to grow even further: Insomniac Games has previously hinted that Marvel's Spider-Man Remastered is going to get a standalone release on PlayStation 5, as at the moment, it's only available via Marvel's Spider-Man: Miles Morales Ultimate Edition. And if The Last of Us sold more on PlayStation 4 than on PlayStation 3, what stops Peter Parker from performing better on PlayStation 5 than on PlayStation 4…?
Source: WCCFTech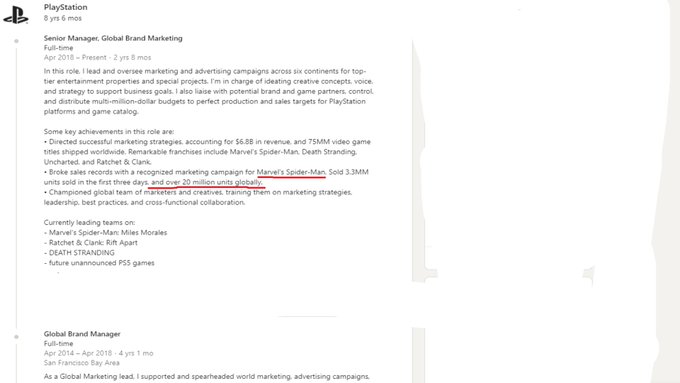 Please support our page theGeek.games on Patreon, so we can continue to write you the latest gaming, movie and tech news and reviews as an independent magazine.
Become a Patron!