REVIEW – A new year, a new MotoGP game, and the change this year is so small that I don't even know how I'm going to fill the pages at this point. In short, I could say that Milestone has essentially taken ideas from its previous instalments and RIDE, and pushed them over here with some updates.
The game (which doesn't run officially on Windows 7, but…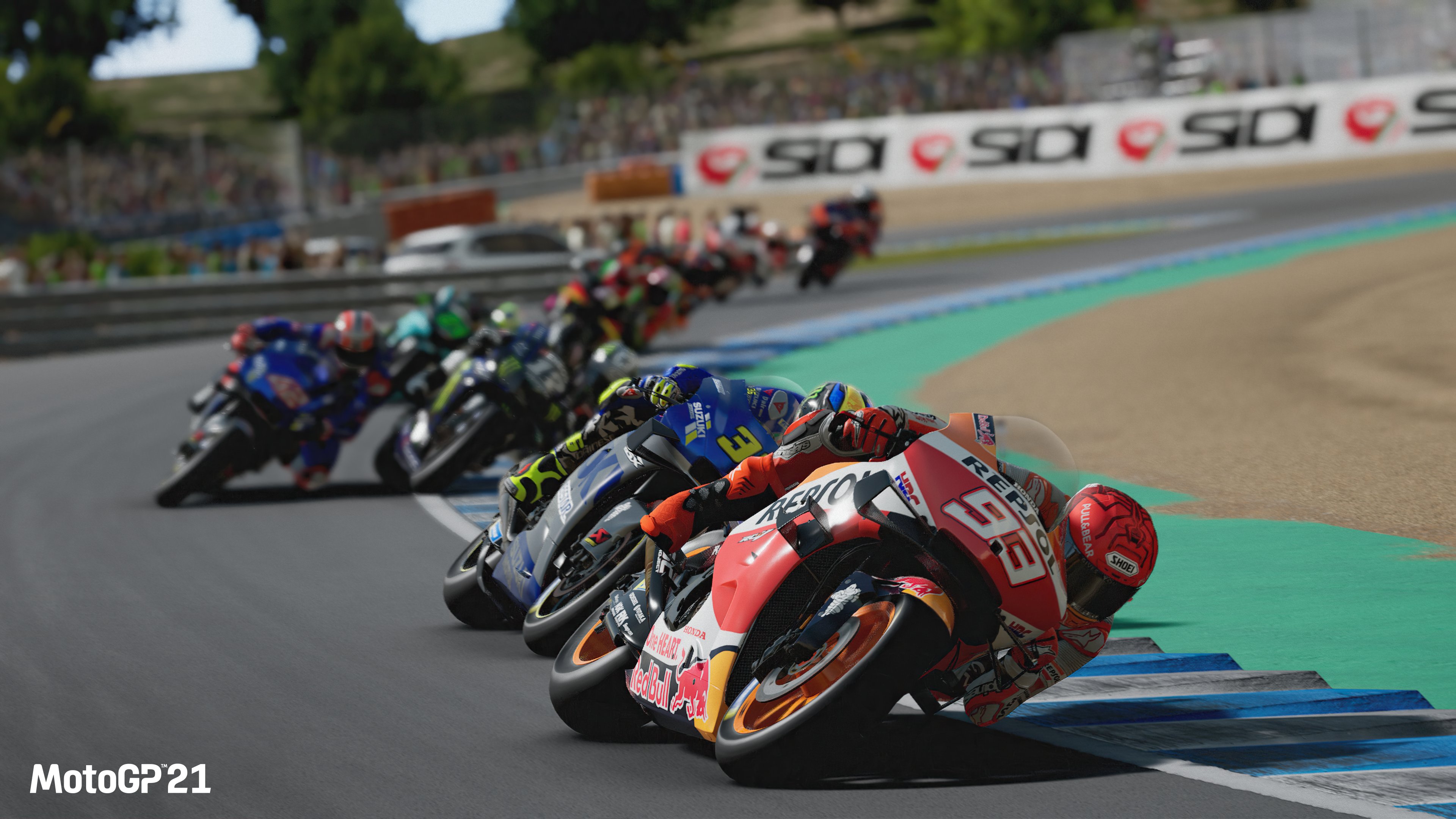 Start
It does in practice: all you have to do is copy the xinput1_3.dll from your \Windows\system32 folder, and paste it to the game's motogp21\Binaries folder as xinput1_4.dll… trust me, it sounds dumb, but it works!) starts the same way as every other Milestone game nowadays: brightness, audio settings, character creation with eighteen faces, and aside from that, you can customize the paint job of your bike (if it's not a factory team), the rims, and the biker's racing overall. There is a tutorial with five beginner and eight advanced tasks, so they finally listened to what I have been saying. However, there's just one more point after this in my baseline opinion list, which says a lot… but I'll get back to this.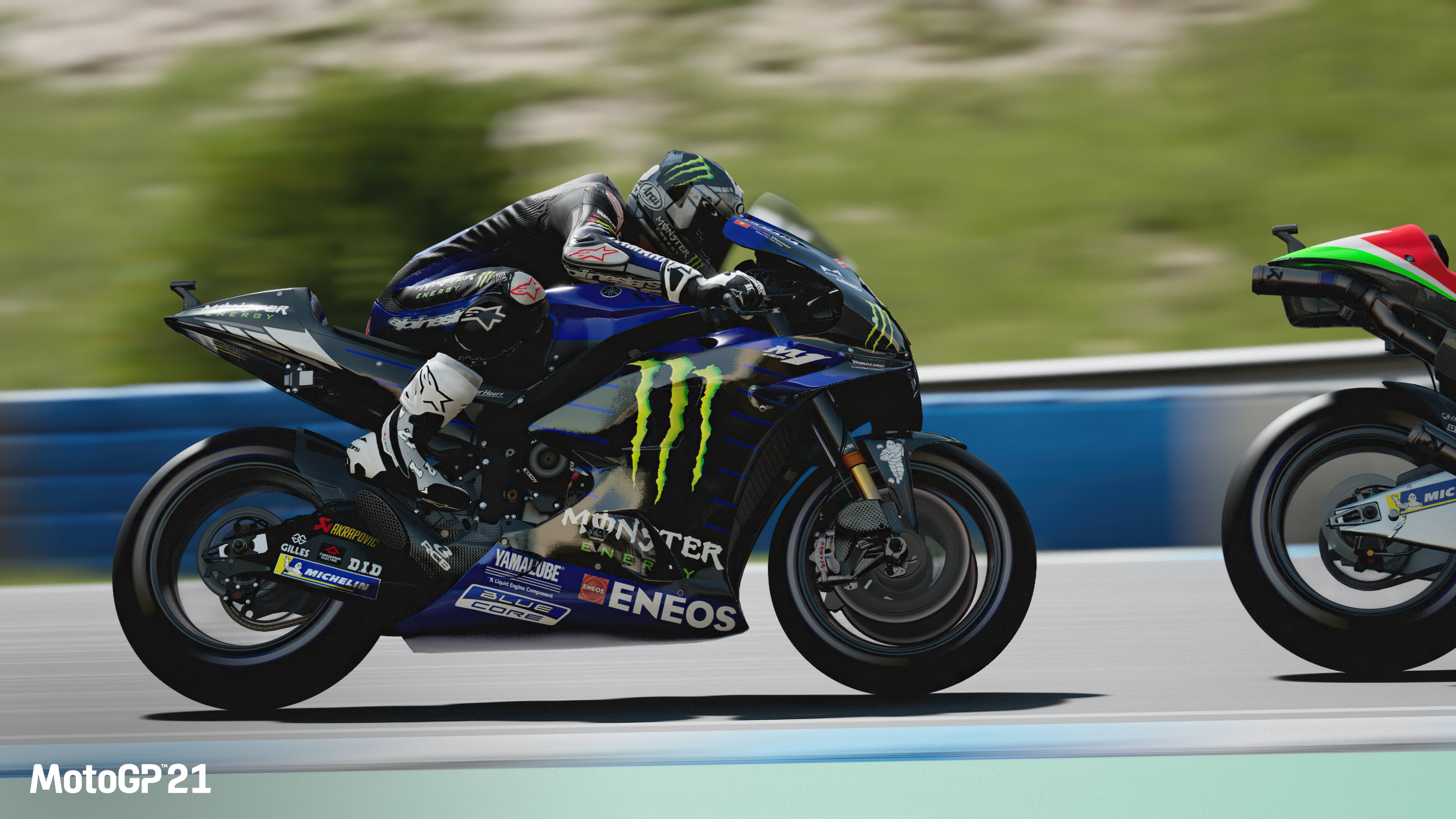 In the career, you can put together your team's members, which closely resembles the WRC games. From your team manager through the technical director to the chief engineer, you can choose who is part of the crew, and over time, you get the chance to hire better staff. The development points (engine, frame, aerodynamics, electronics) get weekly points, and you can also help developing via the test and the free practices, which is something seen in the F1 games. You can outright begin in MotoGP if you desire. You get reputation (for better teams) and credits (for customization and the staff wages) over the weekends, so this is the same as in the aforementioned games.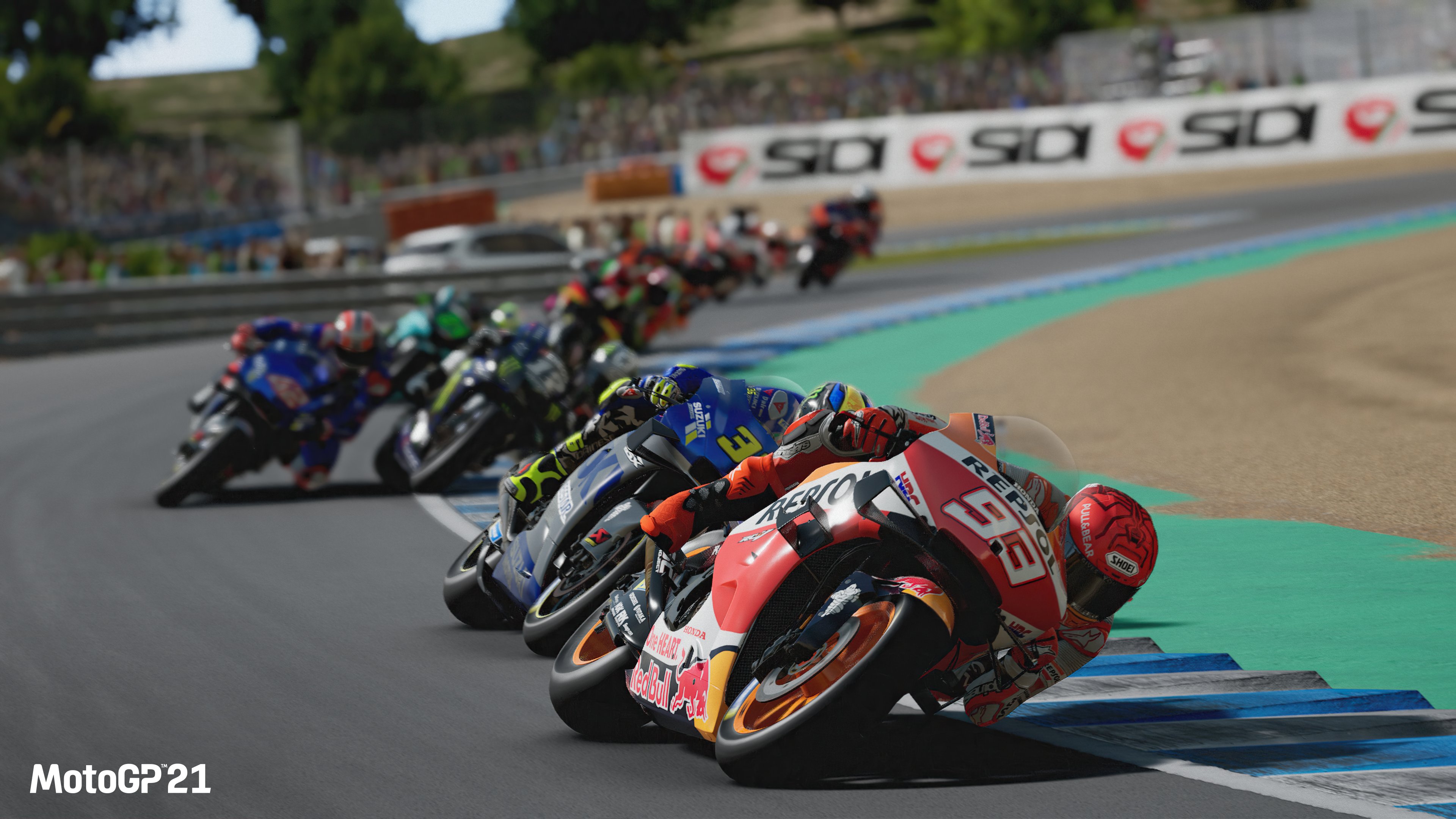 I'd also mention that if you crank the settings up, then if you bail from your bike, you don't automatically respawn on it (it can still happen with a small transition scene each time). Instead, your rider will get up, and you must run to your bike to get it up, which is an automatic process. This is good. The difficulty can be still set by percentage (20-120), and if you cut corners too much, you get to do the long lap penalty, which is another addition in this year's MotoGP. On PlayStation 5, the DualSense's abilities were used, but I intentionally wrote the platform I used in the title…
Realism
Each year, I start MotoGP by launching a track (usually Le Mans, but Assen is also good right at the start), crank every physics setting to the maximum, and see if I can ride through a trackside advertisement board. And yes, I can. I think I have been saying this for years, but this amateur mistake is still present. If they redesigned the suspension of the bike, then perhaps they should focus on realism this way as well! Aside from this, the menus are still minimal, the users claim the ultrawide (21:9, 3440×1440) resolution is broken, the graphics feel somewhat week, and I also feel the physics and the handling might have become worse. Or at least, it didn't get changed in favour of couch fans, and the brakes feel incredibly sensitive. However, I think the sounds might have improved, but the background music is forgettable. The commentary and the pitlane animations have been brought over from last year, so I guess I could say the presentation is the same as before. Artificial intelligence felt catastrophic at the start. I don't mean the fact that they do not consider your presence in the turns and smash you out, but the fact that they seemed to bail a LOT, not to mention cutting the corners. Is this the next level?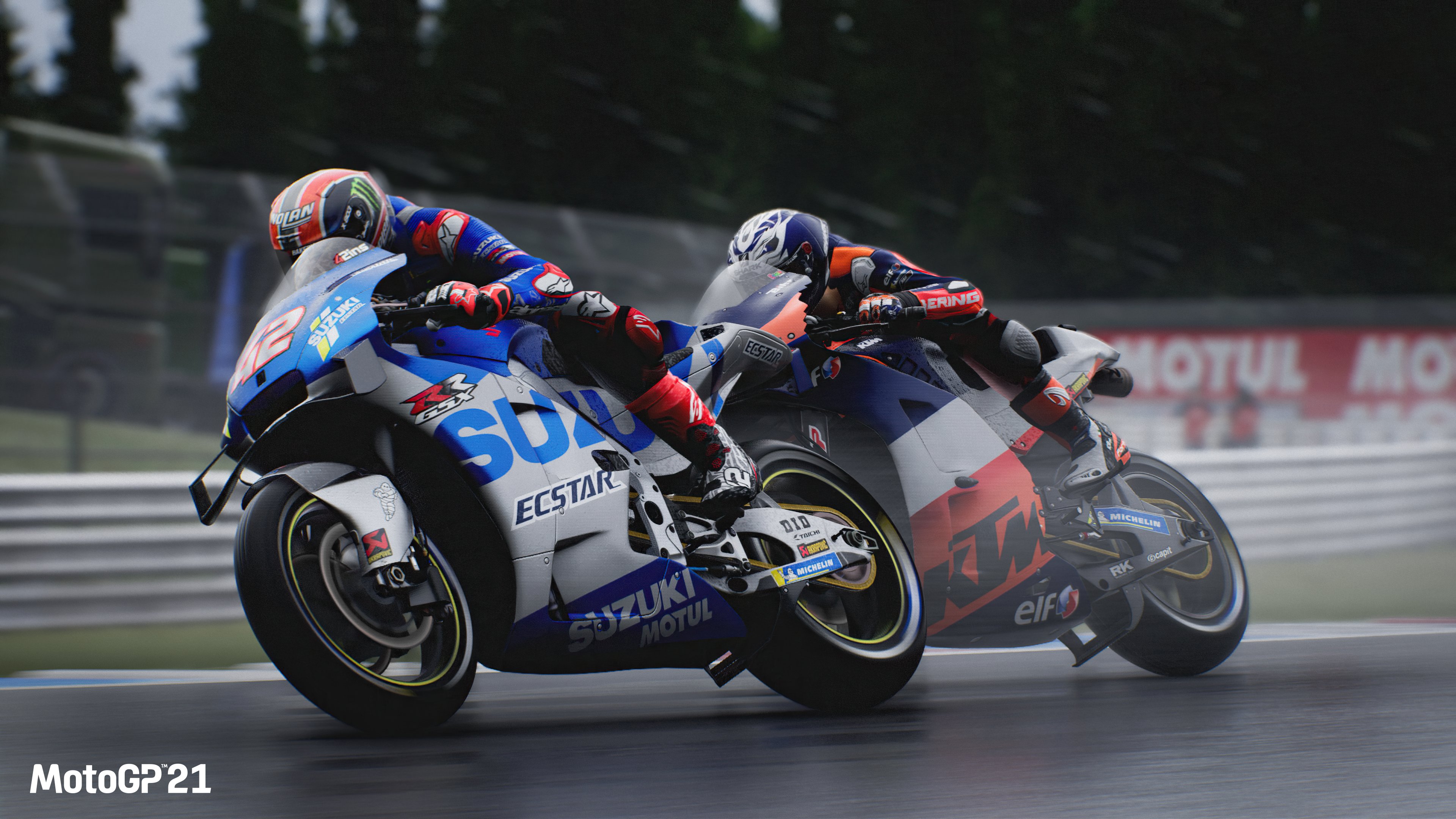 I'd also mention three things that made me quite annoyed. So at the launch of the game, there were already two DLC for five EUR/USD a pop. The first one is a paid cheat (VIP Multiplier Pack, more reputation and development points in career mode…), the other one is legitimately a cosmetic DLC with five one-off liveries (John Hopkins, Laguna Seca 2005; Valentino Rossi, Assen 2007; Casey Stoner, Philip Island 2009; Jorge Lorenzo, 2009, location not mentioned, lol; Daniel Pedrosa, Aragon 2011). So a cheat and a cosmetic DLC, and on top of it, the game is live service. I'll just quote the press release: "MotoGP 21 will only get bigger and better over the months thanks to some new content that will be introduced through patches. Day one is only the beginning of the race!" And no, I got neither of the two DLC, so unlike Codemasters, Milestone still has a lot of room for improvement. Also, I tested it: if you run to the track without being on your bike, the other riders will zip through you.
Evaluation
Last year, I was kind-hearted to give this game a 6/10, but this year, it gets a 5/10, and it should be happy it doesn't get a 4. The game could have worked as a paid DLC, except for the next-gen consoles (there was no PlayStation 5 or Xbox Series on the market a year ago). I don't think Milestone has stepped forward that much. I feel it stayed in one place. I'd say skip this game, as it doesn't make sense to buy it each year.
Thanks to Magnew for providing a review code.
-V-
Please support our page theGeek.games on Patreon, so we can continue to write you the latest gaming, movie and tech news and reviews as an independent magazine.
Become a Patron!

Pro:
+ The physics might have improved for pro players…?
+ Tutorial
+ You can now run to your bike
Against:
– Live service updates
– Paid cheat, charging money for exclusive liveries…
– It still has issues that should have been addressed already… and I wrote the same thing a year ago
---
Publisher: Milestone
Developer: Milestone
Genre: MotoGP license video game adaptation
Release date: April 22, 2021
MotoGP 21
Gameplay - 5.2
Graphics - 3.7
Physics - 7.6
Music/Audio - 7.1
Ambience - 1.4
5
FAIR
A week launch and a strong fallback