UPDATE: System Shock Remaster's Kickstarter is over, and Night Dive Studios revealed what the last stretch goals would have been if there was enough funding.
The game will launch on PS4 in early 2018, and on X1/PC at the end of 2017, respectively. Due to reached stretch goals, there will be a Mac/Linux version, Razer Chroma-support, localization for French, Italian, German, and Spanish languages, and an expanded narrative with new locations. The 2+ million goals would have been full mod support, an artbook and a graphic novel, and HTC Vive/Oculus Rift support.
Shodan now disappears for a while to be developed.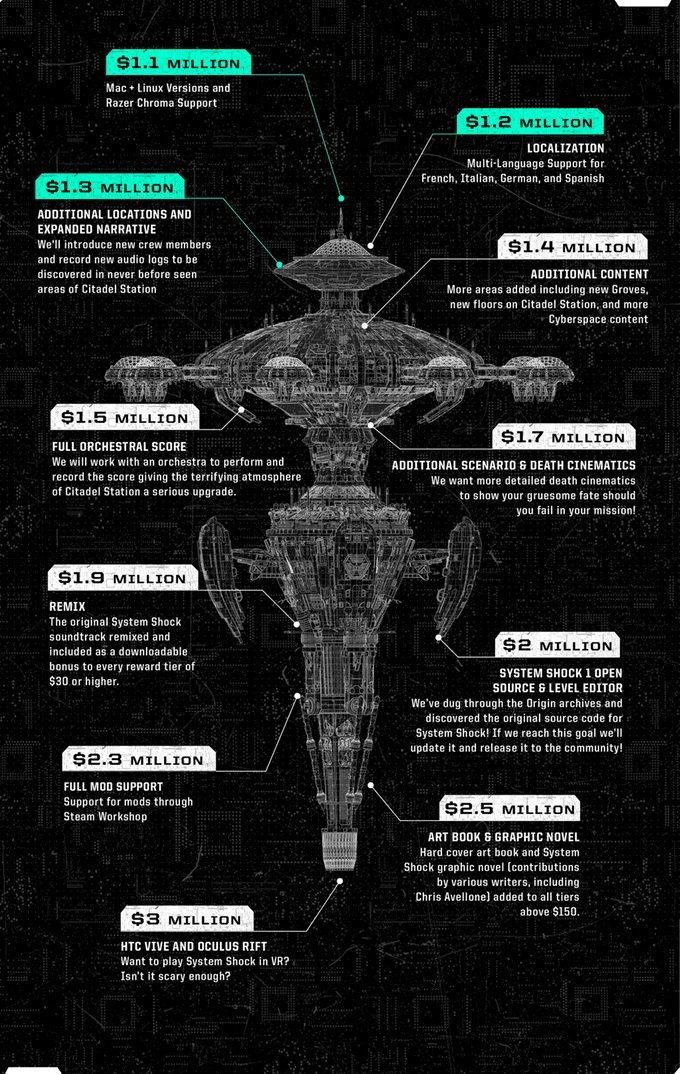 ORIGINAL: Night Dive Studios' Kickstarter (which you can find here) is still seventeen days away from its deadline, but the project is already funded (it's still going, though: the next goal is the Mac/Linux port).
The developers pushed in another perk, which is open to those who pledge at least one hundred dollars. The new addition is a hardcover, 200-page, 22 X 30 cm art book by Dynamite Entertainment.
Will System Shock Reboot be available on the PS4 as well, and not just the X1 and PC? Maybe one of the stretch goals will have that. Until then, you can find a pre-alpha demo of the game – more details below.
System Shock appeared on Kickstarter, and it looks like Night Dive Studios' project will become a reality, thanks to the initial success!
The 900 thousand dollar target seems easy to achieve, because while there're 28 days left to pledge, at the current time of writing this article, 9275 backers have put a total of 577.906 dollars into the hat. System Shock Reboot, which utilizes the Unity engine, seems to be different from other Kickstarter campaigns for another reason: you can already download a pre-alpha demo! Here's where you can grab it: Steam, GOG.com, and Humble Store. The system requirements are the following: for the minimum, an i5-2400/AMD FX-8320 CPU, 8 gigs of RAM, GTX 670/HD 7870 VGA or better (2 GB VRAM recommended), and two gigabytes of HDD space. Recommended specs are: i7-3770/FX-8350 CPU, 16 GB RAM, GTX 970/R9 290 GPU (4 GB VRAM).
A few stretch goals have also been revealed: at 1.1M, Mac/Linux versions and Razer Chroma-support, 1.2M brings French/Italian/German/Spanish localizations, 1.3 nets additional locations and expanded narrative, 1.4M updates the core design (weapon crafting/upgrading, new minigames, puzzles, and RPG character leveling system), 1.5 pulls a full orchestral score, 1.7 puts in additional scenario & death cinematics and 1.9 million dollars result in a remix of the original System Shock soundtrack that would be available for free for 30+ dollar pledges. There are a few more unannounced stretch goals, but we assume that the PS4 port would be one of them – the game's initially announced for PC and X1.
Hopefully, there won't be multiple delays as there were regarding Mighty No. 9. The game is set to launch by the end of 2017.