REVIEW – A game for a movie – most of the time the results are not catastrophic, but either average or sub-par. Ghostbusters joins the queue, but not long before it gets thrown into the garbage.
Before I start, let me announce that I don't care about the film. I don't have an opinion about it, and I haven't seen it either. I'm only going to talk about the game itself, and while it is a sequel to the 2016 reboot film, I'm not going to include that into my thoughts.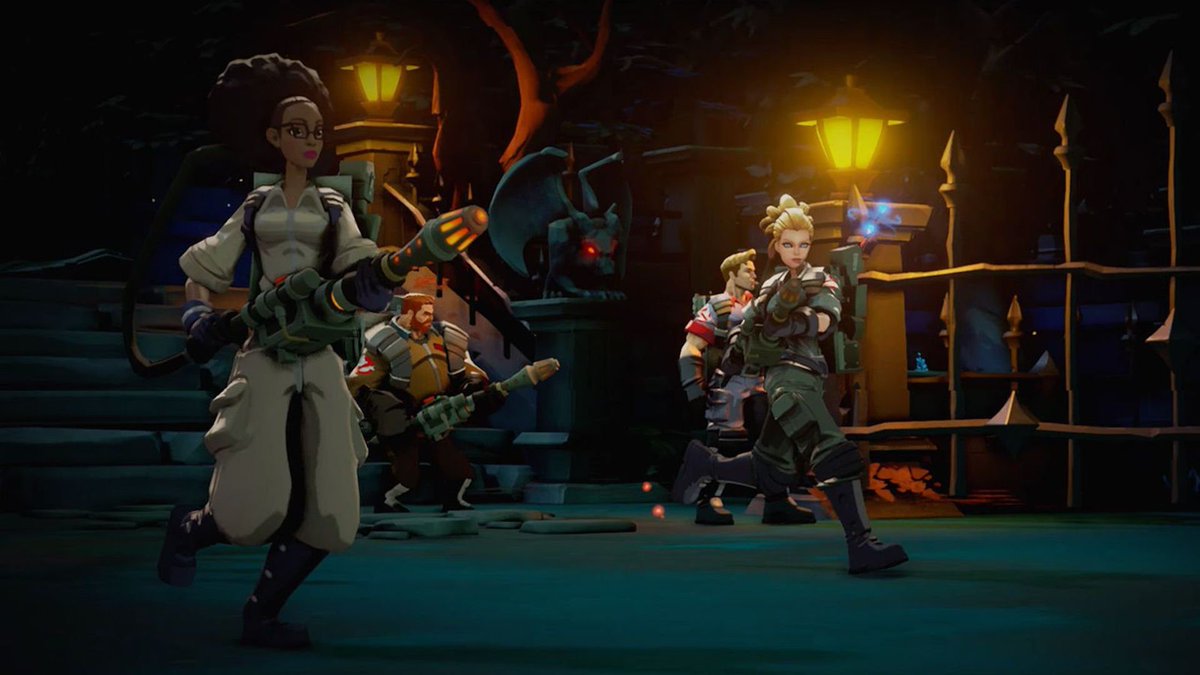 Ray Parker Jr.
Wow, the classical melodies and song of Ray Parker Jr. are included in the game, so this three-decade-old classic is with us yet again. Oh, hey look, there's the antagonist in the main menu's background graphics. This point was where I walked out for a cup of tea and asked myself: "Why should I even play this game?" Well, how about the chance that Ghostbusters offer: a four-player co-op!
Four
You can team up with three friends to play, but there's a slight problem: you have to invite them over to your place, because there's no online coop when it would make sense to have one. Let me bring up another game for example, and from Activision, to boot. Teenage Mutant Ninja Turtles – Mutants in Manhattan.
PlatinumGames was able to have online cooperative gameplay, but FireForge Games, who don't even seem to have a website (!), failed to do so. I'd forgive them if the game were a decent party game, but nope, they f_cked this up as well.
Z
The previous Ghostbusters game, Sanctum of Slime, had a similar premise: four-player coop twin-stick shooter. While that title wasn't memorable, it still ended up being better than the 2016 game. And there's another similarity: four rookies here, four rookies there – we don't control the movie's characters. The Z in the lead is referring to how boring I found the game; I'd have rather slept if I could.
But okay, let's quickly describe the four characters. Female character #1 has a shotgun. Male #1 has a tank-ish approach with a mini-gun. Female character #2 offers twin pistols, and Male #2 uses an assault rifle. Of course, all of them are proton weapons. The story is the usual: we get a call, we can go to a new location, and the levels are always the same: first, the little guys, then the middle enemies that need to be trapped, and finally, a patterned boss. That's all there is to it in all of the ten stages.
I have to point out that despite having the subtitles turned on, the cutscenes had no text displayed. However, the mission briefing…ish scenes, which are mostly non-animated static pictures with minimal animation, had subtitles. Oh, and the volume bounces around like a four-year-old Columbian kid on cocaine.
No.
Despite offering ten stages, they are random. I mean, one can take twenty minutes, one can go up to an hour, and the sizes are too large. Case in point: Furi, another twin-stick shooter (for free if you are a Plus member – I'm going back to pricing shortly), had small, focuses levels. Yeah, while the seventh boss had a larger area, that was cut down to the bare minimum in the later phases of the boss fight, and the gameplay was mostly okay. Here? Not really, I felt tired after the third stage already.
While you can upgrade your characters, I wouldn't be surprised if you start to improve their speed first, because good God, the Ghostbusters move soooooo ffffreaaaaaaaakiiiiiiing ssssssssslooooooowwww. Rather be fast, but weak than slow, and strong. You can find some secrets with the PKE-meter, but only if you don't fall asleep during playing.
I also cannot understand how THIS game uses Unreal Engine 4. How? It looks more like a 2008-ish game – and it's not an indie game either. Let me tell you: it costs fifty dollars. How the flying f_ck could this get an average of 4 stars after 31 ratings on the PS Store, when the game is short (5-6 hours maybe), the audio is dull, the graphics are bad, and the gameplay is lifeless. And yet, the publisher thinks that it's a good idea to offer the classic costume for the characters for five dollars. Cosmetic DLC.
No, wrong number
I cannot recommend this game for anyone. Seriously. This game is no more than a cash grab, pathetic outing by Activision, and I cannot describe my thoughts without censorship. Get the 2009 Ghostbusters game, which is considered as THE sequel to the first two movies, due to having the original cast – that is a game that acts as a spiritual sequel to the two movies. You can have fun with that, but with this 2016 abomination? Not at all. You would just waste your money with this thing. I'm giving this a 2/10 – if it wasn't this expensive, it could have received a 3.
-V-
Pro:
+ Ray Parker Jr.'s song
+ No point in playing the game if the antagonist is on the main menu graphics
+ No need to see the movie: you'll understand what's going on here
Against:
– I may have never used this statement in any reviews up to now: EVERYTHING
– This game costs 50 dollars. Why don't you buy Uncharted 4 instead?!
– This game made me not willing to see the movie 🙂
---
Publisher: Activision
Developer: FireForge Games
Genre: Twin-stick shooter
Release date: July 12, 2016 (PS4, X1, PC)
Ghostbusters
Gameplay - 2.3
Graphics - 3.3
Story - 1.7
Music/Audio - 5.9
Ambiance - 1
2.8
FAIL
I would rather chase these Ghostbusters rather than calling them.