REVIEW – Once again, and as Skyrim did, DOOM appears again in our catalogs, this time prepared for virtual reality. Here, however, we have opted for a short and modified campaign to transfer the experience of the id Software shooter to this type of control. What is the result? You will learn in the review of DOOM VFR.
Bethesda is determined to bring all their experiences to the highest possible gaming platforms. We have already seen it with the recent releases of The Elder Scrolls V: Skyrim VR and, after the portability to Nintendo Switch, now it is the virtual reality of id software shooter DOOM. However, unlike Skyrim, transferring the experience of a game as frantic as this to virtual reality is not as easy as it may seem at first. With so much agility in movements and action, many changes and adjustments are needed at the risk of achieving the greatest dizziness in history with a pair of glasses on.
"Another hero, Another mindless crime" (Queen)
The offer of the virtual reality team of Bethesda has been, therefore, to create a different campaign, something more relaxed, that captures the essence of DOOM, reusing some scenarios already seen in the original game, adding a strange and forgetful story as an excuse to get to crush demons quickly. Thus, we put ourselves in the shoes of a poor scientist who has been killed in the invasion of the demons of the station of Mars, but who miraculously sees his consciousness transferred to a bizarre body. Our goal, close the portal. Moreover, if in Skyrim we already had a handful of control options, here the limits are unsuspected.
Let's go, then, in parts. DOOM VFR arrives at HTC Vive and PSVR, although with one last update of SteamVR it is already possible to play it in Oculus Rift, to the surprise of many (and certainly of John Carmack, after all his litigation with Bethesda). However, let's talk about the versions that we have been able to prove.
In PC and Vice controls, as we played for the first time in E3 this year, is how the experience is originally planned, which is more than recommended to play standing. With the left command, we point to the place where we want to teleport, while with the right we manage the weapon. There are no small turns, and no way to advance with this control since the particularity of Vive is that you can spin quite freely thanks to its sensors.
Thus, DOOM VFR offers a series of levels with a fairly short duration (around three hours), although some levels of classic DOOM are added, as well as difficulty modes to be able to replay them with a greater challenge. As a shoe that you do not finish doing, it shows that the game makes real efforts to try to feel comfortable in virtual reality. He knows that the control of weapons is very pleasant, but that mobility is reduced and slow actions for a game that demands speed and continuous movement. Create actions, like an expansive wave to shake off the demons that get too close, but it costs to face them, and although it is achieved in the most scenarios, it becomes chaotic in the most open environments.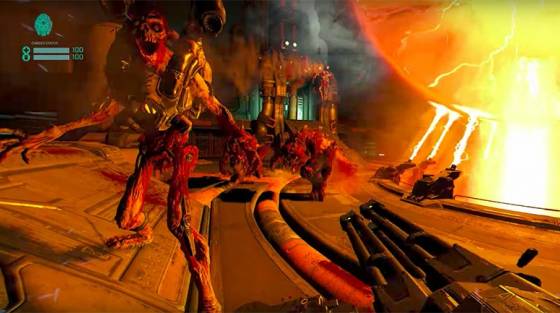 Virtual underworld
In PlayStation VR the number of control options could not be more abundant. The natural control, for which it would be designed, is the Vibe's counterpart: the PlayStation Move, but since there is no possibility of turning in 30 degrees (only turning around 180) we see ourselves in situations where we are looking at a bad angle. Unlike the camera and the glasses, they can not transmit our actions correctly, creating some errors when we cover the light signal.
There is the possibility of playing with a DualShock between the hands, which activates the possibility of turning our bodies little by little and playing seated. It is a more traditional control, although you can get to enjoy it because by aiming at your head you are going to get some of the easiest "headshots" of your playing career. Does it work? It is very little accomplished. If in Skyrim we were very surprised at the possibility of crossing the vast grounds with a comfortable control, in DOOM the nausea is not long in coming.
The game comes with a default configuration that teleports us both when turning and when advancing. Changing the configuration to be able to move smoothly (something we have seen in many games, including Skyrim, which is not tiring) causes a strange sensation in the stomach that is becoming more and more pronounced. If we take into account that in some moments we are going to have to move, and a lot, it ends up being inappropriate too.
The last option is one that, curiously, has been commented little and is by far our favorite: the PlayStation Aim Controller. Perhaps, the most organic way to play in the console and, definitely, with the one that we have found most comfortable with much difference when it comes to touring all levels of the game. It still does not feel completely thought for the Sony gun, in comparison to how well the Farpoint experience created the Impulse Gear team, but the leap in both comfort and control of the movement is substantial.
The gun control has the peculiarity of having double stick without sacrificing control by movement, which makes it perfect to have at our disposal all the possible controls: teleportation, rotation movement by angle and fluid movement, which allows you not to do without of freneticism that makes the game unique and handled better by the peaks of difficulty that occur in those moments that you have to clean a room of demons that do not stop appearing.
Good, but shorty and uncomfortable
Bethesda knows that DOOM's experience in virtual reality can only reach a certain point (it even comes with a reduced price for what games of this nature tend to be) and has tried to make the most of it. The result is good, but often uncomfortable and somewhat short. If you have enough equipment to play it in conditions, it is interesting, although not suitable for all stomachs.
DOOM VFR has had to make many changes in the original campaign to adapt to virtual reality. The result is a very interesting game, perfect for releasing adrenaline by shooting demons from the underworld, but which often seems uncomfortable and somewhat cumbersome in movement.
-BadSector-
Pro:
+ To be able to experience DOOM on VR!
+ Visually better than Skyrim
+ With an Aim Controller, the handling has been improved a lot
Against:
– Control options somewhat rough and uncomfortable
– Short and with a lot of recycled levels
– An uninspired interface that makes it difficult to be attentive to your health
---
Publisher: Bethesda Softworks
Developer: id Software
Genre: Shooter, 3D, Action, First-Person
Release date: November 30, 2017
DOOM VFR
Gameplay - 7.6
VR Graphics - 8.2
Story - 4.8
Music/Audio - 7.4
Ambiance - 7.8
7.2
GOOD
DOOM VFR has had to make many changes in the original campaign to adapt to virtual reality. The result is a very interesting game, perfect for releasing adrenaline by shooting demons from the underworld, but which often seems uncomfortable and somewhat cumbersome in movement.