REVIEW – The game where even Geralt of Rivia appears from The Witcher. We're talking about one of the fighting games that can be catered towards beginners, and which is usually offers just the bare basics. Still, it does its job well, and in reasonably good quality, too.
SoulCalibur (Soul Calibur… I got used to writing the title as two words, not one…) VI seems to have done the right thing by going back to what it should have been after the previous instalments: a fast-paced, three-dimensional fighter where we can find our pace easily, regardless if you are neck deep into this game genre or not.
A chronicle of a soul
There are two (okay, fair enough, three, but Arcade mode should be expected in such a game) main single-player modes in this game. One of them is Libra of Souls where you can create your custom character. It had its charm, as well as its shock factor, especially when at launch, people could create a Lizardman with a giant penis. At least I can waste a few characters by mentioning it, so here's a video:
what. the. fuck #SOULCALIBURVI pic.twitter.com/oJQmOgzJto

— AXL | ALT ZERO ⚡️ (@AltZero_) October 19, 2018
The character creation offers variety, and this video above is a scary, yet at the same time, a prime example of creativity, but I do need to warn you: the loading times will be annoying. But back to Libra of Souls, it is an RPG-style adventure, where you will get main, as well as side missions, and you will also get into random encounters throughout your story. You can upgrade your weapons, or even level up your character – in case you run into trouble during fights, you can use food items that can replenish your health. If you don't want to deal with some encounters, you can pay an NPC to deal with them without your involvement…
There's also the other, possibly the actual story mode of the game called Soul Chronicles, which is set during the 16th century. It introduces the events around a Soul Edge sword from different aspects per character. (Basing a plot around a sword is common from Soul C… I mean SoulCalibur as a whole!) Replayability? There's a ton of that. If you are an anti-social player, you can still have tons of fun without going online, but SoulCalibur VI seems to lack some polish in the story mode. The cutscenes are simple, drawn things (sometimes being far too long), and the fact that the voice acting feels subpar doesn't help either. The developers seemingly didn't manage to find the balance here.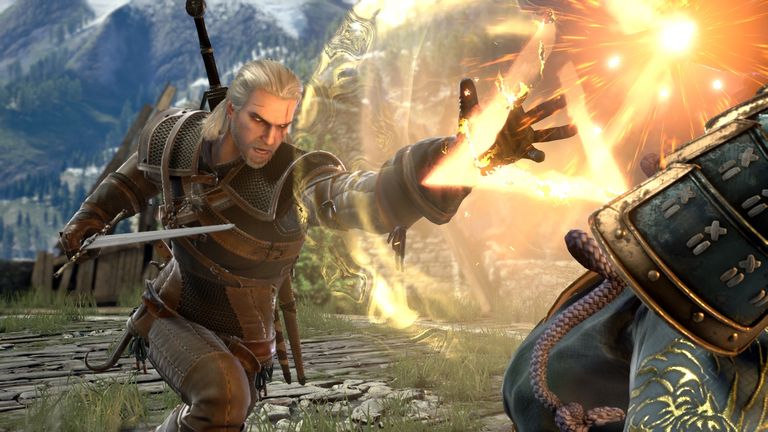 Timing
As SoulCalibur VI is a fighting game, it's necessary to time your moves correctly. Here, the timing isn't the primary focus. You need to know when you have to block, when you need to time, and when you must keep your distance from your opponent. All these are boosted further with a new addition to the gameplay called Reversal Edge, which allows parrying the moves by one button that can be charged, then unleashed in either a horizontal or a vertical kick for example, and each character has a different approach to this move.
It's somewhat exciting to see how each player guesses, as it can decide who will end up winning the round and who gets tossed out of the ring – I think it's rock-paper-scissors. The weapon combat remained, and the stun moves also play a pivotal role. There's also the Soul Charge move with its two meters – you can use this as a special meter to make more moves and combos than before, and you can waste a bar for a special finisher. It adds another layer to the already fast-paced gameplay in general.
Good
SoulCalibur VI deserves an eight out of ten because the combat is exciting and the gameplay can provide success to anyone with just a little practice/learning the basics. If only the story would have received more production value, then I'm pretty sure that the top of the third page would have a big number nine at the top. Online combat comes with an excellent netcode, so if you want quality fighting, you shouldn't be worried about opening your wallets, no matter if it's the real one or a virtual one, depending on where you want to buy the game.
While we don't know if Bandai Namco will end up making SoulCalibur VII, they should consider it. Even the guest characters (yes, I use the plural here intentionally – aside from Geralt of Rivia, they already announced a new character, namely 2B, from NieR: Automata!) are promising. SoulCalibur VI deserves a round of applause – it's the type of the game that will end up in your PlayStation 4 often during some home championship tournaments, mainly because the frame rate seems to be a stable 60 frames per second. Oh, I reached the character limit. Good night.
-V-

Pro:
+ Character creation
+ Reversal Edge
+ Soul Charge
Against:
– Slow character creation
– The way the story is presented isn't high-quality
– The voice acting should have been better during the scenes
---
Publisher: Bandai Namco
Developer: Bandai Namco
Genre: 3D, Action, Fighting
Release date: October 19, 2018
SoulCalibur VI
Gameplay - 8.4
Graphics - 7.9
Story - 8.6
Music/Audio - 6.9
Ambiance - 8