REVIEW – Blair Witch's a walking simulator. There, I wrote the base synopsis. I cannot comment about the films, so I'll just talk about the game.
1999. The Blair Witch Project. It's a major hit: a lot of profit from a small budget, which is something that the pEAnis or Take-Two tends to do nowadays with their casino sports games and their ridiculous, predatory monetization. It got a sequel in 2016, which never even got close to what the first film did. 2019, here's another game adaptation, which is entirely unlucky for the SEO (I detest you, SEO, from the bottom of my non-existent heart), this time on Xbox One and PC.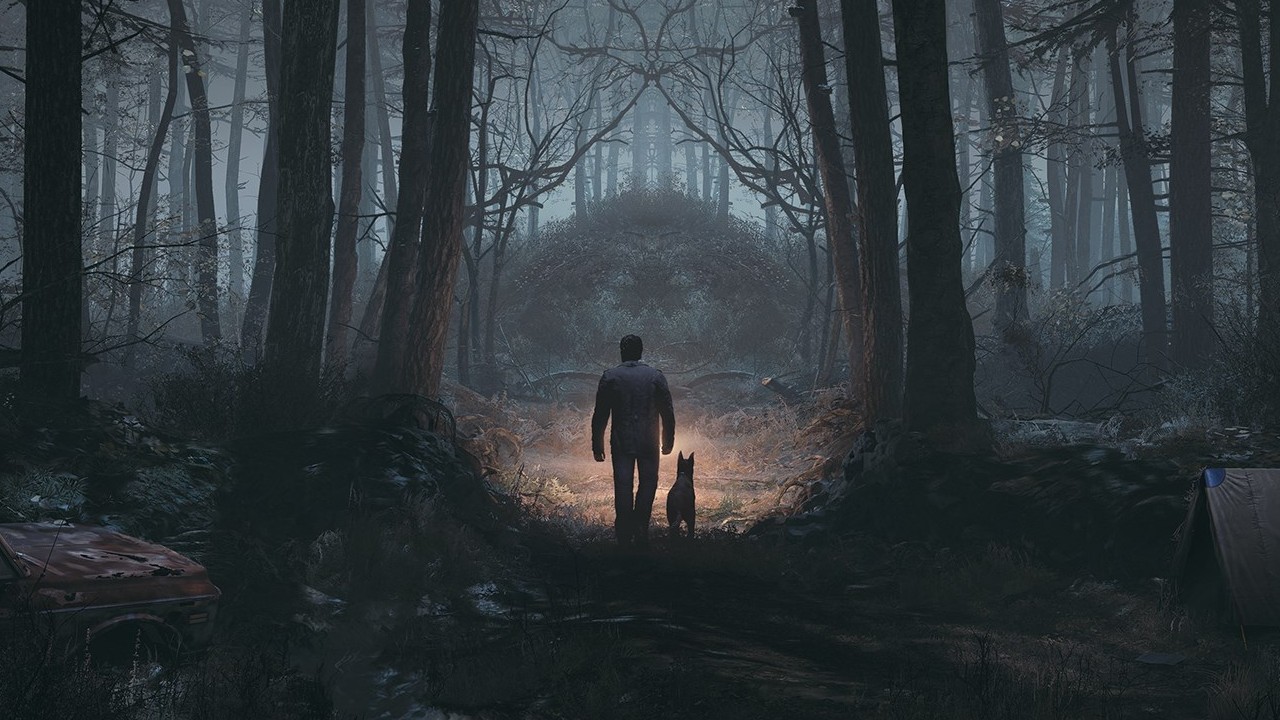 1999
Bloober either strikes a hit or misses the point. Layers of Fear was alright. Observer was okay, too. Layers of Fear 2 was meh, and I think this applies to this game, too. The story is set in Burkittsville, in the United States' Maryland state, and the game didn't seem to care much about explaining the background, so in case you don't know anything, it might not be a problem, or maybe it is. So you'll be in the forests (and not a lot, mind you… back to it later), and you'll control Ellis, who happened to have some terrible life events (he's not alone with it), and, together with his dog, Bullet, he gets to the forest to help to find a boy who got lost. In Blair Witch our character's developed state is good: despite having zero self-confidence (he has mental health issues, namely PTSD, or post-traumatic stress disorder for short), he tries to complete the tasks (…where have I seen this before?), and it's really decent to see him build a relationship with the others. We won't do so with the HUD, as it doesn't exist. Instead, you'll have a wheel to use to give out tasks for Bullet to do, such as digging something out. (There are two issues, though: Bullet never seemed to have been utilized as best as possible aside from showing at a few points where you have to go next, and I also experienced that I had to ask Bullet to re-dig a meter away from the previous point to find the item I wanted. That's great.)
There are some puzzles as well via your camera, and you can use it with the red lid tapes to change the environment to either rewind time or fast-forward, or maybe pause it. (So in short, the game rips off Crysis and TimeShift from 2007. Marvellous!) So if you happen to run into a tree that is in your path, you can avoid this dangerous natural blockage with it. The issue, however, is the same here as with Bullet: I believe it should have been used for more complex issues. You get quite minimalistic in the tasks you can complete with the camera, what a shame.
1996
Despite all positives mentioned until now, all you do in this entire game is walking around. What the hell is good in having about two minutes of story progression, followed by roughly ten minutes of walking, if not more? I think I have seen something like that this week… or maybe it's my PTSD speaking. And this keeps going for four hours (or maybe even less, I think you can beat the game faster, which is nearing LOL levels), combined with some combat… or should I say, "combat."
I don't call these flashlight fights as combat, oh you have to enlighten these twigmen to win. Sure, previous Bloober games had no such combat, but I think we'd have been better off without this thing. It was quite annoying to keep missing my enemy with my flashlight, which, oh no, stops working midway, turning the whole thing into a stealth game, which then ends with you staring heavily at the ground for at least a quarter of an hour because you have to stick to one certain line to survive. (Come with me if you want to live. This line somehow popped into my head here.) I have a stomach for bad games, but only those that I wish to take a look at.
1994
So Blair Witch, in case you don't know the film, is average at best. I think it would have been better if it was SHORTER, but the price itself is also problematic. It's glitchy, you get stuck in some objects, so Blair Witch gets a 5 out of 10. It doesn't deserve more because I feel that this game was made solely because of the holders of the IP. It is not a passion project. The forced work and the lack of its reward is not always the worker's fault. Bloober Team can do better, and even if the game is set in 1996 (unlike the film, set in '94), I'm not sure if I feel interested in the films after this. (I have better things to do!) So I recommend the older games if you can find them somewhere. (Thanks, Steam, I love lack of ACCESSIBILITY.) And avoid this one as much as humanly possible.
-V-
Pro:
+ PTSD as a subject
+ Character relationships
+ Replayability via multiplayer
Against:
– It's not short enough, and it has a lot of nothing happening points
– Lacks polish, perhaps it was not made with love…
– The camera and the dog deserved more than this
---
Publisher: Bloober Team
Developer: Bloober Team
Genre: survival horror
Release date: August 30, 2019
Blair Witch
Gameplay - 2.5
Graphics - 6.1
Story - 6.8
Music/Audio - 6.6
Ambience - 3