Take-Two might be giving a facelift for the first two Mafia games.
Mafia: The City of Lost Heaven came out in August 2002 on PC (and its director was Daniel Vávra, who ended up making a new IP, Kingdom Come: Deliverance, in February 2018). It was a big hit, so it got ported to the PlayStation 2 and the Xbox in early 2004 – the ports weren't that great. Eight years later, Illusion Softworks, now as 2K Czech, released Mafia II in August 2010 on PlayStation 3, Xbox 360, and PC (with a Mac port in December 2011). It was slightly different than the first game, but the classical approach to the Italian Mafia wars was still highly present. (Let's not go into Mafia III.)
Now, Take-Two, the publisher, has filed three trademarks in August at the USPTO (the United States Patent and Trademark Office). Three indeed: it might be possible that they are just extending the patents for the first two games (we can't link them directly, as the USPTO tends to time out search result links with an expiration error), but the third one is potentially planned for Mafia 4… however, Hangar 13, the devs of Mafia III, have scrapped their initial plans in 2018 (Mafia 4 would have been set in the 1970s' Las Vegas, not a bad idea) to work on an unannounced AAA title. Their new logo is also available on the USPTO website…
The first game runs flawlessly on modern PCs, but the Steam version lacks the music due to license expiration (so you have to get the original experience differently). It would be a good idea to make it look better, as its ambience was perfect in Lost Heaven. The second game could be interesting, too. And if a new game is coming, we'll see. Nothing is official yet, we are merely speculating.
Source: VG247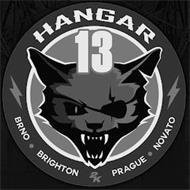 Please support our page theGeek.games on Patreon, so we can continue to write you the latest gaming, movie and tech news and reviews as an independent magazine.
Become a Patron!