MOVIE NEWS – Gearbox' IP, Borderlands is going to get a film adaptation, and maybe it won't stand still as much as Uncharted does (at least it is said to start its shooting soon… without a director).
Randy Pitchford tweeted. That's fine, he often does that. However, the head of Gearbox managed to say something that then got deleted. Yep, it's the usual "I delete what I said but it is too late" thing.
So Pitchford is happy to announce that the director of Borderlands is going to be Eli Roth. The film will have involvement from Lionsgate and Arad Productions. We'll learn more details on February 27 at PAX East (which is not going to have Sony's presence…).
Randy… wasn't it too early? It's too late, though (especially how he reposted it later): so Gearbox is planning a live-action Borderlands adaptation. It sounds weird: how can a looter shooter (which also intentionally has a cel-shaded visual art style) get a REASONABLE cinematic adaptation? We'd also like to add that this film was announced in 2015. Five years ago. That's still half of what Uncharted managed until now…
But let's see what horror- and thriller films can be tied to Eli Roth: Cabin Fever (2002; he also had involvement in the 2016 remake!), Hostel (2005), Hostel: Part II (2007), The Green Inferno (2013), Knock Knock (2015), Death Wish (2018), The House with a Clock in its Walls (2018). Many of these had him as the producer and scriptwriter on top of being the producer, too. So Gearbox' choice is interesting – these aren't that comical as the Borderlands series. (Then again, the taste of humour is different for each person…)
So thanks to Randy's mistake, we managed to learn one of the PAX East announcements a week early. Although we have seen many decent game-to-movie adaptations, there were some shoddy ones, too ('93's Super Mario Bros. is one of them).
Source: PSU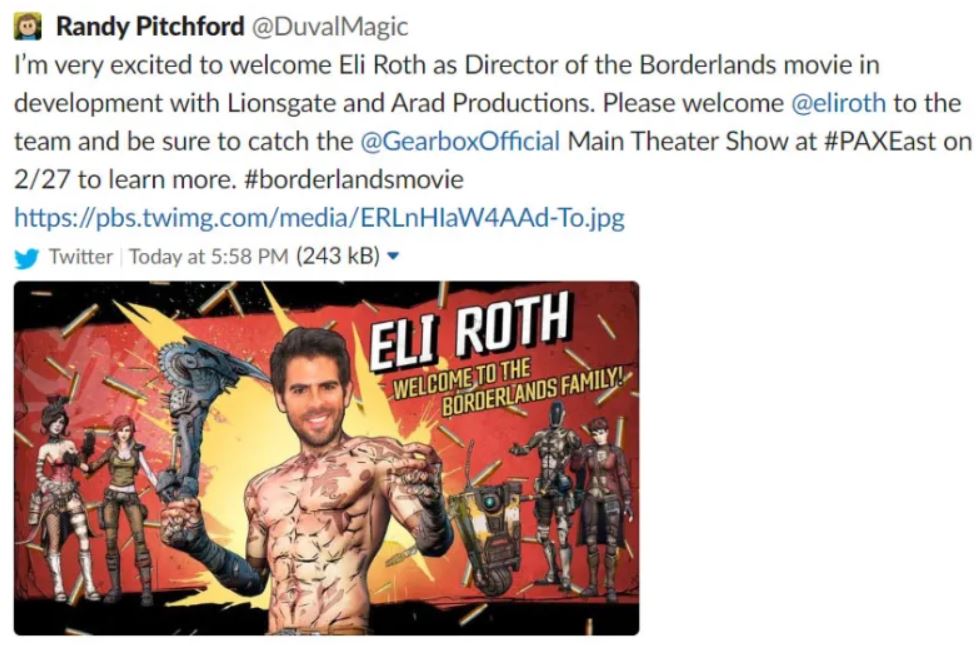 (picture source: Kotaku)
Please support our page theGeek.games on Patreon, so we can continue to write you the latest gaming, movie and tech news and reviews as an independent magazine.
Become a Patron!