REVIEW – I'm fairly sure this isn't what that bumper said on Nickelodeon a good twenty years ago, but one part I still remember vividly: "AND THEN THE EARTH WILL BE DESTROYED!" (translation possibly incorrect, I heard it in Hungarian). The alien theme fits, however, we have a game's remake here.
The untimely death-suffering Pandemic Studios' game's remake has the same as it offered 15 years ago.
Crypto
Destroy All Humans! takes the open-world formula of the Grand Theft Auto series, as well as the destruction that you may or may not abuse in the Ratchet & Clank series. The original, released in June 2005 on PlayStation 2, as well as its remake in August 2020, kept it. The game's protagonist is an alien called Crypto who wants to save his clone, which was stolen by the United States' military. He gets mad, grabs his guns, and starts to shoot at virtually everything. Our partner will be called Pox – the scientist will provide you upgrades, plus he'll assign you to the next mission. This alien vs. everything subject reminded me of a PS1 game that was only released in Europe, and it has INCREDIBLE visuals considering the hardware. Just look at Terracon, although its concept is not that advanced. Also, my opinion has a Deja Vu, clicking to the previous THQ Nordic-published remake (it looks like this is the leadership's thing, also I'm already piled with the next game, although it's not a remake).
The strong point of Destroy All Humans! is the humour. It doesn't take itself seriously, and it somewhat expects the player to do the same, while it throws movie references left and right. It has a bit of cartoony style and its voice acting fuels that fire. J. Grant Albrecht is the voice of Crypto, while Pox is voiced by Richard Steven Horvitz. You could listen to the dialogue of the two for an entire day, and it's easily one of the strongest points of the game, and thankfully, THQ Nordic has kept the original voices from 2005. Perfect. You'll hear a lot of it, as in the open world, the duo will talk to each other while you complete the missions and use some vehicles, or, in certain points, your flying saucer to destroy the buildings. You'll see most of it in all six areas, which are divided by a bit bothersome loading times. Aside from that, you get a typical TPS on two legs with a few unusual weapons, and the remake should have had a few more in my opinion. If you want to use the safe function, simply zap the Spam-o-Matic, I mean spam the Zap-o-Matic. Why? It will never run out of ammunition. The other guns will have this problem, and restocking could be a problem. I know, it sounds a bit dry, but if I think about it a bit more, the whole game has that staleness. As the Spongebob game, this is a remake that lacks the spice, and it feels even weaker than Nickelodeon's mascot's retake. Oh, and a bit of a trivia: the game's remake is developed by the same team who made 2017's Bubsy: The Woolies Strike Back (Black Forest Games).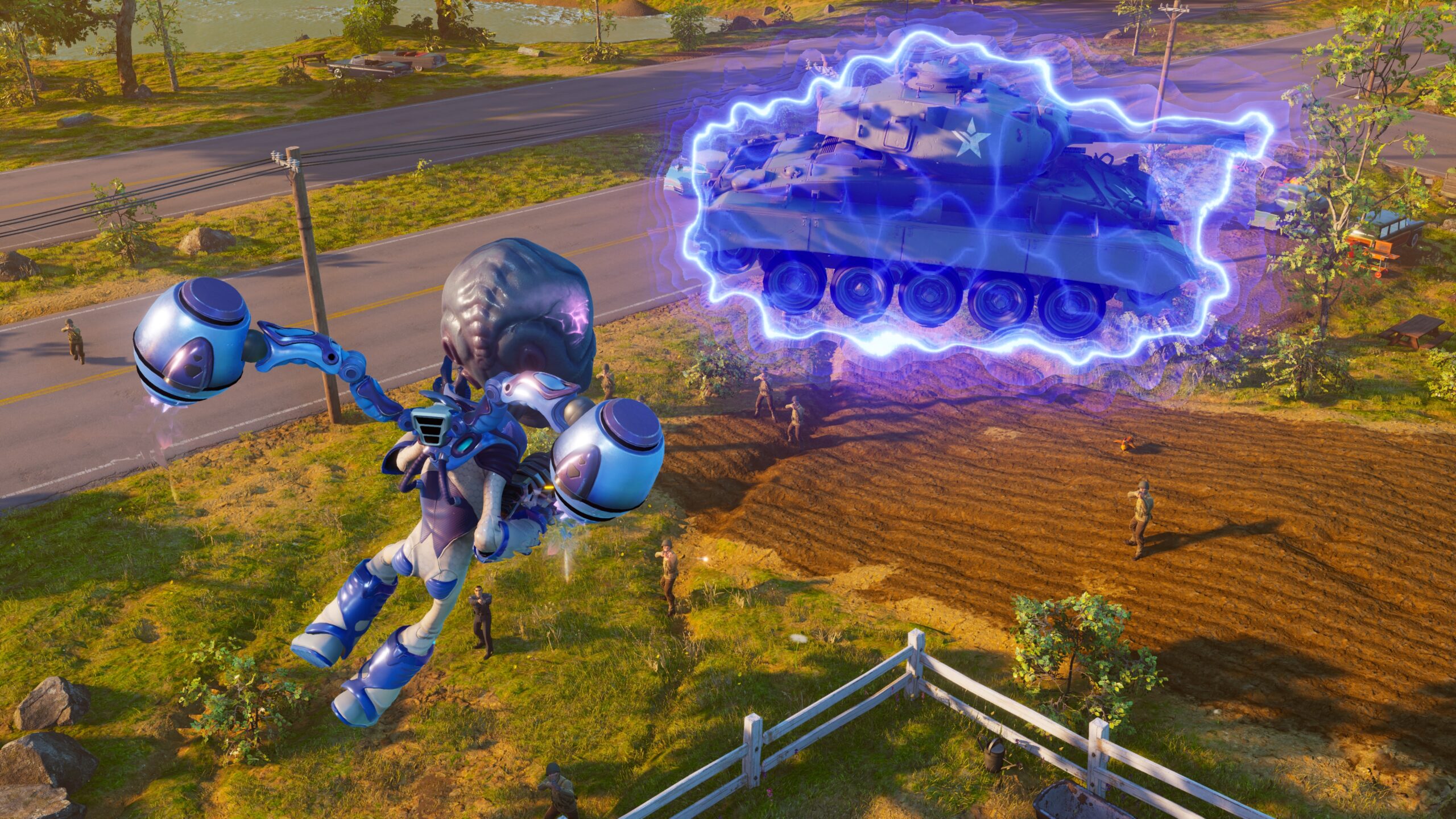 Pox
The loading screens of Destroy All Humans! might be a bit annoying on console if you navigate between the six areas. On PC, it's not an issue. As I said before, there is a distinct lack of weapons. The graphics are also meh – compared to Spongebob, it feels weaksauce, and it wasn't that great in the PS2 original either. Just take a look at the models of the human characters. The Unreal Engine 4 can do better than this, and there are some improvements here (otherwise, it'd have been ludicrous if the remake looked worse than the original). Unfortunately, the difficulty curve isn't balanced. Towards the end of the game, those boss fights are a bit too hard, and because of that, I recommend to grind some DNA for your UFO. It's not going to be a pleasant experience, and it contributed to the game's perhaps too harsh rating below.
Still, the playability has been improved. You now can lock onto enemies, so missing the target most of the time will not be a problem. Also, you can use your abilities (such as psychokinesis) while you shoot. The latter is important as it decreases the difficulty level, and you can knock'em dead, darling. If you want style while traversing the areas, I recommend using the skateboard, speeding up the experience.
Aliens
In my opinion, Destroy All Humans! is a six out of ten, and if you liked the original, it's a 7/10. It won't stay on your console or PC for long, as it might be a remake not many requested. And if it sells well, THQ Nordic will belch after falling out its bed, and announce a new episode, as we have seen this scenario far too many times. This remake is stale. I can't recommend it, unless it's heavily discounted – in this style, Terracon on the PS1 provides something similar, albeit with less humour. Okay, there's a new mission, but I'd not buy it solely because of that. Instead, I'd look for the ISO of my PS2 disc to keep it less used and plonk it into the PCSX2 emulator. Even if it's harder. And that's about it…
-V-
Please support our page theGeek.games on Patreon, so we can continue to write you the latest gaming, movie and tech news and reviews as an independent magazine.
Become a Patron!

Pro:
+ Humour
+ Easier to play
+ Easier in general
Against:
– Still has some difficulty spikes
– I think it's a private label, generic remake
– Loading times on console and the graphics are… well, not that great
---
Publisher: THQ Nordic
Developer: Black Forest Games
Genre: Action-adventure
Release date: July 28, 2020
Destroy All Humans!
Gameplay - 4.2
Graphics - 5.8
Story - 6.3
Music/Audio - 7.7
Ambience - 7
6.2
FAIR
Might be self-destructive