The Microsoft-Bethesda deal is already grinding the gears behind the scenes.
Let's start with Starfield, the next title of Bethesda Game Studios (not the publisher, but the dev team where Todd Howard works!) – reportedly, a few months ago, Sony tried to strike a timed exclusivity deal for its PlayStation 5. The new IP's plans were ditched the moment Microsoft acquired Zenimax (the owners of Bethesda) for 7.5 billion dollars. WindowsCentral's Jez Corden (who is reliable when it comes to Microsoft information) already claims on Twitter that Starfield will be a console exclusive. So Xbox Series X, Xbox Series S, and PC… with no word of a PlayStation 5 version – he added he has no idea why people think Microsoft will allow a PS5 port of Howard's next game. (No wonder: they want to gain more market share, and they are doing it the brute force way via heavy acquisitions.)
"One of the early mantras that I learned from Todd [Howard] was, "We want as many people as possible to play our games." It's a lot of damn work, and a lot of your life you put into making something, so I want as many people to have a chance to experience something I created as possible. [Xbox] Game Pass is a great tool to do that. So, having more of our back catalogue, having all of our back catalog…it's sort of whatever Phil [Spencer] decides to do and when…but I think it's great. It's been great for us. We love to see people play our games and I can't wait to see how it continues to grow," Bethesda's marketing head, Pete Hines, told Xbox' Major Nelson. And why would Phil Spencer, the head of Xbox, say no to more games on their subscription service?
Then there's this tweet, which seems to underline what Spencer said (making more iconic franchises of Bethesda show up on Game Pass). If you read the first letter of each sentence, you will read "look below."
And if you look below and use Auto Level on an image editor, you can find a hidden message that says The Slayer is Coming. That seems to be a hint at DOOM Slayer coming to the subscription service, and it was mentioned on Reddit almost half a year ago.
Microsoft caught a big fish.
Source: WCCFTech, WCCFTech, PCGamer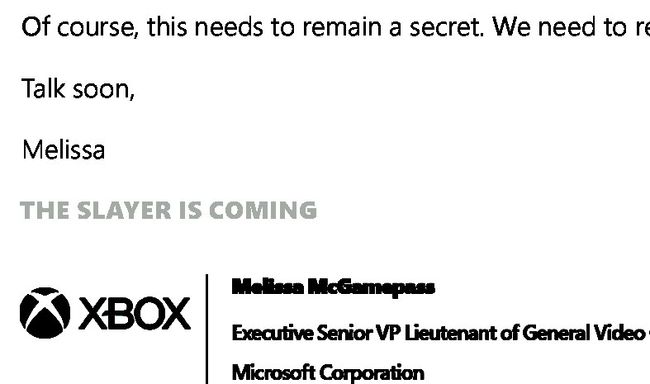 Please support our page theGeek.games on Patreon, so we can continue to write you the latest gaming, movie and tech news and reviews as an independent magazine.
Become a Patron!