Sony and its patents can't be divided from each other – the problem is that they keep getting found by the press, so we talk about them.
A Dutch website, Let's Go Digital found the following patent that discusses a tracking controller.
Sony Interactive Entertainment filed this patent in March, and it was lodged with the WIPO (World Intellectual Property Office). It was published on September 24. The patent includes a 34-page volume of engineering support documentation, and it looks like the controller could be similar to the Oculus Touch controller, possibly as a replacement for the currently available PlayStation Move controller.
It's detailed as an ergonomically improved controller. You can hold it in either one hand or both hands. It sits in the handle with a circular cradle. We can use the buttons on the controller with our index fingers or our thumbs. There are also news sensors and accelerometers to allow motion gestures to be made. Interestingly, this new controller can be "snapped" into various forms, such as a wand-like design, similar to the current PlayStation Move controller, or a ring style arrangement that could resemble the controller you get for the Nintendo Switch-exclusive game Ring Fit (meaning the new PlayStation VR could be used for fitness games, too).
The patent also mentions that the controller only works properly if it's used together with a VR headset that has a front-facing camera. Keep in mind that the current PlayStation VR does not have one, so it's a hint at what the new model could offer.
Sony has previously said that the PlayStation 5 (which launches on November 12 with both the PlayStation 5 Standard Edition and the PlayStation 5 Digital Edition in North America and on November 19 elsewhere, respectively) will not ignore VR.
Source: PSU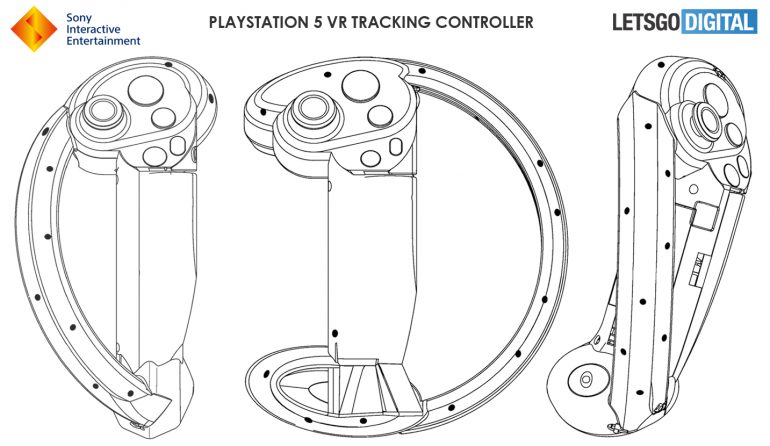 Please support our page theGeek.games on Patreon, so we can continue to write you the latest gaming, movie and tech news and reviews as an independent magazine.
Become a Patron!