MOVIE REVIEW – Not an ounce of originality in Emily Blunt and Dwayne Johnson's new romantic and supernatural family film Jungle Cruise, with lots of tiresome clichés.
Jungle Cruise is another of those movies that originally launched as an amusement park attraction at Disneyland. It's a theme park ride and a riverboat ride that Disneyland visitors have been queuing for since the 1950s with an old-fashioned boat that makes its way down an artificial jungle river, with a jolly captain showing off the artificial animals that emerge from the artificial undergrowth.
They stole everything
Now they've pulled off the "stunt" that Disney had planned for Pirates of the Caribbean back in the days before Johnny Depp's sensational acting in that film was even apparent: they've made a boringly inoffensive, mildly entertaining piece of work out of it. Screenwriters Glenn Ficarra and John Requa (from whom we got Bad Santa and I Love You Phillip Morris) mixed those Pirates of the Caribbean, The Queen of Africa and Raiders of the Lost Ark, and even sprinkled in – admittedly surreal – some Werner Herzog: Aguirre, The Wrath of God and Fitzcarraldo, with Klaus Kinski in the title roles. (These two classics are definitely worth seeing by the way.)
First, it's fun…
The first twenty minutes of the film are quite fun. It's 1916, and Emily Blunt plays Lily Houghton, a haughty but idealistic British scientist who is much looked down upon by the male population of London. She arrogantly hires a riverboat in Brazil to find the much-heralded 'Tree of Life' somewhere in the jungle. The captain of the boat is a cynical, heart-of-gold villain named Frank Wolff, played by Dwayne Johnson. Their romance, which intensifies after a conventional introduction, continues with the comedy of Jack Whitehall, who plays the other passenger: Lily's eccentric, neurotic brother MacGregor, who is also quite funny. At one point Whitehall's coy, wimpy English explains to Dwayne Johnson that he's gay – or rather says something indirect about not being like other men, and the subject is never broached again, the Edwardian reserve fitting in nicely with Disney family values. You need PC, right, it can't be left out? It's a stereotype that Walt himself might have recognized, while of course approving of Frank's obvious heterosexuality with his muscles, boots and sailor hat.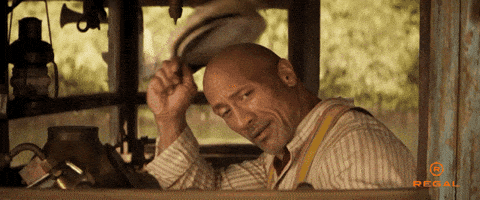 …and then it's all boredom and clichés
The trio encounters all sorts of otherwise familiar CGI Disney adventures, confronting the evil German nobleman Prince Joachim (Jesse Plemons), who wants the power of the Tree of Life to strengthen the German army, and the ghostly Aguirre (Edgar Ramírez), who sets out in the 16th century in search of the tree. The spark that was there in the opening sequence disappears, and the film degenerates into something of a directionless, unimaginative and boring cliché.
Special mention should be made of the performance of Dwayne Johnson, who is so dull compared to Johnny Depp's Sparrow that it almost hurts. The otherwise great Emily Blunt is also rather irritating here, despite being prettier than in any of her other films. Accordingly, the chemistry between the two actors converges to about zero, with even less sexual kink – of any level – which is typical of such films (including Disney's Pirates of the Caribbean!).
Anyway, the film is also characterised by marked sterility and a high degree of political correctness, which is also incredibly boring. Perhaps saddest of all, The Jungle Cruise is exactly as dull and meaningless as Frank Wolff's deliberately lame jokes in the film.
-BadSector-
Jungle Cruise
Direction - 5.4
Story - 5.1
Visuals/music - 7.2
Ambiance - 3.6
5.3
AVERAGE
Perhaps saddest of all, The Jungle Cruise is exactly as dull and meaningless as Frank Wolff's deliberately lame jokes in the film.