REVIEW – This year's MotoGP title was branded around one of the living legendary riders: the Italian Valentino Rossi. While the developers (who are also Italian) tried to improve some aspects, they only managed to do so while taking out other gameplay elements from previous episodes. The stagnating game adaptation took a step forward, and another one back.
I watched MotoGP actively about a decade ago (back then; Gábor Talmácsi was in Moto3's predecessor, 125cc at KTM, then Honda, and then at Aspar Aprilia, where he became world champion), but I'm still following the results of the top category of Grand Prix motorcycle racing. Thankfully, that doesn't require to play the Rossi game at all…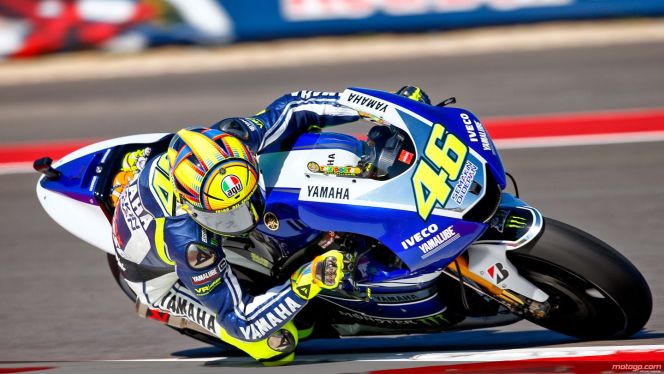 The good
There's no MotoGP 16 per se, but the Rossi game includes all the categories and their riders, bikes (including the since then deceased Luis Salom). The usual settings are present, but there's also a new difficulty level, Very Easy – so with this, as well as the typical driving aids seen in other Milestone games, literally everyone can become a world champion in one of the three categories.
I also have to bring up Valentino Rossi's Academy as a positive. You not only have to get results in Moto3, Moto2, and MotoGP, but also in the Italian world champion's events as well.
The Academy
Under Vale's wings, multiple new events will await you. Flat Track riding requires a different style: you'll have to keep making your bike sideways to take the corners as fast as possible. Its Americana form is a longer version: after every race (at least two laps), the two slowest drivers get eliminated until only four remains to decide who wins in an at least four-lap race. Enduranch is an at least (!) twelve-lap race on a dirt track, where you have to "pit" every three laps to hand over the ride to your team-mate – in Career, this allows you to take control of Valentino Rossi! -, and it's not going to be a short event.
Even with only twelve laps, it will take at least 23-24 minutes to complete, as a lap is close to two minutes. You're also going to do some rally (looks like the devs are taking their previous experience from other games, but to what avail?) on two tracks: Monza and Misano. The latter track has only two special stages, and the former one has nine, taking use of the old circuit, too. While driving, you might not notice many differences, but trust me, they aren't all the same.
Monza Rally Show will require you to take on all nine special stages with your co-driver guiding you. Everyone gets the same car, a Ford Fiesta. Your vehicle gets automatically repaired between stages. Monza Masters is a special circuit, where you have to drive three laps, and three races to win. Your rival starts on the other half of the stage – it's not an 8-figure track, but it has a few very tight hairpins.
There's also a Drift Race, where you have to drive your Ford Mustang around one of four variations of Misano to score the most points. (Six stages, but two of them are reverse versions, I don't count them as separate.) The Yamaha YZR R1M races happen on Grand Prix circuits – everyone gets the same, very fast bike!
The past
With the previous paragraphs, I mostly detailed how the Rossi game is different from MotoGP 15. But there are other new things yet to mention: we also received the entire 2015 MotoGP cast, plus former four-stroke MotoGP drivers/bike between 2002 and 2014 (of course, all Rossis are playable).
Two-stroke bikes are also playable: 500cc, the predecessor of MotoGP, also takes some biker/bike duos from 2000 and 2001 (plus Alex Barros from 2002) – this line-up is quite limited, though. 125cc and 250cc are also included: between 1996 and 1999, multiple riders and their bikes are included. I do have to point out a mistake here. Dear Milestone. 2000's 250cc's champion's name isn't written as Jaque, but Jacque. Congratulations.
Rossi Experience
Similar to Sebastien Loeb Rally Evo, the main character of the game also received his menu point. Historic Events has twenty challenges – overtake a rider and keep the lead for a fixed amount of time, finish the race in front of others, et cetera. If you win, you get a ton of VR points (the in-game credits).
You can also challenge "The Doctor" – can you beat Rossi's lap times? In Challenges, Rossi picks a track, a bike, and your task is to have a faster lap time than him – it changes constantly. In Rossipedia, most of the Italian rider's important events in the past two decades are mentioned. Yeah, Rossi debuted in 1996! Helmets, special liveries, and so forth – you have to buy most of these for a ton of credits
The career
You have to show the other Rossi Academy riders, as well as Vale himself, that you got to the academy for a reason. Moto3, Moto2, MotoGP races, mixed with the Academy events, which I wrote about already. During all these races, your rider gains experience points and gain levels. Braking, rain ability, throttle control, cornering, body position, physical condition – yeah, your rider can be gassed towards the end of the race, making your life harder.
If you're good, after the tutorial season, by the end of the first real year, you might be riding in MotoGP already, and by the end of the year, you can be Rossi's team-mate at the factory Yamaha team. Meanwhile, your successes earn you respect points (needed to get the attention of higher ranked teams), plus VR-points. If you complete the team's expectations, plus if you turn off your driving aids, or set the difficulty to the higher level, you will gain a percentage bonus for both point types.
The bad
And this is where I start to list what my problems are with the game. Let's start with the career. What can you buy with the VR points? Aside from the previously mentioned Rossi helmets and liveries, you can get boots, helmets, and gloves. They have absolutely no effect on your rider, so they are just cosmetic changes. There is no customization again; you are limited to a fixed amount of profile pictures, driver numbers – these options are not making your rider "yours". It looks like Milestone either can't or more like DON'T WANT to improve. Why can't you customize your face or your helmet?
During the season, you'll see a Twitter feed ripoff on the right side, where the academy riders and Rossi "conversate." The only interaction you can do here is to listen to Rossi's audio files. At least he speaks English, so props to Milestone on that. Interaction with other riders? Zero. A story, as such, does not exist. Also, I think that our rider's leveling up has no effect on the physics either, maybe just in the longer term.
If I told you that the VR46 game has DEVOLVED from MotoGP 15 in some aspects, would you believe me? But that's the case: last year, we had the chance to create our own team, buy our own bike, and also upgrade them with data packs. These are all thrown out the window this year. I don't think that improvement should happen with leaving out previous gameplay elements. What the hell was Milestone thinking?
The newer events, like drifting, doesn't have the tutorials automatically play before the first time you participate in them. Instead, you have to navigate around the menus and watch them that way. How much time should it have taken for the devs, five minutes? Also, on the Le Mans circuit, after the first chicane, and the Dunlop track object, you can drive through the advertisement board on the left side of the circuit. No comment. Your rider is still appearing on the bike out of nowhere after bailing, which is not realistic at all. This statement also applies to the event where I unintentionally made Lorenzo on Philip Island drive into the pit wall on the start-finish line like nothing happened. Seriously? I also need to point out that if I have a 1996 historic event, I shouldn't see a GoPro advertisement on the trackside, when that brand was unlikely to exist…
After races, there aren't even pitlane celebrations, not to mention the still noticeable lack of podium cutscenes (which was in one of their previous Superbike games from a few years ago), making the game outside the tracks lifeless. When you look back in a chase camera view (when you can see your rider and bike), your bike is still going inaudible, which may be physically real, I'm not sure. At least you can hear one of the background songs, because yes, that is another new addition. Too bad that they end up boring after a few races – I ended up listening to a jazz radio station instead.
Audiovisually, VR46 is weak. The bikes still sound the same as in previous years. Cars, bikes, doesn't matter, no improvements here. Visually, this game doesn't look like a 2016 title, more like something that even 2006 could have had. At least, no texture loading was visible this year, so that's some (?) improvement. Physics-wise, same as usual Milestone affairs.
Rossi deserves better than this game
Yes, there's a split screen multiplayer, but despite this, as well as other additions, there's nothing improved from MotoGP 15. If you add in some gameplay elements while taking out others, that's more like a "we're cutting corners to get the game out" approach, no more. The game's overpriced. You should not spend sixty dollars on it. 10-15 bucks maybe. Fans shouldn't even consider a full price purchase either. While Rossi is present in this Milestone-title, the game doesn't seem to be a step forward.
In almost every aspect, this product is outdated and sub-par. Italian publications gave this game an 8 out of 10. Throw away your nationalism, folks! Sure, I respect Rossi, and I hope that he will get his tenth world title this year, but his game isn't an 8 out of 10. Not in my view. A 5, maybe. Maybe Milestone paid the fellow Italians to rate their game higher. If this game had the ability to make your own team and have your bike able to be upgraded, it would have been a 6 out of 10. Rossi's presence feels like a pointless slap on MotoGP 16, or more like MotoGP 15.5.
-V-
Pro:
+ More categories, more bikes
+ Rossi's Academy brings more events
+ Beginners can win, too
Against:
– New elements just replace older ones
– Almost zero improvements from last year
– What's the motivation to complete more than one season?
---
Publisher: Milestone
Developer: Milestone
Genre: Grand Prix motorcycle racing, rally, drift, dirt track
Release date: June 16, 2016
Valentino Rossi: The Game
Gameplay - 4.3
Graphics - 5.9
Music/Audio - 6.3
Physics - 7
Ambiance - 4
5.5
OKAY
Another year, another pathetic Milestone game with another world champion's name on it to cash in a few tens of thousands of euros.