The previous leaks weren't lying – the newest instalment in one of the biggest Ubisoft franchises is indeed taking us to this era.
This is a game where most of the Ubisoft studios have been involved in its development, although Ubisoft Montreal was the team that has done the most work. (They also worked on Assassin's Creed IV: Black Flag, as well as Assassin's Creed: Origins.) They confirmed on Twitter that no less than fourteen (14!) studios have been co-developing Assassin's Creed: Valhalla. That sounds extreme – how hard was it to organise all that?
Assassin's Creed: Valhalla will have Eivor as the protagonist. He (or she) will be a Viking raider and clan leader. We can customize their hair, tattoos, clothing, war paint, and gear. The usual open-world action-adventure gameplay is kept, but now, we will have raids, settlement building and expansion, plus some political influence mechanics. "Political alliances, combat decisions, and dialogue choices can influence the world of Assassin's Creed Valhalla, so players must choose wisely to protect their clan's home and future," Ubisoft wrote.
"Driven from Norway by endless wars and dwindling resources in ninth century AD, players will lead Eivor's clan of Norsemen across the icy North Sea to the rich lands of England's broken kingdoms. Players must carve out a new future for their clan, reliving the ruthless fighting style of Viking warriors with a revamped combat system that includes the ability to dual-wield weapons against a greater variety of enemies than ever before. To secure resources, players can lead raids to select locations using their longship to earn much-needed riches and supplies. As the Vikings begin to settle in their new home, they encounter resistance from the Saxons, including King Aelfred of Wessex, who denounces them as heathens and looks to be the sole ruler of a civilized England. Against all odds, Eivor must do what is necessary to keep Valhalla within reach," Ubisoft's press release says. There will also be some flyting (competitive insulting of each other, as it was natural for them).
As expected, the game will be available in multiple versions. Pre-ordering any of them (standard, gold, gold steelbook, ultimate, collector's) will get you a bonus mission called The Way of the Berserker, where you "join a legendary Norse Berserker on his quest for revenge." The Standard Edition needs no explanation (60 dollars/euros). The Gold Edition (100) gets you the game and the season pass ("Get access to epic new content, explore new lands and discover new gear. Plus enjoy an immersive Story Mission, available at Launch."). The Gold Steelbook version is the same, you just get a Steelbook as well. The Ultimate Edition (120) contains everything from the Gold Edition, plus the Ultimate Pack ("Strike fear into the hearts of your enemies, dominate raids and rivers with the set of items included."). The Collector's Edition (200) will also get you the Ultimate Edition plus "a range of high-quality collector's items."  (The high-end Ubicollectibles replica of Eivor and her Drakkar (height: 30cm), a collector's case with unique artwork, the Ubisoft Store-exclusive steelbook with an iconic design inspired by in-game emblems, a Viking statuette of Eivor with his raven and Dane axe (height: 5cm), a premium certificate of authenticity serialised with the unique number of your Collector's Edition, a set of three lithographs showcasing some of the most stunning concept art created for the game, and a selected soundtrack of the game.) The UPlay+ version is essentially the Ultimate Edition of the game.
Assassin's Creed: Valhalla is coming this Holiday season for PlayStation 5, PlayStation 4, Xbox Series X, Xbox One, Google Stadia, and PC. The game is indeed a cross-gen title, and the PC version will be exclusive to the Epic Games Store and the Ubisoft Store. It will also be in Ubisoft's UPlay+ subscription service.
Did God of War inspire Ubisoft…?
Source: Polygon, Gematsu, Ubisoft Store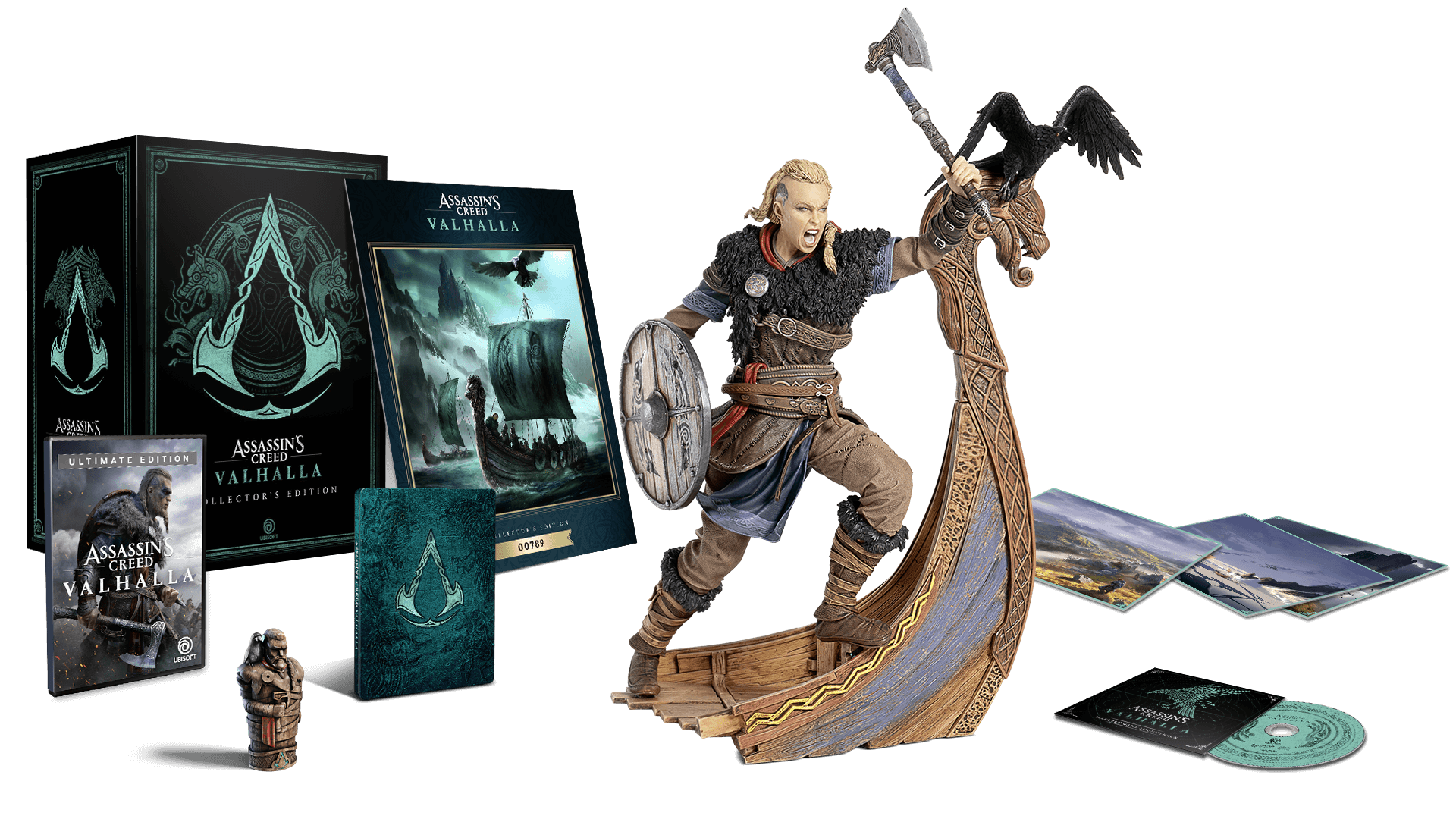 Please support our page theGeek.games on Patreon, so we can continue to write you the latest gaming, movie and tech news and reviews as an independent magazine.
Become a Patron!