Epic Games Store wants to keep up the pace with Steam.
Tim Sweeney's digital store has been supporting Humble Bundle already, but the keyless integration has expanded by three more websites. So we can now buy Epic Games Store (EGS) titles on Green Man Gaming and Fanatic easily, and they also teamed up with Genba Digital, a distribution service. "We're thrilled to continue expanding our partnerships to allow for keyless purchases with third-parties. Continuing to find ways to support developers and offering them ways to reach a wider audience, all while receiving a fair share, is important to us," Steve Allison, the general manager of EGS, said.
"We are delighted to be working with the Epic team to implement an API for direct access to the extensive Epic Store game catalogue. In these difficult times offering choice benefits both the community as well as the many thousands of people who work in the games industry (and their dependents). At Green Man Gaming we've always believed in the magic of games, and it seems that now more than ever we could all use a little interactive distraction," Paul Sulyok, the CEO and founder of Green Man Gaming said. "Fanatical strives to give shoppers a fantastic array of digital products to choose from and this partnership with Epic will most certainly strengthen that. We're excited to be providing our customers with quick and easy access to fantastic titles – direct to their Epic Games Store library," Craig Johnson, the managing director of Fanatical, added.
"Genba Digital is delighted to partner with Epic to offer a centralized keyless solution to the GENBA network and provide Epic content in this secure way to our partners. Security has always been paramount to us as a distributor, so this collaboration helps us to remain at the forefront of innovation in this area," Claire Ralley, the CCO of Genba Digital, said. Interestingly, if you buy a game on any of these third-party sites, Epic doesn't receive a revenue share of them. They also hinted that more keyless EGS integrations are coming soon.
Joshua Boggs, the director of Studio Mayday, wrote the following on Twitter: "Whoa whoa, what?! I've been around for too long because I find this refund for a discount I missed on the EGS mind-blowingly generous. This is incredible?" He recently purchased something on the Epic Games Store, which then got discounted, and he received a partial refund – the amount that said game got discounted by.
The latter should get Steam's attention, as this seems to be a good move by Tim Sweeney. They also introduced download speed management. You can also perform self-service refunds: in the first two weeks from the purchasing of a game, if you played it for less than two hours, you can get your money back. (Steam uses the same approach.)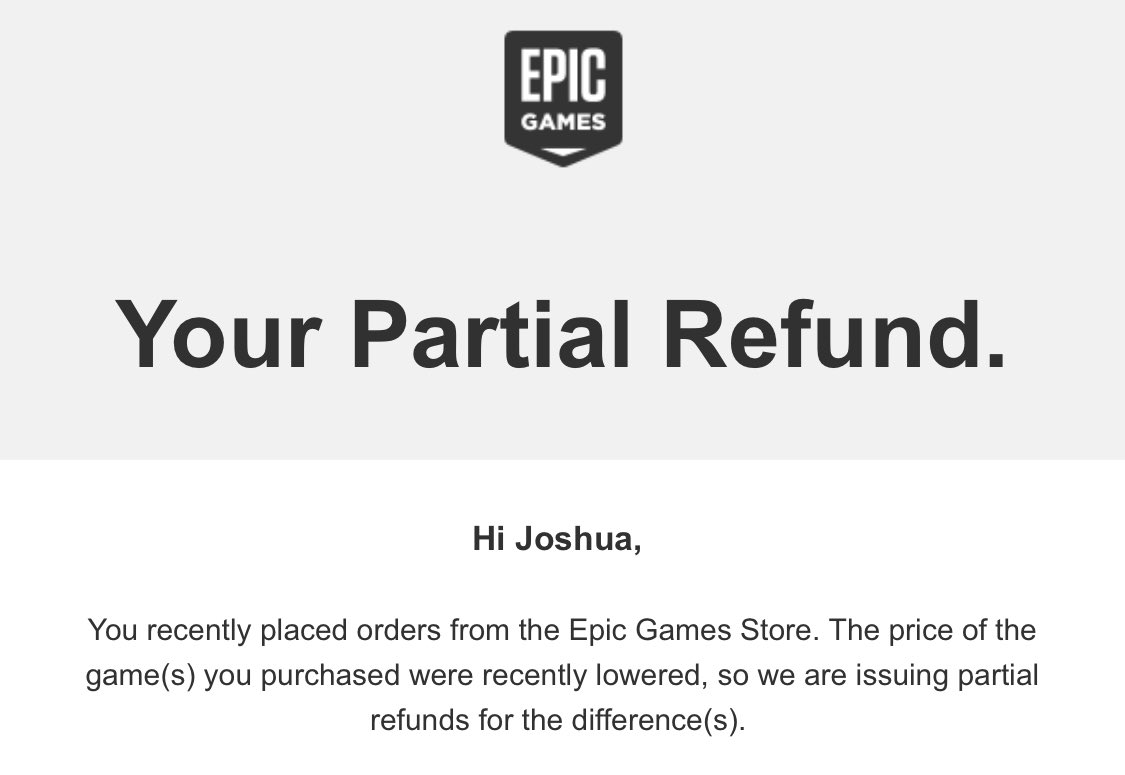 Please support our page theGeek.games on Patreon, so we can continue to write you the latest gaming, movie and tech news and reviews as an independent magazine.
Become a Patron!