REVIEW – Slightly Mad Studios is on a roll. After Electronic Arts almost driving them out of business (according to their CEO at least…), they made a quality game with the first Project CARS, and now, they jumped the bar they set for the sequel. The game is hard to "open up," but when it happens, you will go neck deep into it at least.
The thought in the intro paragraph could be the only major (?) issue of Project CARS 2 altogether. As with F1 2017, this game doesn't offer you a helping hand if you are a beginner. Instead, it just watches you from the side of the track. You'll have to learn the basics on your own (which is something similar to Gran Turismo and its license tests…), and you have to get to grips with the proper racing line. No more taking hairpins with full throttle – learn the first lesson: slow in, fast out.
Rain, snow, mud
One of the strong party of the game is the weather possibilities. If you want to drive in heavy rain, or hell, in snow, the game will offer you the option to do so. It's so ambient, and guess what? The physics continuously change going by time and the weather condition. I think the physics were already great in the first game, but Slightly Mad managed to improve it further – the dynamic weather changes traction, too. I don't remember that happening as such in the first Project CARS!
You need good controls for the cars, though. Again, we might see another leveling up here. You can keep your dream car on track easily with just a DualShock 4, which is going to be the key to success for those Sunday drivers. You don't need a professional wheel to race – even though driving is a bit more precise with it -, and I can congratulate the effort. You also get a built-in engineer that will offer you race setups going by your driving style – it can be useful especially for starting out your career.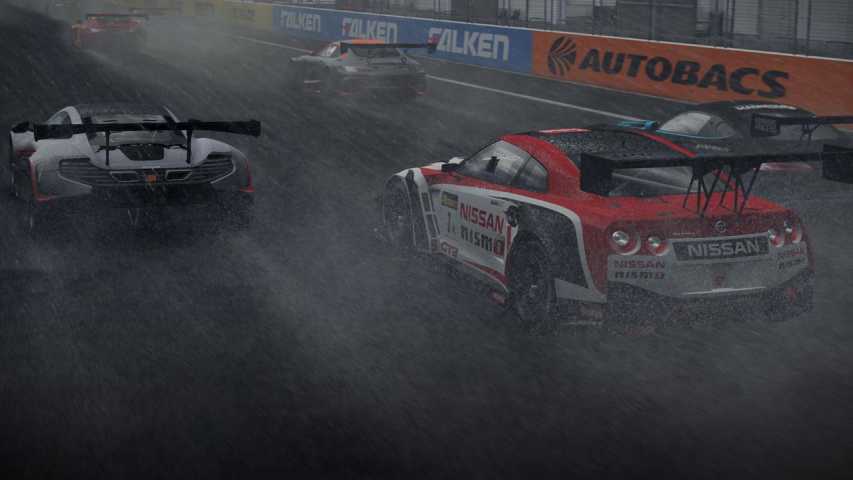 Engine noise
If you expect background music in the game while racing, forget about it. The engine noise, the environment will make up for the lack of music, and Ben Collins adds fuel to the fire. In case you haven't seen Top Gear, he was one of The Stigs in the series in the past, and he describes everything in detail to get you started. It wasn't even obligatory for the devs to do and yet they took the time and effort. I don't recall any other game doing something similar.
What tracks are there, you might ask. One of my favorites, Bathurst, is also included. It's an Australian track with extremely long straights, fast corners, as well as an S-corner on a slope! Some modern tracks even include the old variations – for example, you can go and use the classic layout for Monza or Spa. In this aspect, Project CARS 2 already defeated Gran Turismo Sport due to having 130+ track variants. If Forza Motorsport 7 doesn't pull off something similar (or remotely close to Slightly Mad's amount), Project CARS 2 might already have an advantage over its rivals
Career
With a little exaggeration, two hundred cars, twenty-nine series (in nine disciplines total), and you can start your career wherever you want, and you might even become a factory driver. If you don't play online (which you should, because it's fun and stable), you still have a lot to do offline, which is another sign towards success.
This game is successful – after the entry-level throw into the water, if you crave to drive hard, you will spend AT LEAST 15-20 hours just offline in Project CARS 2, and online, who knows how lively the game will be in the future.
Must buy
Although the basic PlayStation 4 doesn't have stable 60 FPS everywhere, with the PlayStation 4 Pro, it's not an issue, and it even looks nice on the stronger Sony console. Project CARS 2 is a must-buy for all race heads. If you skipped 1, put 2 on your shelf. If you had 1, buy 2, because you will likely never go back to the first game after playing the sequel. I'll give this game a kind 9 out of 10. It's THAT good.
-V-
Pro:
+ You can start career anywhere
+ A lot of tracks and maps, and the weather possibilities add more fire to the mix
+ Pretty much everything improved from the first game
Against:
– Beginners need to learn the grips, as the game won't help
– No background music while racing
– The frame rate is not perfect on the basic PlayStation 4
---
Publisher: Namco Bandai
Developer: Slightly Mad Studios
Genre: Racing simulator
Release date: September 22, 2017
Project CARS 2
Gameplay - 8.9
Graphics - 8.9
Physics - 9.3
Music/Audio - 8.3
Ambiance - 9.6
9
AWESOME
The new leader of the racing simulator pack. Gran Turismo Sport and Forza 7 have their work cut out for them!